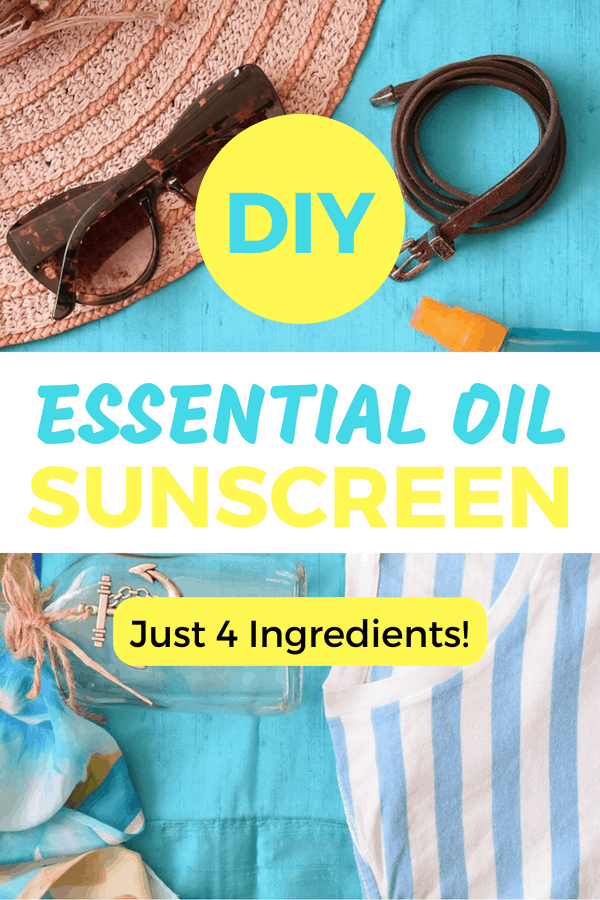 love the outdoors but hate the dreaded sunburn?
Me too!
But most sunscreens are just bottled toxins, and slathering my family in chemicals wasn't exactly something I wanted to do. So the search for a natural sunscreen began….and then the sticker shock hit. I mean really, why does all the healthier stuff have to be so expensive?!

So…DIY it is!
This safe essential oil sunscreen is 4 ingredients and SO easy to make. You'll love it!

1/4 Cup Coconut Oil
1/4 Cup Shea Butter
2 Tbs Zinc Oxide Powder
20 Drops Essential Oils (10 Helichrysum and 10 Myrhh)
Mix all ingredients together and store in a dark glass container if there's any left over. Have a big family? Just double or triple the recipe as needed.
Supplies You'll Need to Make This Essential Oil Sunscreen
2, 8 oz Brown Glass Bottles with Pump
These dark glass bottles are great for so many DIY essential oil products. From homemade cleaning products to do-it-yourself beauty and personal care items, they are so useful. I like to have a few empty ones around the house for those last minute essential oil recipes I decide to make.
Organic Cold-Pressed Coconut Oil

Coconut oil has soo many uses in our house. In this essential oil sunscreen recipe, it provides a skin-nourishing base that's non-toxic and the perfect carrier oil.
Organic Unrefined Shea Butter

Shea butter is right up there with coconut oil when it comes to its skin-nourishing properties. It's also an excellent carrier oil and base for homemade sunscreen.
Zinc Oxide Food Grade Powder

Together with the sun-protective essential oils we've chosen, the zinc oxide is where you get your SPF protection!
100% Pure Essential Oils

Helichrysum essential oil has natural anti-inflammatory, astringent and antiseptic properties on top of its being a natural sun protectant. Myhrr is fantastic as well with many healing properties.
When it comes to essential oils, I always recommend sticking with a reputable company that provides testing for EVERY batch of oils. You also want to make sure you're getting pure, unadulterated and undiluted essential oils. The company I trust and recommend is Rocky Mountain Essential Oils.
P.S. I'm an affiliate for these products because I love them and trust their purity!