We ♥︎ honesty! We may earn a commission through affiliate links on this page at no extra cost to you.
Winter can be so hard on our bodies.
My hubby says he thinks I'm secretly a bear because I "hibernate" when it's cold!
Between overcast skies, shorter days and dropping temps, we usually don't get enough sun exposure during winter.
And less sun = decreased vitamin D.
Add that to the overindulgence surrounding the holidays, and I think it's safe to say we're all due for some fresh nutrients and a detox reboot.
I'm all for juicing, but when it's chilly outside, a nice hot bowl of soup is far more enjoyable.
That's why I want to introduce you to one of my favorite ways to savor some much needed nutrients:
A green detox soup!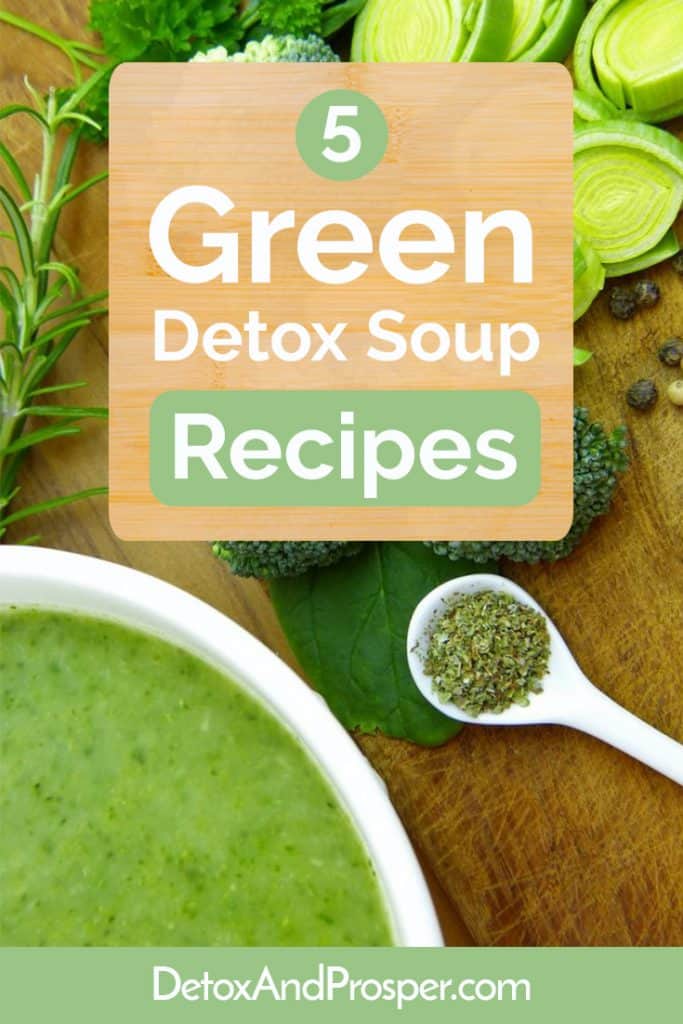 It's the perfect alternative to juicing and a much warmer way to detox and replenish in chilly weather.  It packs the healthiest ingredients in a single bowl, including chlorophyll – a powerful antioxidant and effective body cleanser.
Here's a quick look at its benefits and tips for making this dish your best bowl of soup yet + 5 mouthwatering green detox soup recipes to try!
What Is Green Detox Soup?
A green detox soup is one loaded with vegetables and nutrients that provides a warmer, delicious way of infusing your body with the nutrients required for detoxing.
The chopping, blending and pureeing involved allows for easy absorption of the nutrients – not to mention a tasty mixture!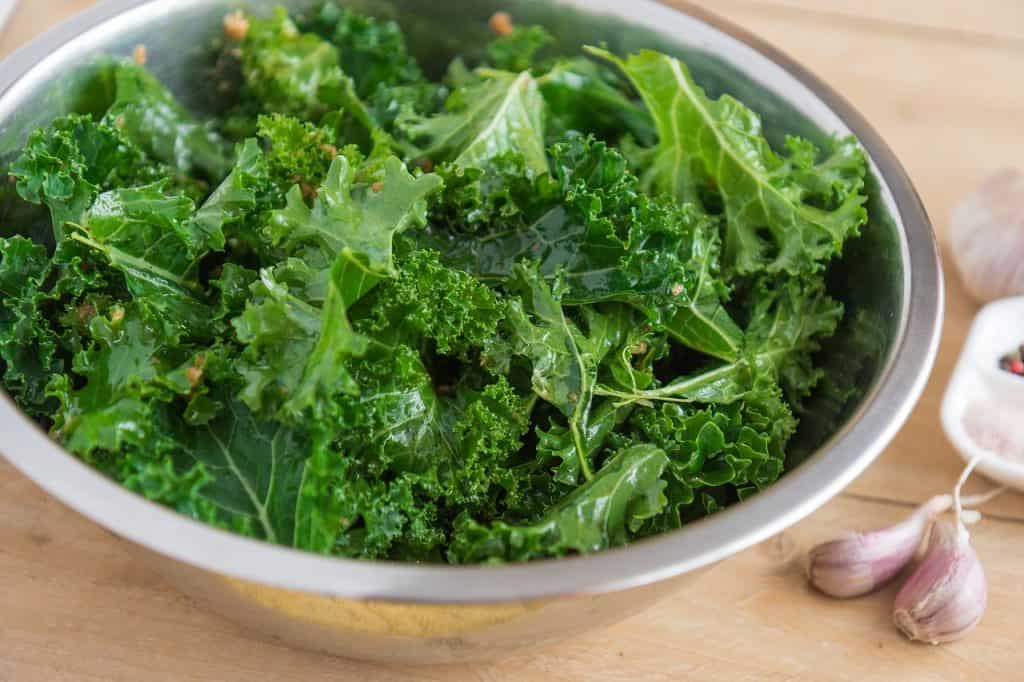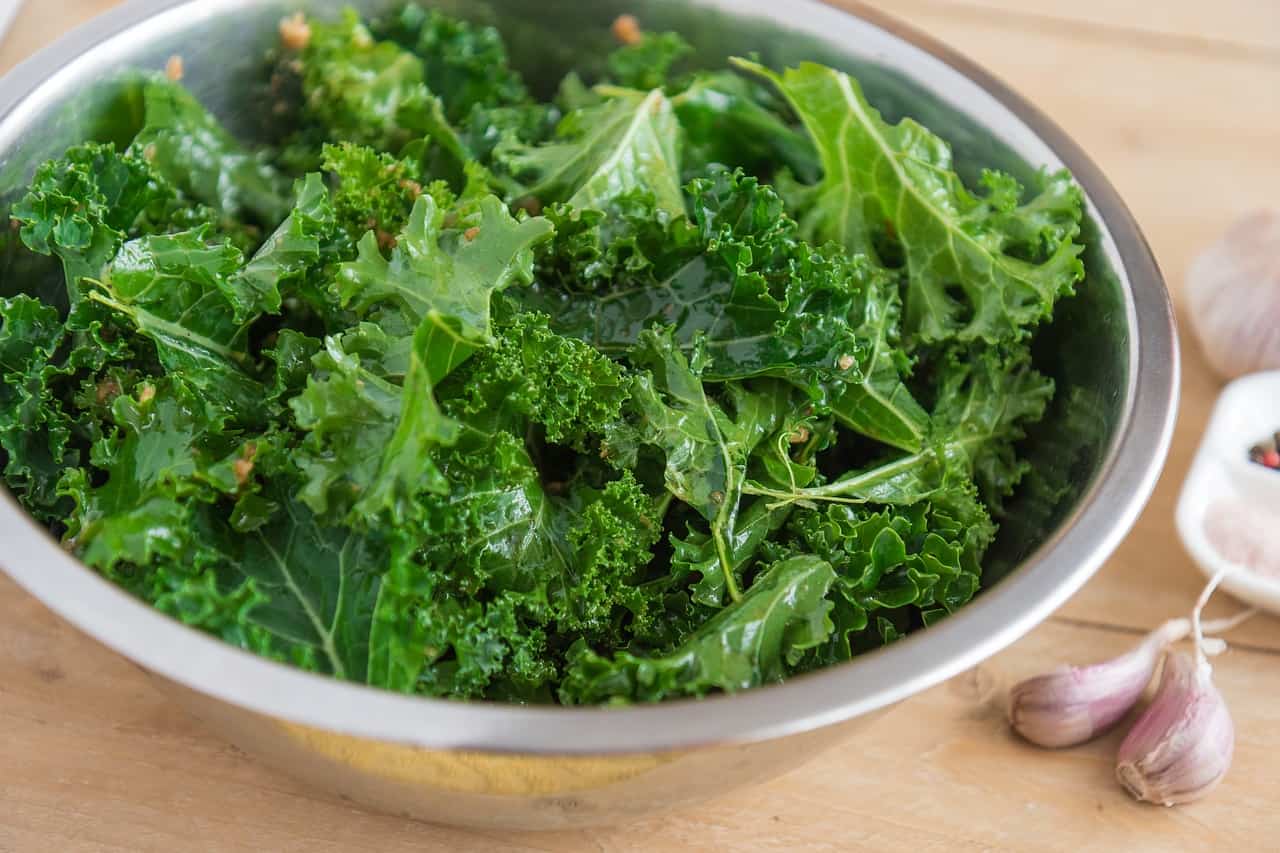 A creamy detox soup also provides the break your digestive system needs for restoring the good bacteria in your gut. Its remarkable benefits have even been enjoyed for centuries by those practicing Ayurvedic medicine.
Benefits of a green detox soup
I know green soup can seem a little…well…gross, but it's totally not! Definitely one of those things you have to see taste to believe.
Need motivation to try it? Here are just few of the benefits you'll enjoy:
It helps you retain more fiber
You probably know soluble fiber in vegetables and fruits support your body's elimination systems, which is a major part of the detox process.
But did you realize that juicing often strips away the pulp where most of the fiber lies?  Again, I'm not against juicing (I actually love it!), but it does have its cons – some of which can be compensated for with a green detox soup!
In addition to the nutrients and minerals in green soups, you also get a healthy dose of fiber, boosting your microbiome and your body's primary elimination method.
Souping saves more money
Ever walked out of a whole food store with a bag of vegetables and fruits costing about $80? Only to discard the pulp, feed half the vegetables to your juicer and enjoy about a glass or two of actual juice?
Green detox soups are more economic for cold-weather detox. They produce less waste in production, and they freeze easily, so you can make more in 1 sitting and enjoy for days, even weeks.
It leaves you feeling more satiated
Loaded with vegetables, this type of soup provides a satisfying combo of proteins, nutrients and fiber so you feel full longer.
Plus, since the foods are cooked, you're able to digest them much easier.
Green Detox soups provide a diverse and creative avenue for detoxing
These soups provide an easy-to-implement detox program with great flavor, incorporating a wide variety of spices, herbs and broths. With green detox soup, you open a new world of savory options that include turmeric, fennel and more.
Not to mention, sometimes sipping meals through a straw can get a little old. Detox soups let you change things up a bit while still enjoying the nutrients your body craves.
It promotes weight loss, hormonal balance and more
Thanks to nutrients that aid in blood sugar regulation, green detox soup also boosts mental health, weight loss and hormonal balance.
As you result, you feel more rejuvenated, energized and restored. This is due in large part to chlorophyll-rich, fresh greens like parsley, nettles, spinach, kale and more.
Tips for making green detox soup even better
I've rounded up some of the highest rated green soup recipes, but before I give them to you, I wanted to share these 5 quick tips for making your soup truly amazing!
Choose Seasonal Ingredients
Fresh, seasonal produce is richer in antioxidants and phytonutrients than those picked before their peak. That's why it's best to choose in-season fruits and veggies when possible.
Also, shopping at your local farmer's market usually provides a wider assortment of produce with few to no pesticides, pesticides and waxes that are so prevalent in mainstream grocery stores.
Plus, you can get things like spinach, peas, watercress and asparagus at a cheaper price when in-season.
Simmer the Aromatics First
To give your detox soup a flavorful foundation, you should simmer the aromatic ingredients first.
From garlic and ginger to celery and onions, a slow simmer will take your soup from good to great. Though aromatics don't steal the spotlight, their absence would certainly make your soup less than stellar.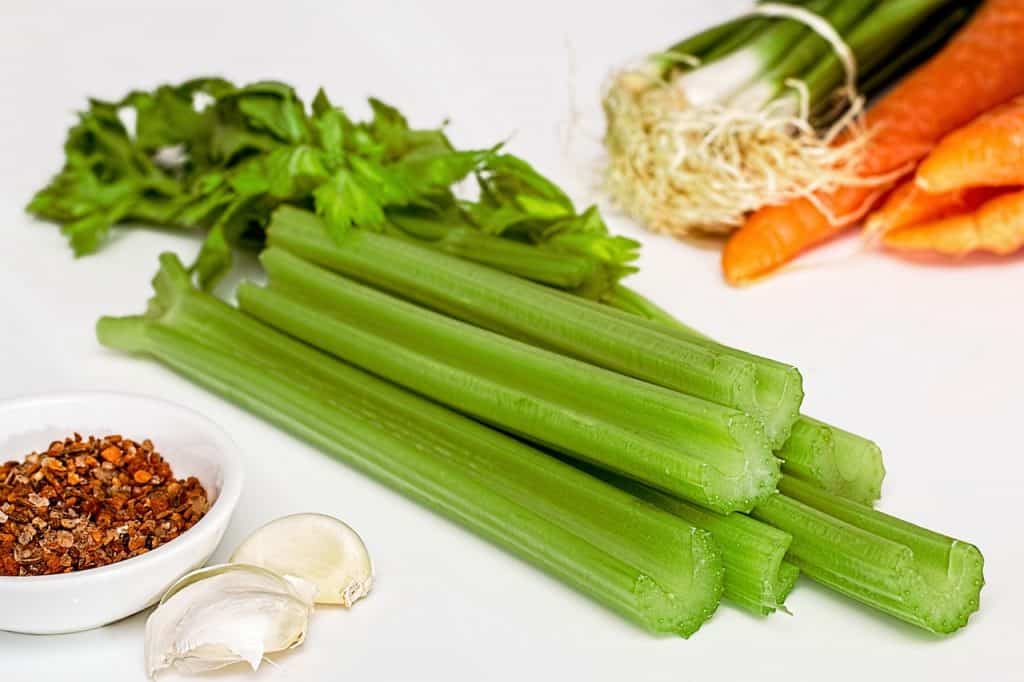 You should first heat your aromatics in fat to help them impart a deeper flavor and release their mouthwatering aromas into your soup.
You can sauté them in grass-fed butter, ghee butter or coconut oil. Don't use a high heat, but rather cook over low to medium heat so as to soften their texture before adding any liquid.
Make Sure You Mix It Properly
You could try any of these kitchen appliances to properly mix your green detox soup:
Blender      
A blender works best to give you the smoothest result for your detox soup as a result of its vortex action and high speed. Blenders work well for smooth soups and creamy sauces, and they are really nice for large quantities of soup.
You should let the blender work in batches.
(Note: You might want to put a towel over the lid to avoid any heat-pressured splatters.)
You could also try the immersion blender in lieu of the traditional blender. Immersion blenders are my personal favorite as they let you blend soup right in the pot.
Food Processor
Food processors don't work as great for liquids because its bowl is typically too small. They also have a wide base, and their spinning rate is quite low, so it's best suited for chopping.
They are great, however, for quickly processing the many vegetables your soup will contain!
Hand Mixer
Typical hand mixers don't work well for mixing soups because the speed of their motor is not high enough and their blades aren't positioned close enough to have the same effect as a blender.
In addition to that, it could leave scratches on your pot. If you don't have any other option, then you can certainly try it, but you might not get the texture you want.
Double the Recipe
This is my biggest time-saver tip as a busy mama!
Make your green detox soup in large batches and freeze them. Then all you have to do is thaw it and warm it up.
To get the perfect lunch or dinner-sized portions, measure out leftovers with a bowl and place in smaller, quart-size freezer bags. Be sure to let it cool at room temperature before freezing.
Make it thicker for a more satisfying meal
Try these tips for making your detox soup even creamier!
Chia Seeds
Versatile and easy to use, chia seeds can often replace cornstarch or flour in your soup. As a result of its gelatinous texture, it absorbs liquid to give a thick, creamy consistency. They're virtually tasteless and add an extra nutrient punch to your meal.
Cashew Nuts
Nuts are generally great thickeners. Soak your cashew nuts overnight to make them soft, then puree and blend into a creamy texture. Its mild, nutty flavor is the perfect base or thickener for your soups!
Psyllium Husk
This is a plant-based fiber that's nearly calorie-free as a result of its fiber content. These husks provide a great, healthy way to thicken soups as a result of their gluten-free, tasteless and low-carb nature. Even better, they're known to boost digestion!
A green detox soup offers you a nice spectrum of vitamin and nutrient. And one great thing about that is that you get a dose of vitamins and mineral at a great taste without suffering through it.
5 Amazing Green Detox Soup Recipes
Ok, now for the best part! Without further ado, here are my 5 favorite detox soups!
What are some of your must-have ingredients in green detox soups?
Editor and researcher at Detox & Prosper. With years of experience creating a healthy home for my family, I now help others eliminate toxins from theirs! Read my story here.