We ♥︎ honesty! We may earn a commission through affiliate links on this page at no extra cost to you.
The Breath green charcoal bags are natural odor eliminators and also remove allergens.
These bags, which are primarily full of charcoal, remove bad smells from all areas of the house and even vehicles.
What Are breathe green charcoal bags made of?
The bags are usually full of charcoal that has gone through the activation process.
Activation of charcoal is a combination of acid, steam, and carbonaceous materials like wood, coal, rye starch, and coconut shells.
When activated, it has a very fine particle size and a vast surface area that can absorb or have other substances attach to it.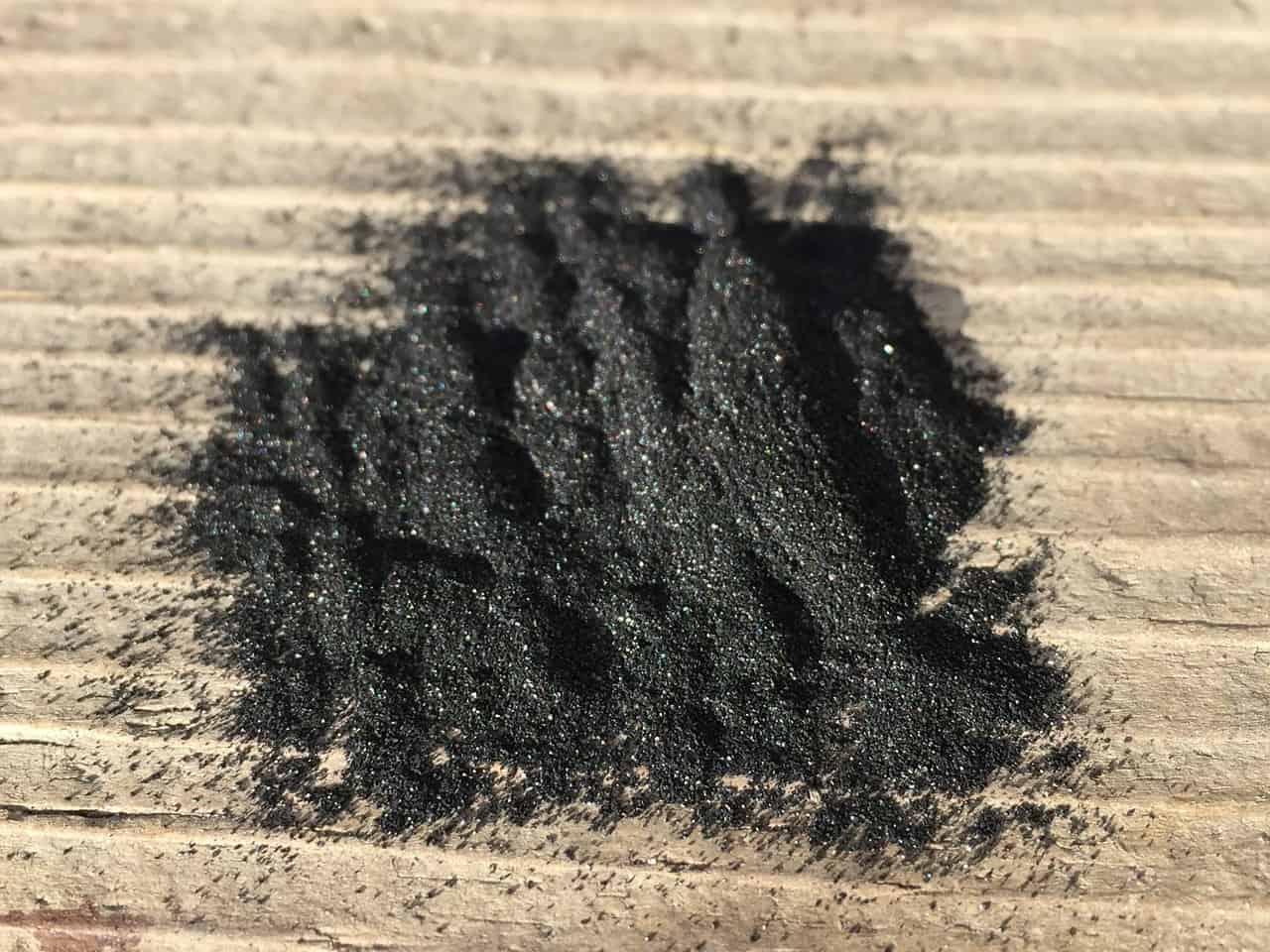 So, for example, a 100-gram dose of activated charcoal has a surface area of 20 football fields. It is a fine black powder that has no odor or taste and is nontoxic.
How do they work?
There are many uses for activated charcoal and activated charcoal filters. In the human system, for example, it can reduce sixty percent of accidentally ingested poisonous substances.
It works because it absorbs chemicals in the stomach and small intestines and reduces their toxicity.
The ability to have other harmful chemicals, attach, or be absorbed by activated charcoal is the secret to its success. When toxic chemicals pass through the area that activated charcoal covers, they attach to it and are trapped. 
Almost all gases and liquids, including carbon-based substances like chlorine, are neutralized by the absorption qualities of activated charcoal.
Including odors in the air!
Activated charcoal has many more uses that you can read about here.
How to use breathe green activated charcoal bags
Activated charcoal, a carbon by-product of spent wood or coal, is used as an absorber in both air and water filtration processes. 
Depending upon the size of the particle to be filtered, activated charcoal is used to filter impurities from the air. 
In air streams, activated charcoal removes particulates to maintain ambient air quality.
All you have to do is simply hang the bag in any room in the house or car. The bag works like a filtration system scooping up odors from pet litter, stinky shoes, smelly cars, and others.
Buy on Amazon
The bags also come with a reinforced metal hole so you can hang them up just about anywhere as well.
Best areas & situations to use them most effectively
The bags work well in many areas, but they are most effective in the following places:
A vehicle

The Garage

A Basement

Most Offices

A Walk-in Closet

Usual pet areas like litters

In shoes and shoe storage areas.
How do breathe green activated charcoal bags compare to other charcoal odor absorbers?
The breathe green activated charcoal bags are unique in that they are manufactured using only eco-friendly materials as well as heavy-duty fabrics.
Which makes sense because the whole reason you're considering these bags is for their chemical-free alternative to regular air fresheners. You wouldn't want it wrapped in plastic or some other non-environmentally friendly material.
Breathe Green Bamboo Charcoal Air Freshener Bags (8-Pack), Activated Charcoal Odor Absorber, Natural Air Freshener Removes Odor and Moisture, Odor Eliminator for Car, Closet, Bathroom, Pets, Shoes…
🌬️ ALL-NATURAL 1 INGREDIENT ODOR ABSORBERS – Toss out all your other chemical-filled air fresheners and odor eaters, these natural charcoal odor absorbers are all you need. They effectively clean and purify the air, so you're always surrounded by a fresh, breathable environment.

🌬️ ULTRA-VERSATILE, YOU'LL USE THEM EVERYWHERE – Odor eliminating will never be easier. Use the air purifying bags in your Car, Bathroom, Bedroom, Laundry Bag, Closet, Shoes, Gym Bag and more. Unwanted odors from smoke to smelly gym shoes will be a thing of the past! Our popular 8-Pack includes four 200 gram bags for larger areas and four 50 gram bags to fit in shoes and small spaces!

🌬️ MOISTURE RELATED SMELLS STAND NO CHANCE – The air around you will smell fantastic, but that's not all. These nifty odor sponges trap all smells, removing all odors, including moisture related.

🌬️ PET OWNER? THIS IS A MUST-HAVE – If you own a dog or cat then you're going to love these air cleaners. They can remove odors caused by urine and fecal matter. You won't believe how effective they are at eliminating odors from a smelly litter box.

🌬️ DURABLE, REUSABLE AND LONG LASTING – The eco-friendly odor neutralizers come in a durable burlap bag with a reinforced metal hole making them easy to hang. They're reusable, and with proper care, they'll last around two years which saves you time and money!
Prices pulled from the Amazon Product Advertising API on:
Product prices and availability are accurate as of the date/time indicated and are subject to change. Any price and availability information displayed on [relevant Amazon Site(s), as applicable] at the time of purchase will apply to the purchase of this product.
What we like
The bags allow chemicals to pass through the carbon where it attaches itself and is trapped and is a natural way to eliminate odors without using harmful chemicals.

For the most part, the bags work as advertised, and they can eliminate most odors that we tried them on.

They reduce mildew stains in most parts of the house.

The bags are widely accepted and used to eliminate order, which means that most time that not, they usually work.
What we don't like
When all the bonding area is full, the activated charcoal stops working and may need to be replaced depending on the situation.

Regular use causes the activated charcoal filter to become saturated with contaminants; thereby, reducing its effectiveness.

The known hazard is that activated charcoal is combustible in the presence of strong oxidizers and it produces carbon monoxide into the air when it burns.

Most material data safety sheets (MSDS) for activated charcoal warn of the formation of dust clouds that can be a fire hazard.
The Review: Do breathe green charcoal bags really work?
The simple answer is yes, these bags do work as advertised, and they were able to eliminate most odors in the house. I had one bag hanging in the closet and another in the basement.
The odor in the closet was practically gone in a few hours, and you could not smell the musk anymore after a day. My visiting friend was impressed, and she could tell the difference more than me.
She said all my clothes smell fresher and cleaner too.
As for the basement, which is bigger, it took a few days, but after a week, the smells were pretty much gone. 
There was a moldy smell from when we bought the house a few years back, and that was gone too. This is something I was skeptical about at first just because of the overall dampness down there, and because of it, we would rarely go down except to store stuff.
This was the first step to try before we forked over for an overall treatment, and I must say it was good to see something work well.
If you're considering these for mold, I wrote a separate article dedicated to that you can read here (because moldy odors are a different story).
Buy on Amazon
The company
Most of the negative stories that we were able to glean online were on the lack of a competent customer service policy with a typical lack of or low communication channels to process any refund requests and or returns.
Given this option, we would recommend that you buy the bags through Amazon. First, because Amazon offers another layer of customer protection, and they will hold the company accountable if issues arise.
All in all, however, the product is excellent.
Frequently asked questions
Does Walmart sell breathe green charcoal bags? What about Lowe's or Home Depot?
The bags can be found at Walmart but not at Lowes or Home Depot.
Do they need to be cleaned?
The bags do not need to be cleaned, and they can be placed in the sun for a day when you feel the quality falling lower than usual.
Charcoal bags like these can absorb odors for a surprisingly long time. If you click on that link, you'll find some tips for making them last even longer!
Will it remove odors in my car?
Yes, the bags are an excellent way to remove odors, especially if you are a smoker or someone else smokes in your car. They work better than your regular car odor removers.
How long do they last?
Activated charcoal filters should be replaced periodically. Regular use causes the activated charcoal filter to become saturated with contaminants; thereby, reducing its effectiveness.
What dimensions do they come in?
They only come in one size, but they're available in a three-pack, a four-pack, and a ten pack.
Editor and researcher at Detox & Prosper. With years of experience creating a healthy home for my family, I now help others eliminate toxins from theirs! Read my story here.