We ♥︎ honesty! We may earn a commission through affiliate links on this page at no extra cost to you.
It's kinda ridiculous that I even have to write an article about non toxic bakeware.
You would think that would be a given, and all baking items would be healthy and toxin-free.
But sadly, that's not the case.
So today, I'm going to share which materials to avoid and which materials to look for in safe baking pans and cookie sheets.
Use the comparison chart below for a quick preview of our top picks. We came to these conclusions after careful research, which you can read more about below in our in-depth bakeware guide.
 Quick Comparison: Our Top Picks
Last update on 2023-12-06 / Affiliate links / Images from Amazon Product Advertising API
Toxins Found in Conventional Bakeware
1. Non-Stick Coating (PFOA/PFOS/PTFE)
Modern non-stick bakeware is crafted using harmful compounds such as perfluorooctanoic acid (PFOA or PFOS) or polytetrafluoroethylene (PTFE) – otherwise known as Teflon.
Teflon claimed to make baking easier and more convenient than ever.
Unfortunately, that convenience came with a price to our health.
Exposure to Teflon is linked to high cholesterol levels, poor immune system, increased risk of certain types of cancer, and altered thyroid function.
For pregnant women and younger kids, Teflon can affect their growth, learning, and behavior development.

2. Aluminum
Aluminum bakeware has been popular since our grandmother's generation. The convenience it provides for being lightweight and easy to clean made aluminum bakeware a kitchen go to.
However, aluminum is a chemical element that's also found in paints, household items, foils, dyes, and more.
Using aluminum bakeware exposes your food to small amounts of aluminum. That's a problem because aluminum is proven to be toxic in certain amounts. Such toxicity can lead to things like cancer and Alzheimer's disease as well as kidney, bone, and brain conditions.
3. Leaching of Heavy Metals
Leaching of heavy metals into your bakeware means that those harmful chemical substances are leaked from the bakeware itself and into your food.
Lead (Pb), iron (Fe), zinc (Zn), chromium (Cr), and nickel (Ni) — these are some of the heavy metals that can leach from your baking sheets and wind up in your casseroles and desserts.
This is why you should strive to only buy brands that provide heavy metal testing on their products.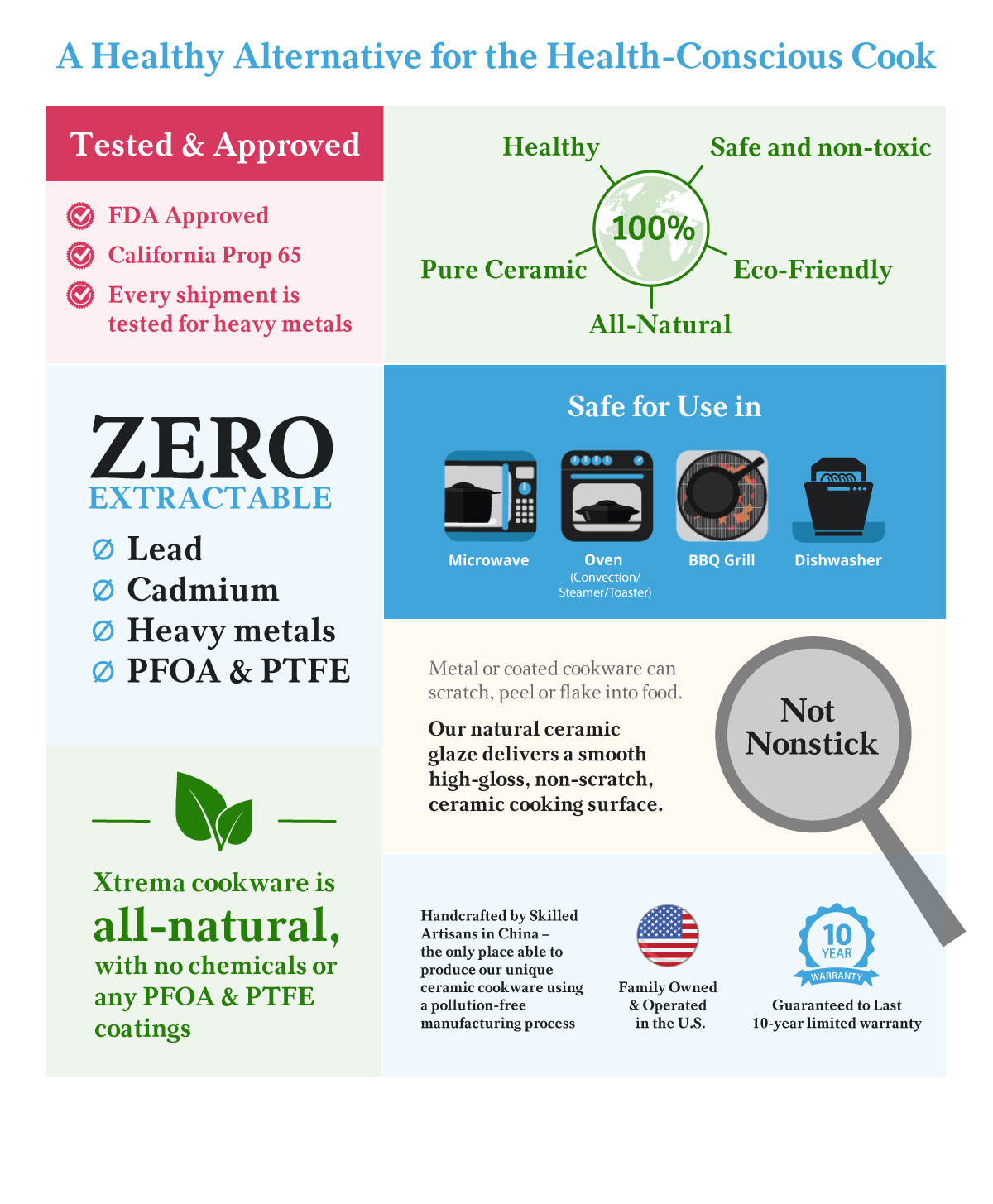 I stick to shopping at Xtrema for this reason.
Now that we've discussed the bad guys, let's look at what materials you should look for in your next bakeware purchase.
Healthy Materials for Non-Toxic Bakeware
1. Glass
If you need a non-toxic and easy-to-clean baking item, glass would be my first choice.
Glass doesn't absorb anything from your food and doesn't release its elements and chemicals either.
Glass bakeware does take a longer time to heat compared to the metal pans, but that's a good thing when it comes to holding heat longer.
Not only more elegant than aluminum pans, glass is also more convenient because it is clear and easy to monitor all sides of the food while baking — no need to dig those unpleasant holes anymore.
2. 100% Ceramic
An authentic 100% ceramic bakeware is made only with the mixture of water, inorganic materials, and minerals from the earth's crust.
And since they are metal-free, ceramic baking dishes are non-toxic and non-reactive. Even if you cook at high temperatures, it will neither release nor absorb anything.
Plus, ceramic bakeware can withstand sudden temperature changes, so it can go from oven to fridge to the freezer without a scratch or crack.
And of course, let's not forget the beauty of ceramic bakeware. They're gorgeous enough to place and serve from the center of the table during meals.
My favorite non-toxic ceramic cookware is Xtrema. Check out their sale on bakeware for major discounts!
3. Cast Iron
Cast iron bakeware is non-stick but without the chemicals. Plus, baking in cast iron is not only toxin-free but is actually healthful in that it increases the iron content in your food.
Iron deficiency is the #1 nutrient deficiency worldwide, so this is one metal we're okay with leaching. In fact, studies show that even quick-baking foods have an increase in iron content when baked in cast iron.
Other than that, cast iron is affordable and improves with use. That's why you or someone in your family probably have one of Grandma's old cast iron pans – they practically last forever. 
4. Stoneware
Baking in stoneware has a lot of benefits compared to metalware. First and foremost, there's no "chemical leaching," meaning, there are no metals or chemicals that will bleed into your food.
When it comes to heat, stoneware can hold heat pretty well. It also distributes the heat evenly, so you don't have to worry if the sides are cooked evenly.
However, because it retains heat so well, you'll want to remove the food from the pan when done to avoid overcooking.
The Best Non-Toxic Bakeware Reviewed
Best 100% Ceramic Bakeware: Xtrema™
Xtrema™ Ceramic Bakeware by Ceramcor comes in different sizes and designs depending on your needs. Switching to Xtrema™ is an excellent turning point for you and your family.
If you need non-toxic, non-stick bakeware, Xtrema™ is my number one choice.

Best Cake Pan: Lodge Cast Iron – Fluted Cake Pan
The original design of Lodge Legacy Series – Seasoned Cast Iron Fluted Cake Pan with Assist Handles was introduced way back in the 1950s, but they decided to bring back this historic pan with a new version. Rest assured, it's been around that long because people love it!
This vintage fluted cake pan has its own beautiful design to create a luxurious piece of cake with a golden brown crust.
Lodge EMW6815039, 1 EA, Black
Fluted cake pan. The Lodge legacy Series fluted cake pan is a timeless classic, which is why it has...
Legacy Series. Original part of the Lodge line in the 1950's, the fluted cake pan has been a...
Last update on 2023-12-06 / Affiliate links / Images from Amazon Product Advertising API
Best Non-Toxic Cookie Sheet: TeamFar – Stainless Steel Baking Sheet
When it comes to health and toxicity, stainless steel pans are tricky because they often contain fillers or may be cut with other potentially harmful metals.
For this reason, you want to make sure you get a pure stainless steel pan, which is what you get with this TeamFar Baking Sheet Set
It's only made of high quality, pure 430 18/0 stainless steel with a smooth roll edge and mirror-finish surface. Just one wipe and everything's clean!
Sale
Last update on 2023-12-06 / Affiliate links / Images from Amazon Product Advertising API
Best Toxin-Free Casserole Pan: Pyrex – Glass Baking Dish
We've talked about the benefits of using glass bakeware, but now let's talk about one of the best in the industry — Pyrex.
This glass baking dish features easy-to-grip handles for convenience, and it won't stain or absorb odors. Also, its compact and clear design makes it ideal for baking.
Sale
Last update on 2023-12-06 / Affiliate links / Images from Amazon Product Advertising API
Best Teflon Free Muffin Pan: Lodge Cast Iron – Muffin and Cornbread Pan
Perfectly seasoned with a vegetable oil formula, Cast Iron Mini Muffin Pan is suitable for making those sweet delights without worrying about the harmful chemicals. Lodge's Muffin and Cornbread Pan is made explicitly for slow cooking and have six sections which are great for ready-to-serve portions.
Last update on 2023-12-06 / Affiliate links / Images from Amazon Product Advertising API
Want to find other healthy, non toxic cooking items? Check these out:
Guide to Non Toxic Kitchen Utensils
Guide to Non Toxic Waffle Makers
Guide to Non Toxic Dinnerware (Plates, Bowls, Cups)
Guide to Non Toxic Flatware (Forks, Spoons, Knives)
I hope this quick bakeware guide helps you find the right pans, cookie sheets, and casserole dishes for your healthy kitchen! As always, let me know if you have any questions 🙂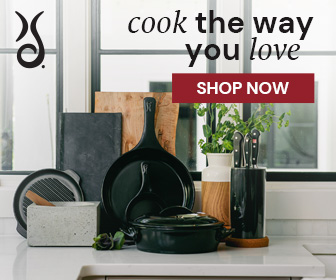 Editor and researcher at Detox & Prosper. With years of experience creating a healthy home for my family, I now help others eliminate toxins from theirs! Read my story here.