We ♥︎ honesty! We may earn a commission through affiliate links on this page at no extra cost to you.
If you cook your food using the wrong cookware, the toxic chemicals released from the material will get absorbed into the food.
So even if you buy the freshest 100% organic foods from the supermarket, you'll still end up eating toxic food. 
You may not be able to notice the effects right away, but it will make a big difference to your well-being in the long run.
The good news is – several brands offer high-quality non-toxic cookware at reasonable prices.
But here's the bad news:
There's a lot for you to consider when buying cookware. There's also a massive catalog of products to sift through – with the number of products ranging in the thousands.
I'll solve both of these problems for you in this post. 
Before I get into the recommendations, here's a comprehensive guide to what materials are OK to cook in and which cookware you should avoid getting:
Toxins Found in Conventional Cookware
#1 Teflon
Teflon is what makes non-stick kitchenware non-stick. The actual chemical isn't called Teflon; it's called polytetrafluoroethylene (PTFE).
A study by EWG finds that when Teflon kitchenware is heated, it releases six toxic gases, most of which are carcinogenic.
One of the released chemicals, monofluoroacetic acid, can be lethal even in small quantities. 
If you have kitchenware with Teflon in your kitchen, now that you know its lethal effects, it's a good idea to get rid of it. If you want to know if your Teflon pan is dangerous, we put together a guide on when to throw away non-stick pans.
If you're not sure a particular piece of cookware is made from Teflon or not, you can call up the manufacturer and find out. 
There are materials out there with non-stick properties that don't harm your health – I discuss these in the next section. 
#2 Perfluorooctanoic Acid (PFOA)
You've likely not heard of PFOA before. All you need to know is that it serves the same purpose as Teflon – making cookware "non-stick."
However, the side effects it has on the body are scarier than Teflon's.
A study finds that PFOA can suppress the immune system and lead to the development of tumors. It also damages the liver and the endocrine system.
But what's most concerning is the half-life of the chemical – 3 ½ years. Once you ingest it, it'll stay in your body and damage it for a long, long time. Not all pans contain chemicals we reviewed non-stick pans that are safe.
#3 Aluminum
A lot of cookware available in the market is made from Aluminum. It's cheap, available in abundance, and does what's intended, so manufacturers use it as much as possible.
However, Aluminum is a highly reactive material, and particles of it seep into the food you cook a lot easier than you'd imagine.
But that's not the scary part. What's scary is that ingesting these particles can have adverse effects on your health.
The metal is a recognized neurotoxin and has been linked to Alzheimer's disease. 
The ingestion of Aluminum also has some immediate effects on the body. Researchers estimate that the metal inhibits about 200 of your body's critical functions.
#4 Copper
I'd imagine the average Joe would least expect copper to show up on this list.
After all, the metal has been used for cooking for decades now. It heats fast and evenly and is cheap to procure and manufacture with.
However, scientists found that copper leaches into food very easily, especially into acidic foods.
While having some amount of copper in the body is healthy, studies show that it can be harmful if ingested in excess. 
The effects can range from something as minor as the development of ulcers to liver damage.
#5 Cadmium
Cookware isn't made from Cadmium – it's coated with it. However, the adverse effects it has are no less severe than others on this list.
The chemical is a known carcinogen and builds up in the liver and the kidneys, remaining there for several years.
#6 Nickel
Nickel occurs naturally in the environment, but it has negative effects on the body.
However, unlike other material on this list, studies don't point to its effects when ingested. 
But when the coating heats up and is inhaled, it causes nausea and vomiting. It also has some neurologic effects.
Studies also link it to lung and nasal cancer and illnesses like dermatitis.
#7 Bisphenol-A (BPA)
Bisphenol isn't found on cookware as much as it's found on plastic on cutting boards and Tupperware (or similar) containers.
BPA disrupts the endocrine system, leading to ovarian dysfunction, altered immune function, and even infertility.
However, there are BPA-free plastic containers available that can be distinguished by the "BPA-free" mark.
You certainly have a lot to watch out for – but it's not all bad. A lot of brands offer non-toxic pots and pans and healthy non-toxic cookware.
Here are some materials that don't have any adverse health effects:
Healthy Material for Non-Toxic Cookware
#1 Ceramic
Ceramic cookware tends to be super durable and heats evenly, which is why top chefs prefer using ceramic wares over Aluminum ones.
Most ceramic cookware you will find will be free from toxic chemicals and metals like Cadmium. However, it's always better to double-check and call the manufacturer if no details are mentioned about the coating used.
A brand that uses non-toxic coatings will mention it on the box, so make sure you go through the fine print on the box before you buy anything.
#2 Cast Iron
Cast iron cookware is some of the most versatile cookware you can get your hands on. You can start your dish on the stovetop and later transfer it to the oven in the same cast iron pot.
But the best thing about it is that metals don't leach into your food, keeping you and your family safe.
Cast iron cookware also tends to be easy to clean and is very durable – often passed down generations for cooking.
Unlike ceramic cookware, you don't have to watch out for harmful coatings or substances. Any cast iron dish in your budget is right for you.
#3 Glass 
Glass cookware is the safest to work with in the kitchen, and newer glassware tends to be pretty robust, giving you great value for your money.
However, some manufacturers use lead to coat the glass and make it glossier. 
You must avoid getting lead-coated glass cookware since lead is a highly toxic chemical and can have effects ranging from muscle soreness to renal failure.
The Best Non-Toxic Bakeware Reviewed
Note that here we review some of the special bakeware, but we have a separate article that reviews non-toxic baking sheets.
#1 Cuisinart Chef's Classic Ceramic Bakeware
Last update on 2023-09-29 / Affiliate links / Images from Amazon Product Advertising API
Finding quality stoneware for a reasonable price can be super challenging. However, if that's exactly what you're looking for, you cannot go wrong with Cuisinart Chef's Classic Ceramic Bakeware.
The dish has thick walls, and the high-pressure casing the company uses makes the dish highly impact-resistant. You don't have to worry about chipping and cracking with this ceramic dish.
It's heavy and non-porous, which means it doesn't stain or pick up odors from what you're cooking in it.
What I like the most about it is that the dish is oversized, which makes baking a lot less stressful. The side handles allow for easy gripping and convenient oven-to-table handling.
It's dishwasher safe, which is a big plus, but perhaps the most impressive thing about it is its high thermal shock resistance.
You can transfer your dish from the freezer to the oven without worrying about it breaking.
#2 Anchor Hocking Glass Baking Dish Set
Last update on 2023-09-29 / Affiliate links / Images from Amazon Product Advertising API
While the Anchor Hocking glass baking dish set is very wallet-friendly, it makes no compromises on quality.
The set includes a 2-quart and a 3-quart glass baking dish, both made from crystal-clear glass.
It can be a baker's best friend because it doesn't warp, stain, smell, or leach dangerous chemicals into your food.
But the best thing about it is that it's durable. It won't break as you do multiple passes of baking in it – moving it from your oven to your refrigerator or freezer and back into the microwave.
Both the dishes in the set come with BPA-free lids, and you can safely pop the dishes and the lids in the dishwasher to clean them. Just make sure you put them in the top rack.
Anchor Hocking backs its cookware with a 5-year limited warranty, which is more than what most companies offer.
#3 Lodge 3.6 Quart Enamel Cast Iron Casserole Dish
Sale
Last update on 2023-09-29 / Affiliate links / Images from Amazon Product Advertising API
Cast iron is known best for its durability – and Lodge's casserole dish is durable enough to be passed down generations without breaking.
While excellent heat retention is one of cast iron natural characteristics, the company goes lengths to ensure that the dish heats evenly and cooks your food uniformly.
The smooth glass surface on the inside removes the need for you to "season" the dish and makes it non-stick. Additionally, the glass surface also does not react to acidic foods, which is excellent.
You can broil, braise, bake and roast with it, and the dish can handle temperatures up to 500°F, making it one of the most robust pieces of cookware available.
It's dishwasher safe; however, if you want it looking new for longer, the company recommends that you hand wash it.
#4 Arcuisine Glass Roaster Pan
Last update on 2023-09-29 / Affiliate links / Images from Amazon Product Advertising API
The Arcuisine pan couples boron and tempering to guarantee safety from thermal shock.
It also offers superior heat and chemical resistance, which is super impressive, considering the low price.
Unlike other glass plans, the borosilicate roaster pan does not scratch or stain and is built to last for ages.
You can cook and serve in the same dish, and then put the leftovers away in the fridge with the same dish, too.
It's safe for use in microwaves, and after you finish the leftovers, you can pop the dish in the dishwasher without worrying that it'll break.
Arcuisine is one of the only companies that offers a 5-year warranty on their product – but the dish is robust, and you likely won't need to use the warranty.
#5 Le Creuset Enameled Cast Iron Oval Dutch Oven
Last update on 2023-09-29 / Affiliate links / Images from Amazon Product Advertising API
Large dutch ovens are expensive, but finding one that offers excellent value for money is a lot more difficult than you'd think.
Le Creuset has a history of supplying some of the best non-toxic cookware, and many know them for the safe non-stick pans they offer.
If you need a large 9.5-Quart dutch oven, look no further than Le Creuset's Enameled cast iron oven.
Besides the even heating distribution and retention, the dutch oven offers a lot of other benefits. The handles are 45% larger, giving you a sure grip regardless of if you're wearing mitts or not.
The enamel interior adds to the durability of the dish. It is expensive but will last you decades. 
But that's not even the best thing about it.
I like that even the knob can withstand temperatures up to 500°F – the whole thing is built like a tank.
It comes in six colors and has stabilizers built-in, ensuring that the lid doesn't slide around.
It also boasts the lightest weight per quart of any premium cast iron cookware in the market.
You cannot go wrong with the Le Creuset dutch oven.
If you are interested in more about the brand, please check our writing: Is Le Creuset Safe?
#6 Pyrex Portables Glass Food Bakeware
Last update on 2023-09-29 / Affiliate links / Images from Amazon Product Advertising API
Buying several expensive pieces of glass bakeware isn't always an option. But Pyrex Portables offers the perfect affordable glass bakeware set.
Regardless of whether you're having a party, going on a picnic, or tailgating, you can use the set to cook and transport food with ease.
It includes a 3-Quart easy grab glass baking dish with lid, six cup glass storage containers with lids, a double-decker carrier bag, and two hot/cold packs.
For something that costs a little more than lunch for two does, it offers excellent value.
The lids are BPA-free, so you don't have to worry about your health or that of your friends. Additionally, the lids and the dishes are microwave, freezer, and dishwasher safe.
But you must only place them on the top-rack of the dishwasher to prevent damage.
The two-year warranty on the glass and the lids makes it worth the money even more.
Xtrema is well-known for supplying chemical-free, healthy non-toxic cookware. And its 3.5-QT Versa pot is not different. 
It's made from 100% pure ceramic and has no harmful coating. You can be sure that the food you cook will be pure and free of toxic chemicals.
The scratch-resistant surface ensures that tiny particles don't flake and intermix with your food when you cook.
You can cook with it anywhere, on the stovetop, in the microwave, and also in the oven without any trouble.
It's sturdy but remains lightweight at five pounds, which makes it easy to handle and transport.
It's also microwave and dishwasher safe, making it perfect for leftover night.
The sturdy lid enables you to cook various meals with it, regardless of your food choices.
But that I like the most about it is the sleek aesthetic – it'll look great in any kitchen.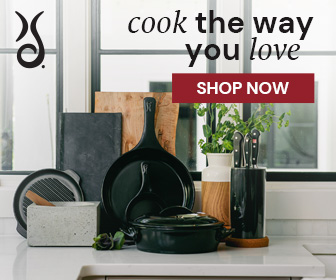 #8 KOOV Bakeware Set
Last update on 2023-09-29 / Affiliate links / Images from Amazon Product Advertising API
Every kitchen needs a cute bakeware set – and the KOOV set is one of the best ones you can get.
It includes three pieces of bakeware, all in gradient arctic color, which makes it a charming set to have in the kitchen. 
It performs better than it looks, being oven-safe to 500°F. it may not look like it, but the set is designed to last in your kitchen for decades. The color doesn't fade as easily, which is an excellent advantage.
You can't use it on the stove or an induction cooker; however, most other ceramic dishes can't, so there's nothing to complain about.
The hard glaze doesn't scratch, so you can be sure that flaked pieces of it won't mix into your food. 
The company emphasizes that the set is lead-free and 100% non-toxic, and the reasonable prices make it a must-have.
The only thing I don't like about it is the lack of lids – but if you don't need them, you can blindly go for this set.
#9 TeamFar Baking Sheet Set
Sale
Last update on 2023-09-30 / Affiliate links / Images from Amazon Product Advertising API
The TeamFar set includes baking sheets that are made out of stainless steel, which is non-toxic and rust-resistant.
The inexpensive set offers a bunch of advantages – the sheets are dishwasher safe, have a mirror finish, and have deep edges, which keeps your oven neat.
The trays don't bend much and boast a solid build, which is excellent. 
For the money, it's difficult to find a better and safer option.
#10 Pyrex Grab Glass Bakeware Set
Last update on 2023-09-29 / Affiliate links / Images from Amazon Product Advertising API
Inexpensive glass sets that are also safe to use can be hard to come by. 
If you're a baking beginner, getting your hands on this inexpensive set is your best option.
The 8-piece gives you cookware of all sizes, allowing you to cook and store food in all quantities with ease.
The BPA-free lids are freezer, microwave, and top-rack dishwasher safe. But the best thing about the set is that it comes with a two-year warranty.
If you don't want to spend much but want a set that makes no compromises on quality, look no further than the Pyrex Grab Glass Bakeware set.
If you are interested in more non-toxic kitchenware, we published a detailed review of non-toxic tea kettles recently.
Open Questions about Non-Toxic Cookware
Is there a way to make cast iron cookware non-stick?
Creating a natural non-stick surface on a cast iron dish is a lot easier than you'd think. 
Coat the dish in coconut oil or olive oil, whichever you have at hand, and bake it at 350° for an hour. After you get it out of the oven, let it cool for an hour, and wipe off any excess oil with paper towels.
You'll find that the food no longer sticks to the dish.
Can non-toxic cookware gain toxicity?
If you use the wrong type of dishwashing soap, your non-toxic cookware may develop a coating of harmful chemicals. 
If you have a dish with a non-stick coating, you must remember to avoid using abrasive scrubbers like steel wool to clean it. 
The particles from the coating may come off and mix with your food, making it toxic.
For the most part, though, you don't have much to worry about. 
Can cutlery be toxic?
Using toxic cutlery can make the food you eat toxic, undermining all of your efforts to cook and eat safe food.
Avoid using a plastic spatula and other plastic cutlery since those come coated with BFRs, which are known to cause congenital disabilities.
Using stainless steel utensils is one of the best ways to ensure that your non-toxic food doesn't become toxic.
I'm not sure if a product is non-toxic. Is there a way to find out before I make a purchase?
The easiest way to find if a product is non-toxic is to check the packaging. If you find any of the toxic chemicals from my list on the packaging, steer clear of it.
If the box doesn't explicitly mention anything, don't shy away from giving the manufacturer a call and asking if the product is free of toxic chemicals.
Always have a "guilty until proven innocent" mindset when buying cookware – it's always better to be safe than sorry.
Verdict
If you prefer using ceramic, the KOOV bakeware set is both durable and inexpensive, making it worth considering.
If dutch ovens are more your pace, go for the Le Creuset dutch oven. It's a little heavy on the wallet, but it'll last you for decades.
If you want to use glass cookware, get the Anchor Hocking glass baking dish set. The five-year warranty makes it an excellent buy.
Editor and researcher at Detox & Prosper. With years of experience creating a healthy home for my family, I now help others eliminate toxins from theirs! Read my story here.