We ♥︎ honesty! We may earn a commission through affiliate links on this page at no extra cost to you.
Spray paint is the most efficient thing you can use for any kind of decorating, or for sprucing up your home. So, if you are going to use them then why not use some of the best non-toxic spray paints? These natural alternatives to regular spray paints contain a low amount of volatile organic compounds, otherwise known as VOCs. 
These are toxic and harmful chemicals found in most paints that can cause damage to your health. Especially when the paint dries after application, these VOCs can be released into the air. Believe me, you do not want to be breathing in such toxic compounds daily! With non-toxic spray paints, you can enhance every surface in your house while also keeping yourself as healthy as possible. Staying away from VOCs in spray paints means you are protecting yourself from respiratory problems, issues like cancer, and other complex diseases.
Here are some of the benefits of using non-toxic spray paints:
Protecting your health
People with allergies or asthma can rest easy knowing that they are using natural and healthy products in their home. In regular spray paints, the harmful compounds that get released can further worsen the issues that people with respiratory problems have.
Protecting the environment
These natural spray paints help reduce to reduce landfills. Using them can also protect the groundwater levels since many of them are made from biodegradable materials. They also do not have ozone-depleting contaminants present in them.
Protecting yourself from strong odors
These eco-friendly spray paints have a much lighter odor than compared to the synthetic spray paints. They will not emit unpleasant smells when used and are much easier to apply.
Easier to clean up with soap and water
You will not have to worry about the cleaning process for these natural spray paints. It is super easy and warm water along with soap is just what you will need handy.
These are just a few of the benefits of using non-toxic spray paints, why don't you check out a few more right here?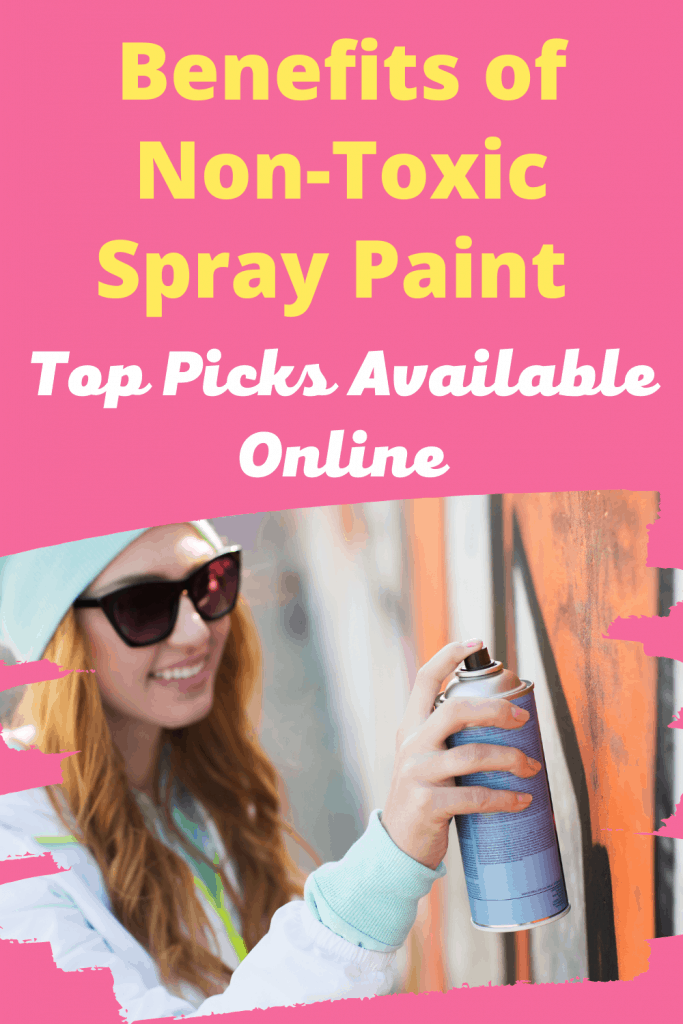 4 Features to Consider in a Non-Toxic Spray Paint
1. Natural non-toxic spray paint
These natural paints and colors are made from pure and raw ingredients. They are often free from odors, easy to use and provide a great finish when applied to any surface. Some of the raw ingredients used in such spray paints include essential oils, plant dyes, resins, and even beeswax. The eco-friendly spray paints are also completely safe to use for people with allergies.
2. Zero VOC Non-toxic spray paint
You may think that a Zero VOC spray contains absolutely no harmful compounds in it. What it means is that it contains 5 grams or less of volatile organic compounds. That is still much lower than what you would find in the regular paints. These spray paints are much safer and far less toxic to your health. You would not even need many coats of this paint to keep your house and possessions looking fancy.
3. Low VOC non-toxic spray paints
Any spray paints having these kinds of labels tend to use water as a carrier instead of petroleum solvents. Having water as a base creates fewer harmful toxins and emissions. This is so much safer than compared to paints that use a solvent carrying coat. A low VOV paint also has small amounts or no heavy metals present within them. The only difference that you may notice is that low VOC paint can still create an odor while drying.
4. Non-toxic sprays for indoor or outdoor use
When using these natural sprays you have to have a fair idea of what you will be needing it for. The objects that you are spraying, are they going to be spending most of their time indoors or outdoors? A paint designed for indoor use will be far less durable and would not be able to hold up against different weather conditions. Indoor paint might also not be able to withstand rain thereby causing damage to the object over time. You also do not want the spray paint colors to fade over time, right? So make sure that you choose your paint wisely depending on whether it would be needed for indoor or outdoor use.
Now that you understand much more about spray paints let's check out the Best Non Toxic Spray Paints: Top 4 Picks!
Best Non-Toxic Spray Paint For Metal: Loop Colors Graffiti Spray Paint with Low VOC
I picked this Loop colors spray paint because it works wonderfully on metal surfaces and is a low VOC spray. It works amazingly to create artistic and decorative effects on different kinds of surfaces. Besides metal, it can also be used for plastic and wood. 
No products found.
It is 100% acrylic and once sprayed is quick to dry. Its moisture-resistant features and ability to evenly coat a surface are very useful. With an adjustable valve for the spray, you can also make sure of its precision during application. You can safely use it on outdoor objects since it has strong durability against all weather conditions as well as a high UV resistance. This non-toxic spray paint choice is free from lead-based pigments, or other heavy metals that can affect your health. 
Best Non-Toxic Spray Paint For Wood: Rust-Oleum Zinsser 408 Bulls Eye Clear Shellac Spray
Rust-Oleum brings to you a spray paint that is all-natural, non-toxic, and very easy to use. One of the reasons why I picked this eco-friendly spray paint is because of the kind of finish it provides for wood, paneling, and other kinds of furniture. 
Last update on 2022-12-08 / Affiliate links / Images from Amazon Product Advertising API
It is made out of a solution of pure lac which is a natural resin that secreted on trees by insects. This means that the spray is completely natural and chemical-free. It is also a fast-drying spray with a rich finish that enhances the depth and natural beauty of the wood. When you use it on a wooden surface you will notice that the finish looks soft and natural. A great thing about using this product is that unlike regular paints, it does not yellow or darken with age.
 Best Non-Toxic Spray Paint For Fabric: Simply Spray Upholstery Fabric Paint
This Simply Spray fabric paint is wonderfully astounding. I picked it since it is non-toxic and can be used very easily on all absorbent materials. You can use it on sofas, chairs, pillows, carpets, and linens, there is no limit. Other fabric spray paints can cause your cloth or linen to stiffen, but this spray paint retains the feel of the fabric and keeps it soft. 
Last update on 2022-12-08 / Affiliate links / Images from Amazon Product Advertising API
Once the paint dries it cannot be rubbed off with ease and it looks good even after a long time. Having this eco-friendly fabric spray paint in hand will help you to rejuvenate all of your household fabrics. 
Best Non-Toxic Spray Paint For Plastic: Pinty Plus Chalk Finish Spray Paint 
This is a non-toxic paint that I chose due to its quick-drying, water-based formula. It is environmentally-friendly, great for use on plastic surfaces, and simple to apply. Cleaning and keeping it dust-free is not a hassle that you will have to worry about. 
Last update on 2022-12-08 / Affiliate links / Images from Amazon Product Advertising API
You will also value how well it works for layering. Not only does it enhance the surface that it is sprayed on, but it also provides a smooth and silky finish. You can be sure that this spray paint will not corrode or be wiped off.  
Non-Toxic Spray Paint Q and A
How can you tell if the paint is non-toxic?
Non-toxic spray paint will contain less or no volatile organic compounds (VOCs). It will be made from natural ingredients, produce hardly any odor, and have a smooth finish. You can check the tags available on the spray paint to also understand if the paint is non-toxic. 
Is odorless paint safe?
Just because spray paint has no odor that does not mean that it is harmless. Always make sure to check the brand and the spray paint to see whether it is made with toxic chemicals or whether it is non-toxic. Low VOCs or natural paint is the safest for you!
Why should I use non-toxic spray paints on plastic?
Natural spray paints can completely revive and enhance the plastic items in your house. By freshening up their appearance you can get the most out of them. Non-toxic sprays will also keep you healthy and safe.
How long does spray paint take to dry when painting metal?
Based on the spray paint that you pick, the length of drying time can vary. Some paints take much longer to dry than others. If it is used outside, the temperature and humidity can affect it as well.
What's the Verdict?
Even though I have introduced you to 4 of the Best non-toxic sprays right here, I have picked one that I feel has the most to offer. The Loop Colors Graffiti Spray works wonders on all surfaces. It works especially well on metal and is great for use on outdoor objects since it is weather-resistant. You will be relieved to know that it has low VOCs which help keep it as close to natural as possible. Along with that, its quick-drying features and moisture-resistant abilities make it a dream come true to use.
No products found.
Now that you have a better idea about the best non-toxic natural spray paints, you can start creatively decorating your home. These pigments will not only keep you healthy and safe but also help improve your life. Give your home a colorful start with these magical eco-friendly spray paints!
If also you want to create a natural and healthy home space why don't you learn how to tell if dishes have lead in them? This will be useful for you and your family to know. You can also stock your kitchen with many non-toxic cooking utensils that will benefit your health and wellness.