We ♥︎ honesty! We may earn a commission through affiliate links on this page at no extra cost to you.
Non-stick pans are a must-have item for your kitchen. Food doesn't stick to non-stick coatings, so that no matter how bad of a cook you are, you'll still find it a challenge to burn your dinner on them. They're also a breeze to clean, whether you wash your pan by hand or put it in the dishwasher. It's a no-brainer: you need a non-stick pan for your kitchen and you want a safe one. We made some investigation on which is the safest non-stick pan out there. Read on…
But choosing a non-stick pan is not as simple and straightforward as you might think. It's important to take some time to learn about which ones are safe to use. Because the truth is, a lot of non-stick pans are made with teflon, a potentially toxic substance that can damage your health under certain circumstances, (e.g. when overheated can release toxic fumes from its coatings that may cause a health condition known as teflon flu). We wrote about when non-stick pans may become toxic here. Also you cannot use metal utensils on these cookware as they can easily damage the surface and chemicals will end up in your food during cooking.
The good news is there are a lot of non-stick cookware products that aren't made with toxic materials. These are safer to use, but, as we will see, they each have their pros and cons.
What Materials Are Safe Non-Stick Pans Made From?
Safe non-stick cookware do exist. They actually come in several different types of materials. Not all of them are created equal, however. Below, we go in-depth on cookware materials to help you learn which one will work best for your unique cooking sensibilities.
Stainless Steel
Stainless steel is a smooth, scratch-resistant material often used in non-toxic cookware. It's non-stick, dishwasher safe, and easy to clean. However, be aware that stainless steel contains nickel, which many people are severely allergic to. In 2015, the American Academy of Dermatology released a statement saying that the rate of the occurrence of nickel allergies in Americans was on the rise. [1] People who are allergic to nickel and come into contact with stainless steel may experience symptoms that range from anywhere to annoying irritation to outright pain. They include a skin rash, redness, itching, and blisters.
If you have a nickel allergy, it might be best to avoid stainless steel cookware.
Pros Of Stainless Steel:
Scratch-resistant
Easy to clean and dishwasher safe
Cons Of Stainless Steel:
Contains nickel, which a lot of people in the US are allergic to
Cast Iron
Cast iron is a popular material for nonstick cookware. Cast iron skillets become non-stick due to the seasoning you put into the pan while cooking and that builds up over several uses. Another interesting feature of a cast iron pan is that the iron molecules inside can actually leach out into your food. This is not necessarily bad for most of us. But for people who have hemochromatosis, a condition where blood holds onto too much iron, a non-stick material that doesn't contain iron, like stainless steel or stoneware, will be a better alternative.
Pros Of Cast Iron:
Becomes non-stick through repeated use of seasonings in the pan
Easy to clean
Cons Of Cast Iron:
Leaches iron into food, which can be harmful for people with hemochromatosis
Stoneware
Stoneware is a good alternative to traditional non-stick pots and pans with chemical based coating. Like cast iron, it becomes non-stick when it is well seasoned. It also heats evenly and can be heated to extremely high temperatures without breaking. It's scratch resistant; however, it's not the easiest material in the world to clean. Needless to say, stoneware is not dishwasher safe. As far as safety goes, studies show it's free of harmful toxins that would poison your food. [2] This is partly because it's unglazed, unlike ceramics which we'll talk about next.
Pros Of Stoneware:
Non-stick after seasoning
Distributes heat evenly
Scratch resistant
Cons Of Stoneware:
More time consuming to clean and not dishwasher safe
Ceramic
Ceramic non-stick pans are easy to clean and generally considered as non-toxic cookware, but there are certain circumstances in which they might not be safe to use while cooking. The Office of Environmental Health and Safety at Princeton warns that you must look for ceramic foodware that has been marked "lead-safe." [3] This is because many ceramic glazes contain lead, and if not fired properly during the manufacturing process, this lead can leach out into your food. Lead, as you probably already know, is a dangerous toxin and can cause all sorts of health problems. So while ceramic cookware is usually easy to clean and pretty to look at with its shiny, colorful glazes, make sure you look for a "lead-safe" label. We wrote about how to tell if dishes contain lead here.
Pros Of Ceramic:
Easy to clean
Pretty to look at
Generally non-toxic
Cons Of Ceramic:
Can scratch easily
You have to make sure it's lead-free
Does not always heat up evenly
Not dishwasher safe
Non-Toxic Pans
Now that we know what type of materials a safe non-stick skillet or saute pan can be made out of, it's time to search for the best non-toxic cookware options. Good news for you: we already searched, and we found the following pans of different cookware brands. Each one is non-toxic, non-stick, and comes with its own unique set of pros and cons. So let's find out which one is the safest non-stick pan!
This frying pan by GreenLife features a nonstick coating made from ceramic. The ceramic is derived from sand and is free of lead, which means you don't have to worry about lead poisoning. There's not a whiff of teflon in this pan, and it's also free of PFOA (perfluorooctanoic acid) and cadmium, making it safe for you to cook your food in.
In addition to its non-toxic materials, the GreenLife also features a soft-grip Bakelite handle that stays cool while you're cooking. The pan itself is dishwasher safe, but I found it very easy to clean with just a swipe of your dish cloth. All in all, this product combines the best of both worlds: safe and easy to use.
Last update on 2023-09-30 / Affiliate links / Images from Amazon Product Advertising API
Pros:
Lead-free ceramic coating
Easy to clean
Dishwasher safe
Soft-grip Bakelite handle stays cool and is easy to hold
Cons:
Can't be used on high heat
This 12-inch non-stick pan by Ecowin comes with a stone-based coating. Once again, it's free of teflon and therefore safe to use during your culinary exploits. Because the coating is stone-based, heat distributes remarkably well throughout the pan. I experienced that the pan is easy to clean and that the silicone Bakelite handle feels comfortable in your hand and stays cool to the touch even while it's sitting on a heated stovetop. As a little something extra, the handle features a faux wood finish (some might see it as a nice touch, while others may think it's tacky). The Ecowin is a safe, inexpensive option that's beautiful to look at and easy to use.
Last update on 2023-09-29 / Affiliate links / Images from Amazon Product Advertising API
Pros:
Non-toxic stone-based coating
Stone-based nonstick coating distributes heat evenly
Silicone Bakelite grip is comfortable and stays cool
Dishwasher safe
Cons:
The handle is faux wood, not real wood
The AVACRAFT is a stainless steel pan that really shines compared to its competitors. Its exterior features a mirror finish, while the finish on the inside is matte to prevent scratches. It comes with two spouts so you can easily pour liquid, sauce, or whatever you're cooking out of the pan and make less of a mess. The base of the pan distributes heat evenly across the pan, and the entire product is dishwasher safe. Overall, this pan is non-stick, easy to clean, and non-toxic (just watch out if you're allergic to nickel). I found it easy to pour out the food from the pan, thanks to the spouts.
Last update on 2023-09-29 / Affiliate links / Images from Amazon Product Advertising API
Pros:
Non toxic, non-stick stainless steel coating
Matte finish inside pan prevents scratching
Spouts make it easy for you to pour out the pan's content
Dishwasher safe
Cons:
Nickel in stainless steel coating might be harmful to people with a nickel allergy
Cannot be used on high heat
Lodge's cast iron skillet is pre-seasoned with vegetable oil so that it's already non-stick and ready to use right out of the box. Cast iron retains and distributes heat better than any other type of pan material, and this pan can be put on high heat for intensive cooking. As a reminder, its nonstick coating is a result of the seasoning. Just remember that cast iron can leach iron into your blood, so if you have hemochromatosis, you probably want to avoid this type of pan. It's also not dishwasher safe; you will have to clean it with soap and water by hand after every use, or not clean it and let the seasoning continue to build up over time. I found this one a bit heavy to handle, but you can get used to it fast.
Last update on 2023-09-29 / Affiliate links / Images from Amazon Product Advertising API
Pros:
Pre-seasoned coating produces non-stick effect
Non-toxic
Retains and distributes heat evenly
Can be used on high heat
Imparts unique flavor to your food
Cons:
Not dishwasher safe
Leaches iron into food, which can be problematic for people with hemochromatosis
For the professional (or just ambitious) cook, the All-Clad D3 Stainless Steel Fry Pan pulls out all the stops. It features a tri-ply base that evenly distributes heat, and it can withstand up to 600 degrees Fahrenheit. This pan is extremely durable, with a layer of aluminum as well as stainless steel, and all made in the US. It's also easy to clean and can be put in the dishwasher. It's ideal for people who love to cook a lot or even for professional chefs. I particularly liked its premium finish.
Last update on 2023-09-29 / Affiliate links / Images from Amazon Product Advertising API
Pros:
Highly durable stainless steel and aluminum materials
Withstands up to 600 degrees Fahrenheit
Dishwasher safe
Cons:
Expensive
Contains nickel, which may be harmful to people with a nickel allergy
Although it is not really non-stick, I list this pan here as it is definitely one of the safest options. It's all ceramic and there is no coating containing chemicals or metals. It's wide base is pretty cool, I found it large enough to cook a family dish.
In spite of the size it was surprisingly lightweight for me. The manufacturer claims that it heats evenly, which I can confirm. Can go to both dishwasher and microwave. I would say this is the safest option, but it's not non-stick and the price is stellar.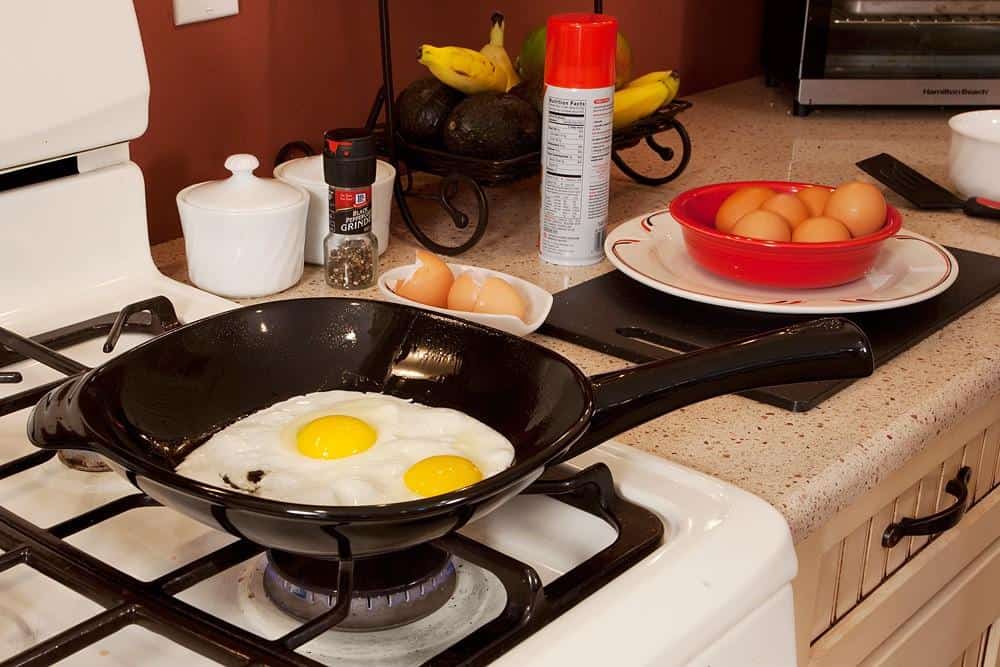 Pros:
Metal free, lead free, chemical free
Can go to oven, microwave and dishwasher
Distributes heat evenly
Large and convenient
Light weight
Cons:

Summarizing the features
Verdict – which is the safest non-toxic pan?
If you're looking for a safe, inexpensive frying pan, we believe that the best non-toxic cookware is the Ecowin non-stick pan with the stone-based coating. The stone-based coating is non-toxic and an amazing heat conductor, so you won't have to worry about your food cooking unevenly. Our reviewers voted for Ecowin almost unanimously. It can also go to the dishwasher, and there are no hidden, potentially harmful substances in it like nickel or iron.
The runner-up is obviously the Xtrema skillet. Totally safe, no harmful substance, very versatile, can go to stovetop, oven, microwave. Convenient to handle, etc, etc. But you need to use some substance to make it non-stick, such as a cooking oil spray or something similar.
Q&A On Safe Non-Stick Pans
Still have questions about the safest non-stick pans? We answer some common concerns below…
1. What should I avoid when choosing a nonstick pan?
When choosing a nonstick pan, you need to avoid teflon coating which contains chemicals that can be toxic. Lead is another toxic substance to avoid and can sometimes be present in ceramic pans that are glazed and haven't been fired properly. You also need to avoid any pans that are made with materials that you're allergic to, such as nickel which is present in stainless steel. Finally, people with too much iron in their blood should avoid cast iron pans.
2. When is a nonstick pan toxic?
A nonstick pan is toxic when it is made of or coated in a toxic material. This includes teflon, but also improperly fired lead glazes like those found on ceramic frying pans.
3. Are ceramic nonstick pans toxic?
They can be toxic if they are not fired properly. If you're considering buying a ceramic pan, make sure it says "lead-safe" or "lead free" in the product description. Otherwise, you run the risk of exposing yourself to lead poisoning. Find out more about lead free dishes here.
4. Are teflon-free pans really non-stick?
Yes, but only if you use them as they were originally intended. Some pans, like the GreenLife, the Ecowin, and the AVACRAFT that can't be used on high heat. Otherwise, their surfaces will be ruined and no longer will be non-stick. Cast iron cookware need to be continually seasoned in order to retain their non-stick coating. Stainless steel cookware is by default nonstick. The important thing is to be aware of the material you're getting, what makes it non-stick, and how to take care of it so it lasts you through many happy months (or even years) in your kitchen.
5. Are glass cookware considered as nonstick?
Not really, food in glass pots and pans typically sticks and burns easily even if you are only frying eggs. However the material does not contain chemicals and does not contaminate the food while cooking, so considered non-toxic cookware.
6. Is Le Creuset nonstick safe?
Le Creuset nonstick cookware are made of enameled cast iron, so free of PFOA and other chemicals. Also the enamel in Le Creuset cookware does not contain lead. If you want to know more, we have a detailed review on whether Le Creuset is safe.
7. What other toxins are there in the kitchen?
Primarily you want to make sure that you use equipment that is safe, we have a review about non-toxic bakeware, a detailed guide on toxin free plates and dishes and another one on safe utensils. If you would like to read a comprehensive article, read our piece on how to detox your kitchen.