We ♥︎ honesty! We may earn a commission through affiliate links on this page at no extra cost to you.
There's no shortage of powerful adhesives in the market. You can find a glue that can stick anything to anything!
But it's important to note that most glues in the market have toxic chemicals called VOCs in them.
These cause headaches and nausea in the short-run, but studies reveal that inhaling them can cause cancer.
However, there are a handful of non-toxic glues in the market that don't harm your health. 
But telling the high-quality one from the bogus glue can be difficult.
Don't worry, though – I've got you covered.
Here's a list of the best non-toxic glues that money can buy.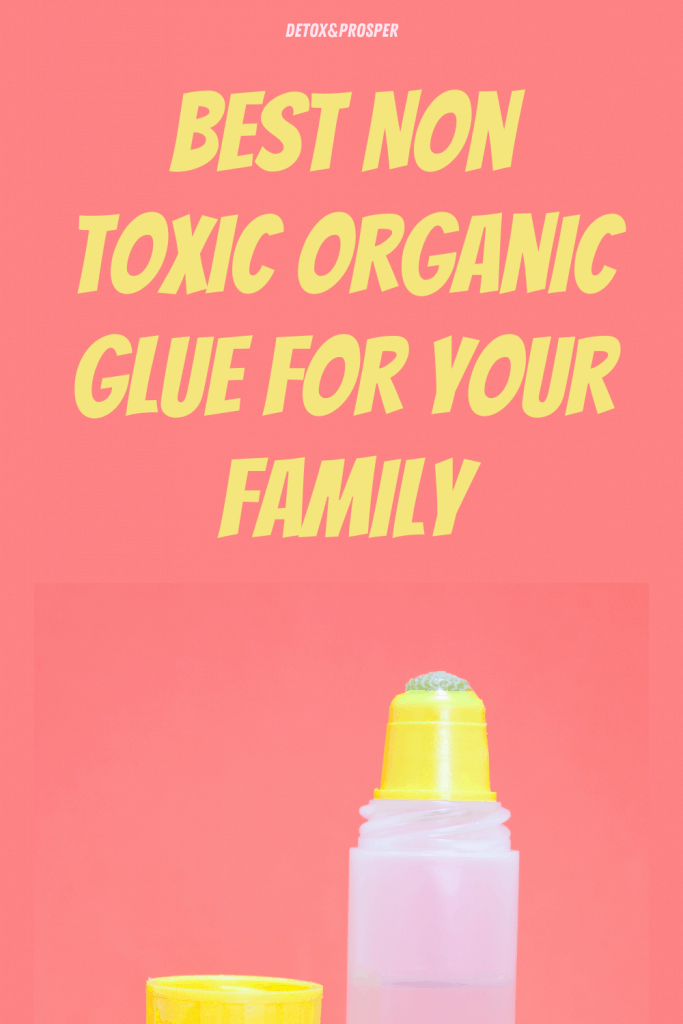 Three Features to Consider in a Non-Toxic Glue
Other than your budget and the amount of glue you need for a project/repair, there are three more features you must consider when buying a non-toxic glue.
VOC Content
Most manufacturers do not mention exactly how much VOC is in their adhesive since there's no law requiring it.
However, as long as an adhesive has a "Low VOC content" mark, it won't harm your health.
I've gone the extra mile to make sure that the majority of the non-toxic glues in my list have zero VOC content.
Clamp and Curing Time
These can make a massive difference to the time you must invest in repairing/finishing a project.
Most non-toxic adhesives require one full day to cure; however, there are non-toxic glues in the market that cure in a matter of hours.
Bond Capacity
Most glues are manufactured to work with specific materials. But if you're willing to spend a little extra, you can get a multi-purpose non-toxic glue.
Learning the materials a given glue can bond with will help you understand if you'll be able to, say, glue wood and plastic for a DIY project.
It's important to consider what material you'll be working with (at least most of the time) when buying a non-toxic glue.
Best Non-Toxic Glues: Top 5 Picks
#1 Elmer's E7502 4-Ounce Multi-Surface Non-Toxic Glue For DIY Projects
If you love to DIY things, Elmer's E7502 is perfect for you.
While it comes in a tiny and easy-to-use 4-ounce bottle, but its strong, industry-grade hold will stick things together for life.
Last update on 2021-10-18 / Affiliate links / Images from Amazon Product Advertising API
The E7502 is a multi-surface glue and can bond metal, glass, ceramics, wood, stone, concrete, and a lot more.
With this glue handy, you will be able to tackle any DIY project. However, there's a lot more to the glue that makes it great for use by carpenters.
It's 100% weatherproof, which means if a chip of wood broke off your deck, you could fix it with the glue with ease.
This Elmer's glue doesn't foam up, either, making repairing things a lot less messy.
You will need to give the materials you stick at least 30 minutes of clamp time for the hold to set. It takes 24 hours for the glue to set fully.
#2 Titebond III Non-Toxic Glue For Kitchen Repair
Safe glues that are 100% non-toxic and do not affect your health even when used in the kitchen can be hard to find.
The Titebond III glue, however, holds the FDA's approval as a non-toxic glue. The adhesive also meets ANSI/HPVA Type I water-resistance specifications, so it's perfect for repair in the kitchen.
Last update on 2021-10-18 / Affiliate links / Images from Amazon Product Advertising API
Using it to repair, say, a bamboo cutting board is completely safe.
It comes in a 4-ounce bottle, and you would need very little of the glue for such a repair. A thin line of glue along the length of the board would be enough to do the trick.
The curing time is 24 hours; however, the initial tack is super sturdy – you won't need to hold it in place for long.
However, you must let the glue cure fully before you use the repaired item again.
But on the plus side, you can use it for both interior and exterior applications.
#3 Original Gorilla Non-Toxic Multi-Purpose Repair Glue
The Original Gorilla glue rose to fame owing to its industrial strength and versatility.
The formula has only gotten better over the years, and it remains one of the best glues in the market.
Last update on 2021-10-18 / Affiliate links / Images from Amazon Product Advertising API
You can use it both indoors and out and carry out difficult repairs that require a lot of adhesive strength to fix.
The Original Gorilla glue doesn't break down when exposed to the elements, and since it's waterproof, you don't have to worry about your repairs being affected by the rain or snow.
It can bond wood, stone, metal, ceramic, foam, glass, and even concrete!
The secret behind the adhesive's ultra-strong bond is the foaming. After you apply it, the glue expands to three times its volume to make an incredibly strong bond.
You must remember to use it sparingly when applying it – apply too much, and it will make a mess.
#4 Elmer's Non-Toxic Carpenter's Wood Glue
Elmer's non-toxic carpenter's wood glue is what the professionals rely on to get the job done.
The adhesive is made specifically for putting together non-toxic furniture and aiding in furniture repair. If you plan on taking up some household woodworking projects yourself, you cannot go wrong with Elmer's Carpenter's wood glue.
Last update on 2021-10-18 / Affiliate links / Images from Amazon Product Advertising API
It's non-toxic, which is a pre-requisite for it to make it on my list; however, it's also very easy to get off the hands.
Soap and water usually do the trick, but you don't need to panic if the glue has dried on your hands. 
Rub some sand on your hands and apply a little pressure, and the glue will start coming right off.
Unlike a lot of other carpenter's adhesives, this Elmer's adhesive also does not off-gas dangerous chemical as it cures – you can work with it safely.
While it takes just as long as any other glue – 24 hours – to cure, the advantage of using it is that it bonds stronger than wood.
Your creations will never break, and your repairs will never fail!
#5 Better Ultimate Adhesive Non-Toxic Multi-Purpose Super Glue
There's a reason the Better Ultimate Adhesive comes in such a small package – you don't need a lot of it to glue things together.
The glue has low VOC content and does not contain any solvents. It also does not have an odor, and it dries clear, making for an excellent finish.
Last update on 2021-10-18 / Affiliate links / Images from Amazon Product Advertising API
From craft projects to repairs to DIYs and everything else, the glue can tackle anything.
The extremely versatile super glue bonds on wood, metal, glass, plastic, Styrofoam, fabric, paper, and pretty much anything else you can think of!
However, handling it with care is important, because it will stick to your hands and can be difficult to get off.
It dries four times faster than the average adhesive, and in addition to being weatherproof, it is also shockproof.
It's a glue that can do everything that the others on the list can – which can count for a lot when you're in a pickle and need a quick fix.
Open Questions About Non-Toxic Glues
Can I sand a non-toxic glue?
Most non-toxic glues can be sanded once it's cured. However, it's best to read the label or enquire with the manufacturer if you aren't sure.
What is the shelf life of a non-toxic glue?
Non-toxic glues can have a shelf life of up to five years.
What's the best way to find out if a given glue is really non-toxic?
Reading the MSDS on their website or requesting the company for one is a sure-shot way to learn if a given glue is non-toxic.
Verdict
The Original Gorilla glue can bond several different materials, including wood, stone, metal, ceramic, foam, glass, and concrete.
It's affordable and foams up to thrice its volume to create an incredibly strong bond.
The glue is waterproof, shockproof, and, most importantly, free from toxic chemicals.
You cannot go wrong with the Original Gorilla glue.