We ♥︎ honesty! We may earn a commission through affiliate links on this page at no extra cost to you.
Wood is one of the most robust building materials known to man. We've been using it for centuries to build shelter and tools.
However, as strong as wood is, it also requires maintenance and protection from the elements.
Using a sealer is an excellent way to fortify wood and prolong its useable life. 
But most wood sealers in the market contain toxic chemicals called VOCs. These dangerous chemicals can cause cancer.
Finding high-quality, safe wood sealers from a massive selection of sealers can be a chore.
There's no need to worry, though – I've got you covered.
Here's a list of some of the safest non-toxic wood sealers in the market.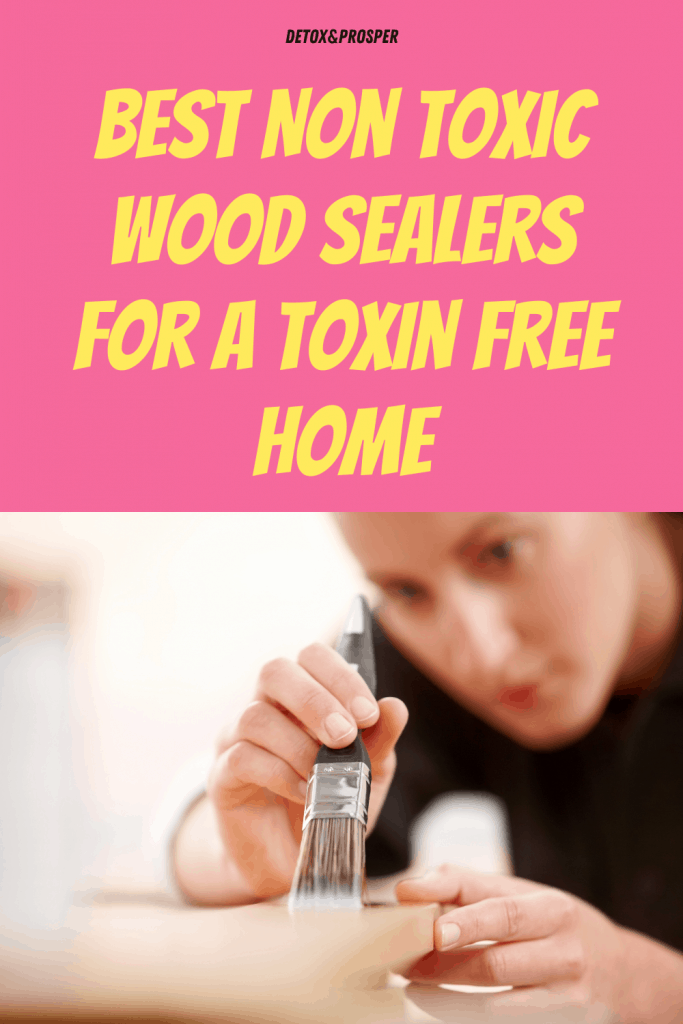 Three Features to Consider in a Non-Toxic Wood Sealer
Coverage
Coverage is an important factor to consider because if you purchase a non-toxic wood sealer that offers low coverage, you will need to buy more of it.
There is no accurate figure I can give you about the average coverage. Coverages range from 300 square feet to 800+ square feet per gallon.
So, make sure you set your budget and know the area of wood you want to seal before heading to the store.
Color
Most sealants are clear and do not change the color of your wood.
But if you're looking to spend less and avoid getting stain, or want to cut down on the work you need to do, there are a handful of wood sealers that come with tints.
Some non-toxic wood sealers can also be mixed with tints. 
Be on the lookout for these – they can save you a lot of time and money.
VOC Content
A low VOC content is a must – you don't want dangerous chemicals to be wafting around your home.
Unlike wood stains, most wood sealers don't come with a gram per liter measure for VOC content.
So, when purchasing a sealer, make sure you look for a "Low VOC" or "VOC-Free" symbol. 
These are safe to use in and around your home.
But don't worry, I went the extra mile in this post to make sure that the majority of wood sealers in this post have zero VOC content.
Non-Toxic Wood Sealer Vs. Wood Stain
Wood sealers are applied to protect the wood from graying, degrading, and deteriorating from continual exposure to water and the sun.
Wood stains, on the other hand, do not protect the wood. They are used to give the wood color before sealing.
However, a lot of woodworkers recommend partially sealing wood before staining to get a blotch-free stain. 
Best Non-Toxic Wood Sealer: Top 7 Eco-Friendly Picks
#1 Seal It Green Xtreme BAMBOO Non-Toxic Wood Sealer
While the Seal It Green Xtreme BAMBOO non-toxic wood sealer is developed for use on bamboo, it works equally well on other wood species – including exotic woods like mahogany!
The natural wood sealer will protect the wood you treat for 15+ years in only a few hours of work!
Last update on 2022-10-02 / Affiliate links / Images from Amazon Product Advertising API
Using it for interior wood is not recommended by the company. But applying on your patio or your outdoor furniture is an excellent idea.
To ensure that the sealer sets well and keeps your wood looking new for over a decade, you have to protect it from water 24 hours after applying it.
The number of benefits the natural wood sealer offers is fantastic. It will protect your wood from end grain checking, UV damage, cupping, warping, cracking, and splitting.
The enhanced level of protection is made possible because the sealer is designed to penetrate deep into the wood's fibers – and not just 'float' above the grain. 
But what's more impressive is that the natural formula of the sealer also protects wood from insect damage!
#2 Eco Advance Exterior Wood Water Repellent
Preserving the natural look of the patio or outdoor furniture while protecting them from the elements is a goal of many.
If you have a standard garden pump sprayer handy, getting the Eco Advance Water Repellent will enable you to waterproof wood in minutes!
Last update on 2022-10-02 / Affiliate links / Images from Amazon Product Advertising API
The non-toxic wood sealant dries clear, and several customers report that they can't tell the difference in the wood after treating it.
The low VOC formula ensures that your beloved patio doesn't turn into a health hazard. Furthermore, Eco Advance's low-odor formula ensures that the scent of the sealant doesn't bother you.
The eco-friendly wood sealant dries quickly, and you can use your patio or deck per usual in as less as two hours after sealing it.
Another excellent advantage the sealant offers is that it's vapor permeable, which means you can use the water repellent on new wood, too.
If you have a chicken coop or a kennel, it's safe to seal it with the Eco Advance sealer. The sealer also doesn't affect landscape plantings, and of course, it's safe for humans.
But there is one disadvantage with this non-toxic wood sealer – you cannot use it for interior wood.
#3 TriCoPolymer VOC-Free Non-Toxic Satin Wood Sealer
While "TriCoPolymer" may sound like it's unsafe, the non-toxic formulation is USDA and FDA compliant.
So regardless of if you have a house on the beach or want to protect your wood from water and wear, the TriCoPolymer non-toxic wood sealer will give you fantastic results.
Last update on 2022-10-02 / Affiliate links / Images from Amazon Product Advertising API
Its eco-friendly formula is 100% VOC-free, which is super impressive!
The sealer is also easy to apply and clean up, and does not effuse dangerous fumes like some of the other options on the market.
If you have a pet pen, an animal shelter, or a livestock yard, the affordable eco-friendly wood sealer is right for you. Applying it to wood forms a high-adhesive micro-film that makes wood water- and wear-resistant!
While you could use a regular paintbrush to apply the wood sealer, you could also use your garden pump spray to make things quicker and easier.
The company proudly flaunts the product's title of "The World's First Flood-Grade Rated Sealant." 
If your home has been affected by a flood, a hurricane, or been damaged by ocean water, using the sealant can help fortify the wood during the repair process. 
#4 SEAL-ONCE MARINE – Penetrating Wood Sealer, Waterproofer & Stain
If you live by the beach or are close to a river or lake, the wood in your backyard or porch will degenerate rapidly.
The SEAL-ONCE MARINE wood sealer supplies the long-lasting protection that your deck and patio need.
Last update on 2022-10-02 / Affiliate links / Images from Amazon Product Advertising API
It's also an excellent investment if you have a boat dock, piers, or retaining walls since it will extend their useful life by quite a bit.
Unlike many other top-coat sealers, the MARINE sealer uses nanotechnology to penetrate beneath the wood's surface.
It creates a barrier below the wood's surface, protecting it from damage and deterioration from inside out.
But the best thing about it is that it doesn't harm people, animals, or plants, and can be applied over open water without polluting it.
One unique advantage that the MARINE wood sealer offers is that it can be mixed with tints to change the wood's look. The sealer itself is clear, and the tints must be purchased separately.
Like all wood sealants, though, it does have some disadvantages. It's slightly more expensive than the average non-toxic, eco-friendly wood sealant, and only has a maximum coverage area of 350 square feet per gallon.
#5 Acri-Soy Penetrating Concrete and Wood Sealer
If you're looking for a non-toxic wool sealer that gives offers excellent value for money, you cannot go wrong with the Acri-Soy wood sealer.
The sealer works perfectly with concrete, plaster, brick, stucco, and even masonry block surfaces in addition to all kinds of wood.
Last update on 2022-10-02 / Affiliate links / Images from Amazon Product Advertising API
But there's more.
The sealer will cover 500 – 800 square feet per gallon, which is very impressive.
You will likely have extra sealer left after you waterproof your wood deck or patio – which is a good thing because you can apply the excess sealer to your driveway, paver, or even a block wall.
The finish that this eco-friendly wood sealer supplies can last for a lifetime. You also don't have to worry about it peeling and flaking over time. 
It is made from 100% acrylic hybrid soy oil emulsions and hence is VOC-free and sustainable. You can safely use it indoors – it won't harm pets or children in any capacity.
If you dislike the odor that arises from painting, staining, and sealing, you can blindly buy the Acri-Soy wood stain. 
It's odorless, which won't give you headaches or disrupt your sleep.
#6 Rain Guard Wood Sealer Concentrate
There aren't a lot of brands out there that offer a satisfaction guarantee for a low price. 
However, Rain Guard raises the bar with its cheap, non-toxic wood sealer concentrate.
Last update on 2022-10-02 / Affiliate links / Images from Amazon Product Advertising API
It can be used on interior, exterior, and even unpainted wood, and it will dry clear with an invisible finish.
However, the protection it offers is super impressive. The non-toxic sealant will keep your wood safe from surface damage from rain and snow for up to five years.
These claims are backed by Rain Guard's guarantee, and considering that the wood sealer is priced towards the lower-end, this is super impressive!
The low price can be attributed to the fact that it's a concentrate and needs to be mixed with water to be used.
But the two gallons of wood sealer that the concentrate makes will only be enough for 400 square feet, which I find underwhelming.
#7 Thompsons WaterSeal Advanced Natural Wood Protector
The Thompsons WaterSeal is an affordable and eco-friendly alternative to toxic wood sealers. 
It will protect your fences, deck, exterior furniture, and wood from decay and fading – which are problems prevalent in high-moisture environments.
Last update on 2022-10-03 / Affiliate links / Images from Amazon Product Advertising API
It does this by not only making your wood water-repellant but also by creating a protective barrier that keeps the damage caused by UV rays from the sun at a minimum.
It's one of the easiest wood sealers to use since you can apply it on damp, dry, pressure-treated, or fresh wood without a problem.
Additionally, you don't have to take the trouble to apply a second coat – the company claims that one coat will offer more than enough protection.
Since the formulation is water-based, you can clean off any dirt from your wood with just soap and water. No complex cleaning processes are required!
The low VOC-content was a pre-requisite for it to make it on this list, and the non-toxic wood sealer also doesn't effuse strong odors during application.
Open Questions About Non-Toxic Wood Sealer
Can I sand off non-toxic wood sealers?
Yes, most non-toxic wood sealers can be sanded off.
Will non-toxic wood sealers give my wood a new look?
Most wood sealers become invisible to the eye once they dry. 
However, some sealers out there give wood a matte finish or even give it a pleasant tint.
Verdict
The Acri-Soy Penetrating Concrete and Wood Sealer covers large areas, doesn't have any VOC content, and can seal all woods and also concrete.
The pricing is great, and the odorless sealer is completely sustainable.
It's hard to find a reason not to recommend it!