We ♥︎ honesty! We may earn a commission through affiliate links on this page at no extra cost to you.
Staining is the right way to go if you're trying to breathe new life into your old furniture, the wood accents around the house, or deck.
However, most wood stains contain dangerous volatile organic compounds (VOCs).
Headaches and skin/eye irritation are only the beginning. Inhaling these compounds can cause asthma and have even been linked to cancer.
Luckily, several natural, non-toxic wood stains are available that don't contain or off-gas toxic chemicals.
And to help you find the right product, in this post, I will highlight seven of the best natural, non-toxic wood stains that money can buy.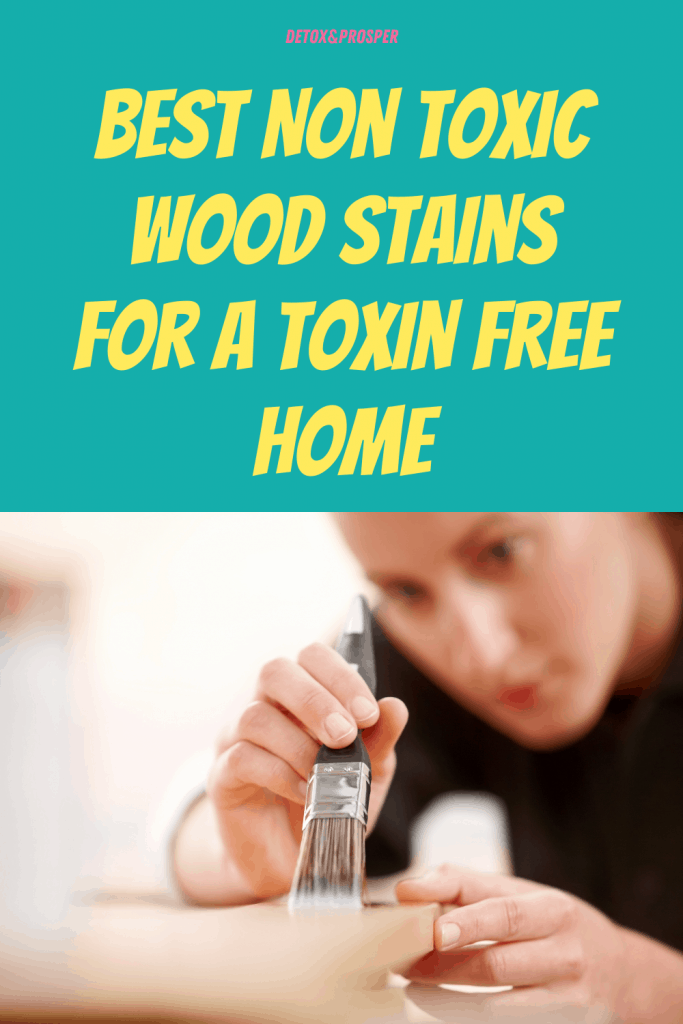 Three Features to Consider in a Non-Toxic Wood Stain
Coverage
The coverage ties into the budget, and it's an important feature to consider because any extra stain you buy will likely go waste. 
You want to avoid getting any more stain than you need.
Different products cover different areas; however, it is reasonable to assume that 8 – 12oz of stain will cover 70 – 80 square feet of wood.
Color
Color is a personal preference. 
While some stains have a naturally yellowish tint, other non-toxic, plant-derived wood stains give you color options ranging from a bold dark walnut to a quirky azure.
VOC Content
The VOC content in wood stains is the most crucial consideration.
If a wood stain has any more than 250 grams of VOC per liter, steer clear of it, because it is toxic.
You can identify non-toxic wood stains by looking for certifications like Green Seal-11 and Greenguard. 
These certifications guarantee that the VOC levels are limited to a minimum.
In California, it is required by law for companies manufacturing wood stain to meet this standard, so there is no shortage of safe, non-toxic wood stains.
However, I went the extra mile to ensure that almost every wood stain on this list has zero VOC content.
Non-Toxic Wood Stain Vs. Wood Sealer
Sealers do not give wood any color – so they are fundamentally different from natural, non-toxic wood stains.
Wood sealers are used to waterproof wood, and a lot of times, are applied to the wood before it is stained to prevent a blotchy finish.
Best Non-Toxic Wood Stain: Top 7 Eco-Friendly Picks
#1 Cabot Australian Timber Oil Stain (Honey Teak)
The three-way protection the Cabot Australian timber oil offers makes it one of the best natural stains to go for. It works best on outdoor furniture, decks, sidings, and railings.
The natural oil wood stain is a combination of high-quality linseed oil, premium tung oil, and long-oil alkyds.
Last update on 2023-06-04 / Affiliate links / Images from Amazon Product Advertising API
The combination of these results in a stain that penetrates deep into the wood protects wood from water damage. It also virtually guarantees that the stain won't flake or peel off the wood over time.
The blend was originally formulated to protect dense tallowwood from the extreme exposures of Australia. 
You can rely on it for keeping your deck in tip-top condition for decades.
But durability is not the only advantage the oil offers. The oil will also make your deck and outdoor furniture a lot more attractive. 
It also accentuates the depth and patina of the wood as it penetrates the wood, giving it a lot more character.
But the best thing about it is that it comes in 10 different colors – not just Honey Teak!
#2 DEFY Extreme 40 Semi-Transparent Wood Stain (Cedar Tone)
Not a lot of companies offer what DEFY offers – an eco-friendly, non-toxic semi-transparent wood stain. 
The water-based stain will give your wood's grain all the limelight, only giving it a lovely tint. 
Last update on 2023-06-04 / Affiliate links / Images from Amazon Product Advertising API
Since it comes in seven different "tones," including the cedar tone and a clear tone, you can choose how you want your wood to look.
It gives your wood a matte finish, which is another unique characteristic of the stain.
But there's a lot more to the stain than just this.
The stain is fortified with zinc nano-particle technology, which deflects the UV rays that hit your deck. It prevents premature graying of the wood.
Additionally, the high quality of resins used to make the wood stain makes it resistant to fading and darkening.
But what's most impressive about the wood stain is that the company promises VOC content of less than 40g/L. It's one of the safest non-toxic wood stains money can buy. 
#3 Tried and True Zero VOC Wood Stain (Java)
Quality wood stains that are made from all-natural constituents can be hard to find. 
However, if that's what you're looking for, the Java-colored wood stain by Tried and True is right for you.
Last update on 2023-06-04 / Affiliate links / Images from Amazon Product Advertising API
It is a combination of superior-penetrating linseed oil and all-natural earth pigments, and in addition to highlighting the grains of the wood, the oil also offers some protection.
Tried and True recommends it for interior woodworking projects, and since it is safe for food and skin contact, you can use it on cutting boards, butcher's blocks, and children's toys.
It is also safe to use the oil on tables and cribs.
Although it is pricier than other products on this list, the company claims that a gallon of the oil will stain up to 1000 square feet of space.
So, if you want to tackle a larger staining project, such as staining your floors, the Tried and True non-toxic oil offers excellent value for money and would be right for the project.
#4 INTERBUILD HARDWAX Oil – Zero VOC – Golden Tea
INTERBUILD explains that most wood stain oils on the market are sold with a mixture of 40% – 60% solvents.
It means that a good portion of the wood stain oil you apply simply evaporates away.
Last update on 2023-06-04 / Affiliate links / Images from Amazon Product Advertising API
But not the INTERBUILD Oil. By not adding the thinners/solvents that contain dangerous VOCs to their product, the company gives their oil three-times the coverage compared to other wood stains from the same volume of oil.
The noticeably pricey non-toxic wood stain oil comes in 8.5 oz cans. However, the company states that one can will cover up to 108 square feet of space.
That's roughly three times the coverage an average wood stain oil would offer – which makes the INTERBUILD oil more affordable!
You can use the oil both inside and outside of your home. It's safe to use on tables and cutting boards, and you don't have to worry about safety.
The oil is made from vegetable oils and waxes cooked at high temperatures. 
When you apply the mixture to wood, the micro-molecular oil will penetrate the wood, and the wax will remain on top, giving the wood a water-repellant and wear-resistant surface. 
#5 WOCA Denmark – Diamond Oil Active Wood Finish (Smoke Brown)
WOCA Denmark is a brand that's well-known for the quality wood care products they offer. 
The company's unique hyper cross-linking technology makes the wood water- and slip-resistant while respecting the wood's natural charm.
Last update on 2023-06-04 / Affiliate links / Images from Amazon Product Advertising API
The oil acts like both the stain and the sealer – you won't be needing to buy a sealer separately to ensure an even coat.
It's made from plant-based materials, which makes the WOCA Denmark oil very durable and non-toxic. It's natural origins also give it a very faint odor that vanishes quickly.
The non-toxic wood finish is free from dangerous isocyanates and is safe to use on tables, kitchen tops, and children's toys. 
One of the best advantages it offers that it's easy to maintain. If you notice any wear on the coating, you won't need to sand everything down.
All you'll have to do is use the WOCA Intensive Wood Cleaner and buff in another coat when you deem it necessary.
But the best advantage it offers is that it works with any species of wood – regardless of if you have exotic woods like Mahagony and Teak, or domestic woods like pine or cedar in your home.
It comes in cheap and dries in a day, making it a solid option for staining any indoor wood projects.
#6 Hope's 100% Pure Tung Oil
Regardless of if you have unfinished/bare wood or are looking to give new life to wood that you removed the old finish from, using Hope's pure tung oil for staining is a great idea.
The drying oil is imported from South America and is an affordable alternative to processed non-toxic wood stains.
Last update on 2023-06-04 / Affiliate links / Images from Amazon Product Advertising API
Artisans from the world over consider it to be the ultimate drying oil for all woods. The oil will penetrate deep into the wood's fibers and become one with the wood.
To use it, all you need to do is hand-rub it in with a piece of cloth. It will dry hard like a varnish – but it won't off-gas any of the toxic chemicals.
Additionally, the oil lasts several times longer than other mineral oil and wax-based stains in the market!
It also makes the wood resistant to water and alcohol, and it's safe to use on tables and countertops. In fact, the FDA approves it for use on cutting boards and butcher blocks – it is as safe as natural, non-toxic oils can get!
#7 100% Pure Tung Oil Finish Wood Stain
Rich and dark finishes have always been in vogue. 
The pure tung oil offered by FDC Chem is the most affordable wood stain on this list. However, the finish it gives looks far from cheap. 
Last update on 2023-06-04 / Affiliate links / Images from Amazon Product Advertising API
The instructions for use are the same as Hope's pure tung oil – sand the wood (if possible) and hand-rub the oil onto the surface.
Allow it to permeate for 30 minutes and wipe off the excess oil. Wait up to 24 hours to apply the next coat.
You can also use it to give concrete or brick more character. It will also protect the surface it's applied to from acid, water, and grease, and since it's food-safe, you can use it on butcher blocks and cutting boards.

Open Questions About Non-Toxic Wood Stain
Does using non-toxic wood stains protect the wood?
No, staining a piece of wood will only give it color – it will not protect it. However, some stains do offer limited protection and can help your wood retain its natural color.
Wood finishes are specifically designed to protect the wood, but these are different from stains.
A few stains in the market come with polyurethane mixed in, and these do protect the wood. However, these are rarely naturally-derived and often contain toxic chemicals.
Is there a way to get a darker color using non-toxic stains?
Yes, if you apply two coats of a natural, non-toxic stain, the stain's color will get darker. 
Will I be able to sand the color off if I don't like it?
No. Stains are not like paint and penetrate deep into the wood's fibers. Once you stain it, you cannot sand it off or get rid of the color.
Verdict
It's hard not to recommend the INTERBUILD wood staining oil. 
It's food-safe, comes in eight different colors, and while it may seem expensive at first, you only need a little of it to cover large surfaces.
The wood stain also gives the wood wear-repellent properties and makes it resistant to water. 
These features make it worth every penny.