We ♥︎ honesty! We may earn a commission through affiliate links on this page at no extra cost to you.
Many women, including some of my friends, enjoy getting their nails done and acrylics are their fave. The main reasons are that those nails are very durable, can last for several weeks without peeling and they look nice and firm.
While they're thinking about which patterns and colors they want…
I'm over here thinking – is that really safe?
So that's what I want to discuss today, along with some healthy alternatives to acrylic nails.
Are Acrylic Nails Toxic?
Research suggests that nails are an extension of our skin, meaning they – too – absorb chemicals and compounds.
This could be dangerous since the toxins present in acrylics and gel formulas come from potentially dangerous chemicals that have been linked to skin and respiratory issues.
Prolonged exposure can eventually cause nail loss and destruction of its matrix.
Besides that, some acrylic applications use Methyl Methacrylate (MMA), despite the FDA's warning about its toxicity in the 1970s.
But alas, it's cheap – especially when it's diluted – so many salons still use it.
MMA isn't the only concerning chemical though.
Toluene is another one. It's found in acrylic nail glue and is linked to headaches, irritated skin, and more.
But really, that's just the tip of the iceberg since prolonged exposure can also damage internal organs, especially your liver and kidneys.
Why Gel and Shellac Aren't Much Better
Gel and shellac are said to be the best option for women who want to do their nails without the risk of absorbing toxic chemicals.
However, gel nail extensions and manicure products contain Butylated Hydroxyanisole (BBA) and Methyl Pyrrolidone, which are just as toxic as MMA.
BBA is a known carcinogen and Methyl Pyrrolidone is linked to reproductive issues.
Permanent loss of sensation in the fingertips has been reported.
And it's not uncommon for nail damage and deformities to occur.
Gel manicures can even contain formaldehyde resin and other hardeners that come with known health risks.
While for acrylic nails a liquid monomer is used to harden the structure, gel extensions use a UV gel that needs a UV or led light to get its final form. Note that the UV light is also damaging to your skin and nails and can cause premature aging and cancer.
Although they look and feel more natural and also a lot lighter than acrylic nails, gel nail extensions are just as damaging.
So what's a girl to do?!
I only know of a few safer gel alternatives.
One of the most popular is Bio Seaweed Gel.
Last update on 2023-03-28 / Affiliate links / Images from Amazon Product Advertising API
This particular brand doesn't damage your nails, and it's water-based and enriched with vitamins. 
However, Bio Seaweed still uses LED/UV lamps to set, so you need to mindful of your frequency and duration of exposure.
Personally, I think the best alternative to toxic fake nails is just to use appliques – aka stickers. 
Don't groan…they've come a long way!
Healthiest Nail Overlay: Appliques
They come in a wide variety of designs and don't look "cheap" anymore. 
Sale
Last update on 2023-03-28 / Affiliate links / Images from Amazon Product Advertising API
Many fake nail stickers have a glossy, smooth surface that imitates a varnish coating.
They're not only a faster way to get your nails done, but they also look professional.
If you get a quality brand, they'll fit evenly on the nail and stay secured. They're far more "sticky" than they used to be.
(*shudders* at the flashbacks of nail's poppin' & flyin' left and right in middle school…)
Here's a tutorial with great tips for making them last up to 3 weeks:
Video Credit: Brittany Vasseur
Another benefit is that the color doesn't fade from exposure to light and water.
On top of that, stickers protect your nails from dryness, chips, and scratches, making it great for people who want durability without the high maintenance.
Unlike acrylic nails, stickers or press on nails don't have the harmful chemicals that damage your nail bed over time.
You only need nail glue so you can select one that is free from heavy chemicals. Some press on nails come with their own adhesive though.
All of these advantages make a good case for nail stickers, making them a safe alternative to gel nails.
However, if nail stickers aren't your thing, another option is to let your nails grow naturally.
It'll take time, yes, but it's the safest alternative of them all. When applied correctyl, they can last up to three weeks.
You can do several things to make them grow faster, longer, and stronger – one of them being to use cuticle oil daily.
Also, increasing your Vitamin B9 intake may help because it repairs and multiplies the cells that make up your nails.
Other Nail Types Without Acrylic
One last healthy alternative is making them yourself without acrylic by using corn starch, clear nail tips, and nail polish.
The corn starch and gel polish mixture will help you get rid of the line of demarcation that comes as a result of adding clear nail tips.
Dip powder nails are not a harmful as acrylic, however it is also somewhat damaging to the nail as the seal layer is broken. At least they don't tend to emit toxic fumes that cause headache, and also no need for UV lamp that damages your DNA.
Anyways, I hope this info helps you find some better alternatives to toxic acrylic nails! And of course we have to remember that nothing is better than natural nails.
Check this article if you are interested in reading more about why natural cosmetics are better.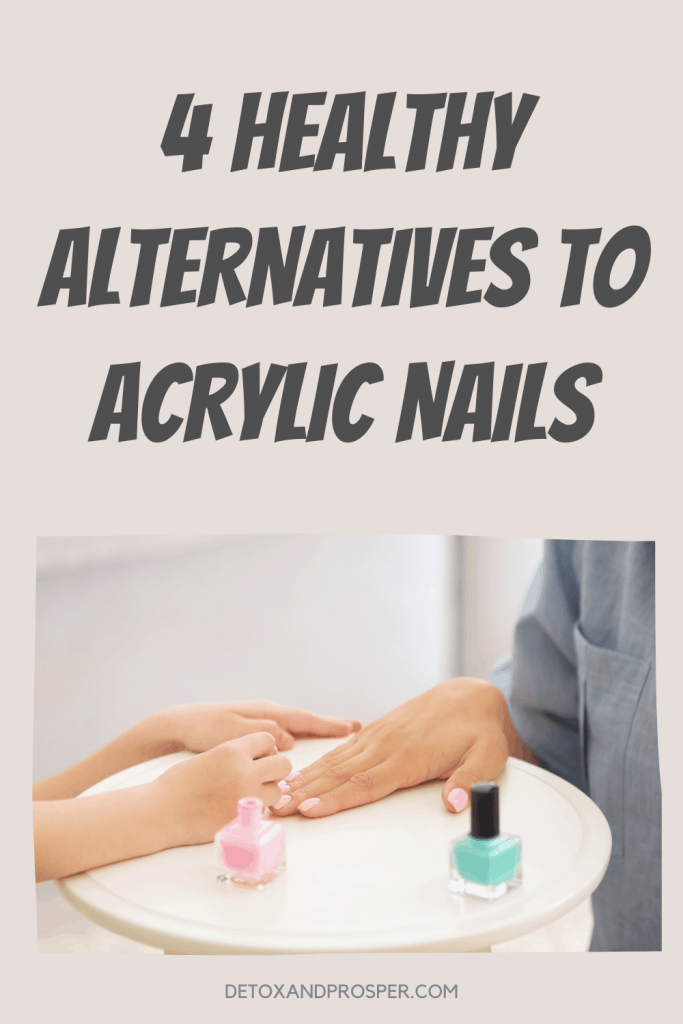 Q&A on healthy nails
What is healthier acrylic or gel nail extensions?
While both can contain harsh chemicals, gel is less likely to damage your natural nails. Especially removing acrylic can damage your nail bed.
What is the best alternative to acrylic nails?
The healthiest alternative is growing your own nail. However if this is not possible for some reason, the best solution is probably press on nails or nail stickers. You only have to pay attention that the glue applied is not toxic.
Are there healthy versions of acrylic?
Not really. The base material itself contains toxins. You can make it less toxic by applying some glue that is safe or does not contain a lot of heavy chemicals.
Editor and researcher at Detox & Prosper. With years of experience creating a healthy home for my family, I now help others eliminate toxins from theirs! Read my story here.