We ♥︎ honesty! We may earn a commission through affiliate links on this page at no extra cost to you.
If you're pulling your hair out trying to find healthy snacks for 1 year old children that they'll actually eat, you're not alone.
Maybe you just weaned your baby or maybe you just want to introduce some finger foods. Either way, you're just starting your little one's real food journey, and you don't know where to start.
I hope to help you with that today!
I'm going to share a few of my favorite homemade snacks for 1-year-olds as well as some store-bought options.
These options focus on healthy snacks because the foods we give our babies today will impact the nutrition choices they make in the future.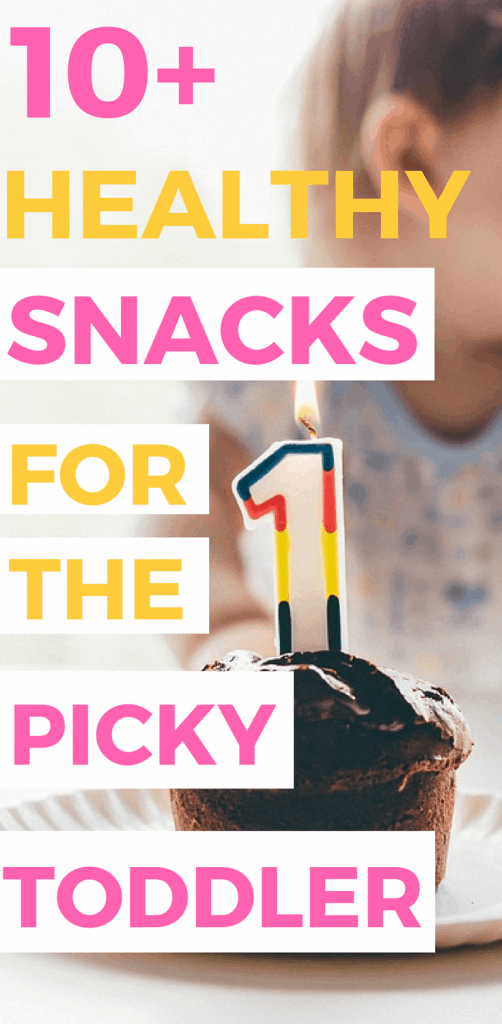 Why Are Healthy Snacks Important for 1-Year-Olds?
I hear you. I'm a tired mama, too. It's so much easier to grab a package of fruit snacks or a box of cookies on your way out the door.
And who has time to cut up fruit when you're already 10 minutes late and Baby dropped a stink bomb on the way out the door?
By the way, does anyone else think they have some sort of built-in potty timer that goes off every time you're about to leave? Ugh. At least they're super cute though 😉
Anyways. Sometimes it's just more convenient to grab a pre-packaged snack and toss it in the diaper bag, but choosing healthy snacks for your 1 yr old is worth the time and effort.
Here are just a few of the long-term benefits of healthy eating from a young age:
You significantly increase their chance of enjoying healthy foods as they get older.
Healthy snacks contain vitamins, minerals, and nutrients that are critical to their growth and development. This includes both physical and brain development.
Eating healthy as a toddler can help prevent future health issues like diabetes, obesity, and more.
Simply put, laying the foundation of healthy eating now teaches healthy habits while creating a love for nutritious foods that will serve them well for years to come.
If you are looking for some healthy toys your baby can play with, see our guide for toxin free baby toys.
What Guidelines Should I Follow When Choosing Snacks for My 1 Year Old?
Today, us moms suffer from information overload. With so many differing opinions, it can seem impossible to figure out how much, how often and what exactly your child should be eating.
To simplify things, there are some basic guidelines to follow
when planning your 1-year old's snacks:
In General
Aim for 2-4 snacks per day
Limit sugary drinks such as fruit juice
Be aware of choking hazards (whole grapes, hard fruits, and vegetables, nuts, etc)
Introduce new foods repeatedly by preparing them differently each time
Try to establish a routine by giving snacks at specific times each day
Ingredients
Regarding ingredients that toddlers need, you can't go wrong if you follow the below basic guidelines:
Whole grain foods
Fruits and vegetables
Protein foods
Foods including healthy fats (nut butter, avocado, etc)

Easy DIY Snack Ideas for Babies and Young Children
One of the best ways to introduce healthy snacks is to make them yourself.
This way, you not only know exactly what's in it, but you get to control every ingredient. So if your toddler can't tolerate dairy, you can just use a milk alternative in your recipe.
Same with gluten sensitivities.
Here are a few easy toddler snacks you can whip up in your own kitchen!
These are easy to make and only require fruit, lemon juice and honey. It makes a decent sized batch, so 1 prep session could last you the whole week. They're also quick and easy to take on the go.
They can be pretty chewy, so be sure to cut them in bite-sized pieces.
This post at Baby Foode shows you 8 different ways to dress up applesauce. The best part? They take just 5 minutes to make, and most of them only contain 3 ingredients.
It might be worth sneaking in vegetables, too. You could even adapt the recipe to make a large batch and divide it into smaller containers for eating out.
These mini muffins are great for on-the-go. They're easy to prep ahead of time and only contain a few ingredients. The banana in this recipe is an example of the many ways you can sneak healthy food into snacks your kids already love!
Your 1-year-old will love these – and you'll love the hidden nutrients they contain! Banana, avocado, and apple mix with oatmeal to form some pretty fabulous snacks that are perfectly sized for little fingers.
Fruits and Veggies
Keep in mind that chopped fruits and soft or cooked veggies are great first foods. They're quick, low prep, and loaded with nutrients.  A few delicious ones to start with include:
Blueberries
Steamed sweet potatoes
Bananas
Strawberries
Steamed carrots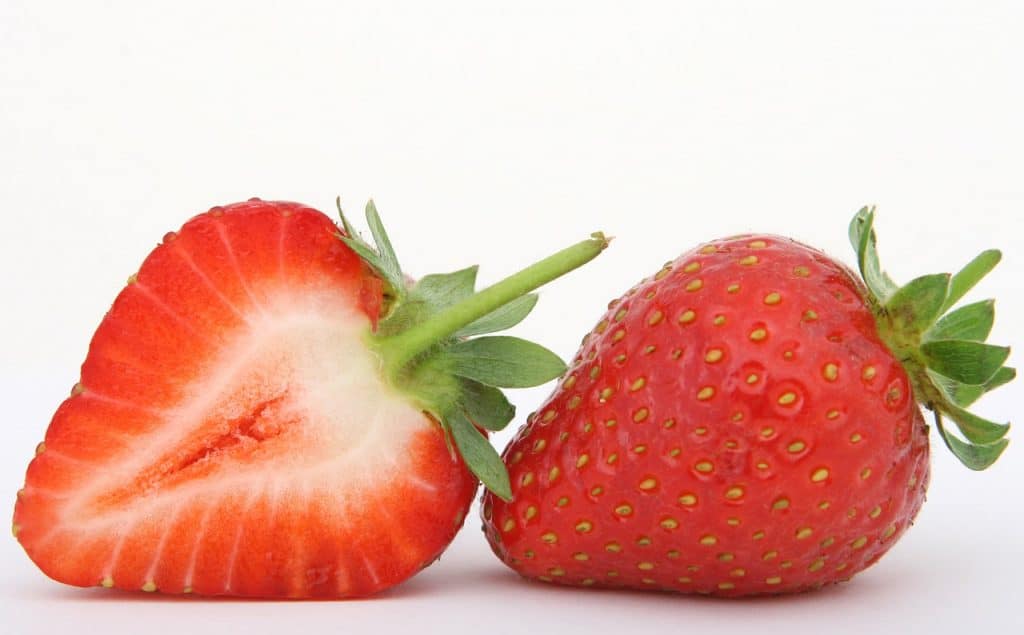 Just be sure to chop them up in small pieces to prevent choking.
Related: If you want your young ones to play in a healthy environment, check out our guide about non-toxic mats for babies.
Some Other Ideas with Yogurt, Whole Grain or Fruits
A turkey-and-cheese roll
Yogurt with granola and fresh fruit
Tomato sauce and cheese melted on crackers
Frozen natural fruit bars
Apple slices with peanut butter
Carrot slices with hummus
Whole grain crackers with melted cheese for dipping
Yogurt with fresh fruit
Small cubes of cheese with crackers
Mashed avocado on crackers
My Favorite "Actually Healthy" Store Bought Baby Snacks
String cheese
Raisins
Squeezable fruit/veggie pouches (like the one shared below)
Yogurt
Cottage cheese
Whole grain crackers
Last update on 2023-09-30 / Affiliate links / Images from Amazon Product Advertising API
By the way, unless your child has an allergy, don't be afraid to let them have those less-than-ideal snacks every now and then.
For instance, we have the sweetest older lady at church who always brings fruit snacks for the kids on Sundays. I gladly let my kids eat them, and they enjoy the treat.
What's important is that you develop a habit of healthy snacking.
But don't sweat the small stuff 🙂
So, what are your 1-year old's favorite snacks? Let me know in the comments!
Editor and researcher at Detox & Prosper. With years of experience creating a healthy home for my family, I now help others eliminate toxins from theirs! Read my story here.