We ♥︎ honesty! We may earn a commission through affiliate links on this page at no extra cost to you.
Looking for safe, non-toxic baby toys for your little one?
As a mom, I know that can be a frustrating search. If babies didn't put everything in their mouths, it wouldn't be such a big deal…but they do.
That's why it is so important to avoid chemicals in toys, many of which are known endocrine disruptors and have even been shown to cause birth defects.
Do you remember back in 2008 when 172 toys were recalled for safety reasons? A portion of those were removed from shelves due to toxic levels of lead!
And these weren't low-profile toys that no one ever buys. We're talking big name toy brands like Elmo and Dora the Explorer.
It's unfortunate, but toxic toys make it onto store shelves every single week. That's why we as parents need to be vigilant and do our research to find safe, non-toxic toys for our babies.
I put this shopping guide together after recognizing the surprising lack of non-toxic toys on the market and how long it took to find them.
I hope it makes your search for healthy green toys quicker and easier!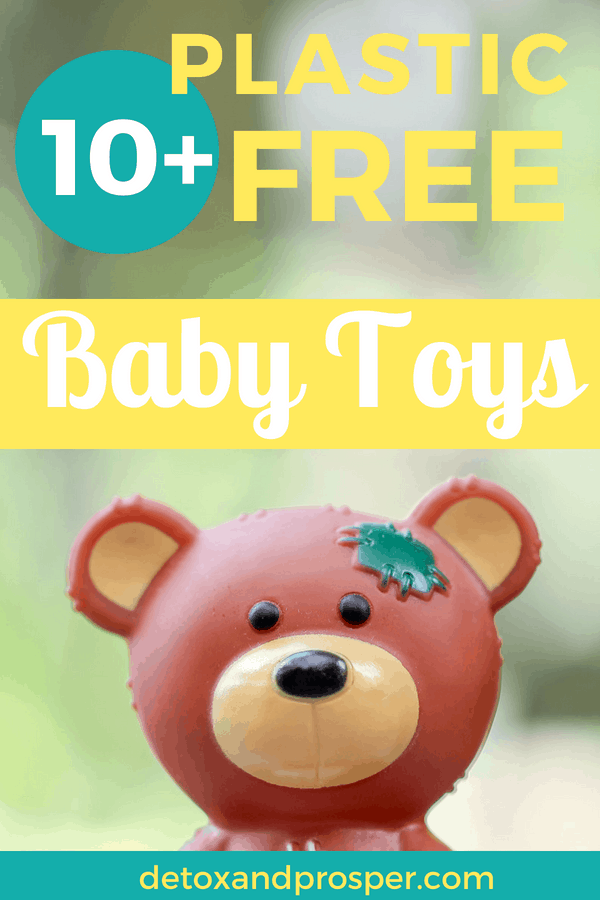 13 Non-Toxic Baby Toys for Safe, Healthy Playing
1. Nubble Rumbler Dino Toy
This little green dino on wheels is crafted of wood and 100% natural rubber for a super fun, plastic-free baby toy. Baby can zoom it around while crawling or soothe their achy gums on the rubber ball that also twirls and spins!
Last update on 2023-09-30 / Affiliate links / Images from Amazon Product Advertising API
2. Organic Elephant and Whale Baby Wooden Teethers
This 2-piece set is perfect for the teething stage. They're made of solid wood with 100% silicone beads to soothe sore gums. I especially like that the wood is unfinished, so no worries about a chemical garnish, stain, or finish. They also go a step above and beyond and provide you with their certification statements that their product is BPA-free, phthalate-free, free of heavy metals, and several other toxins.
No products found.
3. Elephant Family Puzzle
Puzzles are great for stimulating young minds, but most are made of cardboard that doesn't hold up well to baby drool. This colorful puzzle features a mama and baby elephant crafted from eco-friendly hardwood and painted with safe, non-toxic paint!
Last update on 2023-09-30 / Affiliate links / Images from Amazon Product Advertising API
4. Organic Wood Baby Rattle
Every baby needs a little noisemaker to keep them entertained while you snag a 5 min snack break! This all-natural baby rattle is handmade in the USA and finished with organic virgin coconut oil. They'll love shaking and rattling but also chewing as those tiny teeth make their way in.
Last update on 2023-09-30 / Affiliate links / Images from Amazon Product Advertising API
5. Safari Bowling Set for Babies & Toddlers
What baby doesn't love knocking things down?! As a baby, they can simply play with the figures and balls, knocking them down to their hearts content. As they grow into a toddler, they'll enjoy the fun ramp it comes with that allows them to "bowl" at home! It's made of solid wood with non-toxic, water-based stains.
Last update on 2023-09-30 / Affiliate links / Images from Amazon Product Advertising API
6. Organic Cotton Baby's First Friend
Even as adults, many of us can remember our favorite stuffed animal. This adorable, super soft puppy is crafted of 100% organic cotton that's naturally finished with no dyes, paints or bleach.
P.S. I have a whole guide on non-toxic stuffed animals here!
Last update on 2023-09-30 / Affiliate links / Images from Amazon Product Advertising API
7. Honeysticks Pure Beeswax Crayons
Do you have a budding artist at home? These all-natural crayons are made with pure New Zealand beeswax. It doesn't contain any cheap fillers or paraffin wax like most other crayons. Plus, I love that they are oversized – the perfect fit for little hands!
Last update on 2023-09-29 / Affiliate links / Images from Amazon Product Advertising API
8. Wooden Toolbox Play Set
With this natural wooden toolset, they'll be working with Daddy in no time! Most toolsets for kids are made of plastic laced with BPA, but these are crafted of responsibly sourced wood with non-toxic finishes.
Last update on 2023-09-30 / Affiliate links / Images from Amazon Product Advertising API
9. Wooden Baby Walker for Toddlers
Every walker-in-training needs a quality push toy to help stabilize them while also encouraging them to take that next big step. This one is wooden with non-toxic paint and rubber-trimmed wheels. It features 2 cute animals that move up and down as the baby pushes. It also has a wooden bead bar and turning gears for added play!
No products found.
10. Wooden Shape Sorting Cube
Do you remember having something similar growing up? I'm pretty sure these things are like a rite of passage! Although most are made of plastic, this one is crafted of solid New Zealand pine with non-toxic, water-based paint.
No products found.
11. Classic Wooden ABC Blocks
Introduce them to their first letters while also encouraging building and stacking skills with this natural wooden block set. It's made in the USA and features Michigan basswood with non-toxic, lead-free inks.
No products found.
12. Pure Natural Rubber Whale Bath Toy
I love bath toys, but they pose such a mold problem! This one, however, is hermetically sealed and designed to prevent mold. It's crafted of 100% natural rubber with food-grade paints and is certified non-toxic as well as BPA, PVC, and phthalate-free.
Last update on 2023-09-29 / Affiliate links / Images from Amazon Product Advertising API
13. Wooden Geometric Block Stacking Set
Sorting, stacking, and colors – this classic wooden toy set will keep your baby entertained for hours…or at least til naptime! The blocks are made of solid wood with non-toxic paints and materials that are lead-free, BPA-free, and phthalate-free.
Last update on 2023-09-30 / Affiliate links / Images from Amazon Product Advertising API
How to Choose the Best Non-Toxic Baby Toys for Your Little One
You would think toys designed for babies would automatically be safe. While it's true that baby toys have to pass certain standards involving choking hazards and such, you'd be surprised what toxic ingredients are found in most children's toys today.
Before I finish up this post, I wanted to give you a few quick things to look out for as you're shopping.
The worst offenders in baby toys (and the ones you want to avoid at all costs) include:
Phthalates
BPA
PVC
Lead
Chemical finishes
Fire retardants
Heavy metals (especially common in products made in China)
Whether you're searching for non-toxic toys for girls or boys, here are 4 things to keep in mind:
Look Beyond the Non-Toxic Label
The term "non-toxic" isn't heavily regulated, and any manufacturer can get away with slapping that on their product label whether it's true or not. If the toy is painted, look for information on the paints. Try to stick to water-based paints or those that are certified lead-free.
Look for Non-Toxic Baby Toys That Are Age-Appropriate
Have you ever been shopping for baby toys only to see a package labeled "For Age 12-24 months" and think to yourself "there's no way my one year old would play with that – it would bore him/her to tears!"
That's why I never go by the recommended ages on product packaging. You're the parent, you know what your child can safely play with and what is appropriate for his or her activity level.
For the youngest ones we also reviewed non-toxic baby mats to present a few safe choices.
Pay Attention to the Finish
Look for toys with non-toxic finishes. I can't tell you how many seemingly safe, wooden baby toys I've found that were ruined with a chemical finish. They say it's to preserve the wood and make the toy last longer.
The problem is that finish just turned a perfectly good non-toxic toy into something I would never want in my child's mouth. If their product packaging doesn't come right out and say what it's finished with, call or email the company and ask.
Look for Non-Toxic Toy Brands that Provide Certifications
A reputable baby toy company that sincerely cares about your baby's health and safety will openly provide their product certifications. This isn't required by law, but a few green toy brands go a step above and beyond by having their products third-party tested and certified. Look for non-toxic baby toys that have been tested and passed for lead, BPA, chemical finishes, and heavy metals.