Detox and Prosper:
The Mission
Hi, I'm Jordan – the founder of DetoxAndProsper.com. I contracted Lyme disease at just 6 years old, but my ever-growing, unexplained symptoms went unnamed until 21 years later.
A series of "perfect storms" occurred between 2014-2017 that sent my health spiraling out of control. By the end of 2017, I'd been diagnosed with over 7 chronic conditions, including SIBO, adrenal fatigue, autoimmune disease and more.
I started this site to provide unbiased, research-backed information in the areas of nutrition, toxins, chronic illness and more to provide hope and encouragement along your journey, while sharing the methods that have helped me in mine.
why read what i have to say?
For the past 7 years, I've been hired by health and wellness companies to scour medical journals and pour through studies to separate fact from fiction in the wellness community.
Through these years of research, I have come to the unfortunate conclusion that the internet is full of misinformation fueled by profits.
I wanted to start a site that presented the facts surrounding certain topics and real-life applications based on my 20+ years of battling chronic illness.
It is my goal to present the research to you so that you can then make your own decisions.
It would be irresponsible of me to just tell you what works for me and try to convince you to do the same.
Everybody's body is different. When I first started my journey with Lyme Disease, I got so tired of hearing people say "what works for me might not work for you."
I just wanted someone to TELL me what to do, what to take, what to eat to FEEL BETTER!
The whole trial and error thing was not comfortable for me.
But I've come to realize that thriving in the midst of chronic illness is a lot like putting together a puzzle. Finding a piece here and a piece there, putting it all together, and the end result is renewed strength and health.
For me, it has been an herb here, a medicine there, a diet change, a detox protocol and more. After putting it all together, I am piecing together a life of remission.
And I'd love to help you do the same.
I'm not here to replace your doctor, but to simply share my experiences and provide the research so that you can then take those things with you to discuss with your medical team.
Thousands spent on tests….with money we didn't have.
Boxes full of supplements….most didn't work.
Hours spent driving to specialists….and nights away from my babies.
Tear-filled appointments….with one too many doctors.
If you suffer from unexplained symptoms or an invisible illness, you know exactly what I'm talking about.
Maybe you have chronic fatigue.
Maybe you have painful digestive symptoms with no idea why.
Maybe you've been to several doctors but left with no answers.
Whatever the case may be, you've realized that no one will fight for your health like you will. So you've decided to take a proactive role. You're becoming your own health advocate by equipping yourself with knowledge. You're tired of just surviving, and you're ready to thrive.
Me too, friend.
By the end of 2017, I had been diagnosed with over 7 chronic conditions:
Lyme Disease with Co-Infections

SIBO

Heavy Metal Toxicity

Adrenal Fatigue

Candida Overgrowth

Epstein Barr

Leaky Gut

Autoimmune Disorders
In mid 2017, I began my journey of natural healing, getting to the root cause of my illnesses and reversing them one small change at a time.
I started Detox & Prosper to provide research and information for those of you struggling with your health – to help you discover how our bodies work so you can then use that information to thrive again.

It can be an overwhelming process, but focusing on one step and/or change at a time has helped me tremendously, and that's how I hope to help you!
With all that said…
I'm not defined by my illness. And neither are you.
I'm a wife and homeschooling mama to 3 sweet kiddos (yes, if you look at the picture above, you'll see we need a new family picture #momfail)

In high school I was known as the girl who always had a jar of peanut butter, a Hershey's bar and a butter knife to spread it with in her purse. My Standard American Diet (SAD…ironic, right?) played a major role in my ill health. Fortunately, diet changes really aren't as difficult as everyone makes them out to be.

I'm an avid researcher and want to know the "why" behind everything.  Over the past 7 years, I've been hired to research and write for many health and wellness companies.

I gave birth to my last two babies in a pool of water in our home.

I use to be an "extreme couponer." It was so rewarding coming home with a car full of bags and a receipt less than $10. I don't do it so much anymore because they don't put out many coupons for whole foods. We still lead a very frugal lifestyle though, and I love the challenge of wholesome living on a budget.

I've learned a lot on this journey with Chronic Lyme. I'm sure we'll talk about that on the blog, but there's one thing I'd like to share with you here. I learned the true meaning of 2 Corinthians 12:9 – "And he said unto me, My grace is sufficient for thee: for my strength is made perfect in weakness."  Friend, I'm here to tell you that God's grace is truly sufficient, and His strength can be made perfect at your weakest hour. For that I'm very, very thankful. Want to learn more about my source of strength? Click here.
I hope you join me on this journey of living healthier one simple step at a time. To help, I've created an exclusive FREE Detox Library that I'm always adding to. So far, it's filled with ebooks, meal plans, detox protocols and more. Get your password for it below!
Unlock Access to the Free Ultimate Detox Library!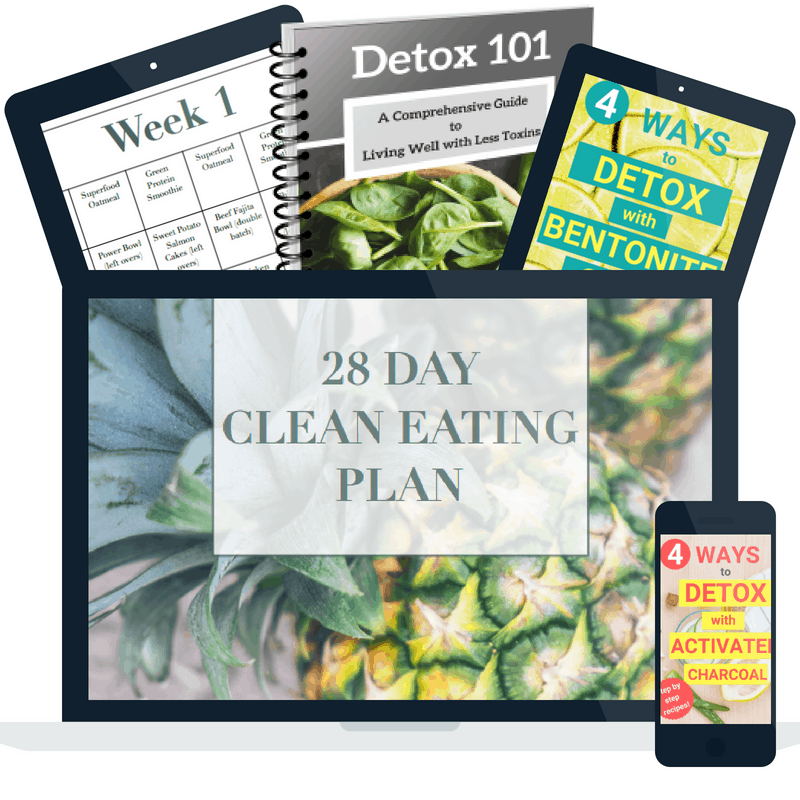 You don't have to be in the natural health sphere long before you hear about the benefits of a vitamin C flush. If you're searching for information on cleansing with vitamin C, you're probably trying to figure out if it's safe or effective and how to do...
read more