We ♥︎ honesty! We may earn a commission through affiliate links on this page at no extra cost to you.
I hope you are enjoying this detox your home series! So far, we've learned how to create non-toxic bathrooms and toxin-free bedrooms.
Today, we're going to discover how to detox our living rooms!
Your home can be a cesspool of unseen and unknown toxins, and your living room is no exception.
It's not your fault though.
Somewhere along the way, manufacturers slipped from craftsmen proud of their work to "let's see how cheap we can make things."
Unfortunately, toxic byproducts and chemicals are a lot cheaper, so they are frequently used in the production of everything from furniture to home decor.
Today, I hope to help you create a healthy, non-toxic living room with just a few swaps and tweaks!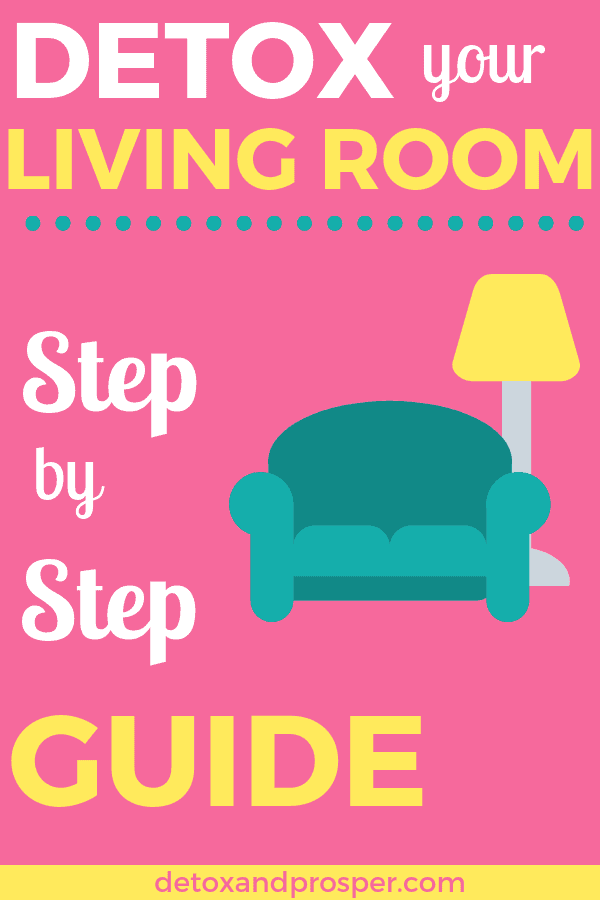 1. Dust Regularly with Non Toxic Cleaner
Considering 90% of house dust tests positive for toxins, this one is a biggie.
Dusting and sanitizing your living room on a regular basis will keep bacteria and dust at bay. Invest in a good duster with an arm extension to make cleaning forgotten ledges, window sills, and mantles a breeze.
When it comes to sanitizing, avoid cleaning products that use chemicals. A few of the more offensive toxins in cleaning products include:
Triclosan

PERC

Quarternary Ammonium Compounds (QUATS)

Chlorine

Ammonia

Phthalates

2-butoxyethanol
The slightly higher price tag is justifiable for natural or organic cleaners, and they do the job just fine without the headaches and burns caused by traditional cleaners.
I like using lemon-infused vinegar as a natural duster or something like Puracy All-Purpose Cleaner.
Last update on 2023-02-06 / Affiliate links / Images from Amazon Product Advertising API
And here's a great DIY all-purpose cleaner recipe you can use.
2. Purify the Air with Plants
If you don't have any plants, consider purchasing a few for your home.
The greenery looks great in your living room, but the real magic comes from plants that remove formaldehyde, carbon monoxide, benzene, and other unseen hazards form the air.
Some of the best air-purifying plants include:
Bamboo Palm

Peace Lily

Gerbera Daisy

Chinese Evergreen
3. Remove Your Shoes When You Walk in the Door
It's easy to forget to remove your shoes when you enter your home, but leaving your shoes at the door or outside is beneficial for your living area.
Like pets, your shoes bring in all sorts or debris and bacteria from outside that can make you ill. In fact, one study at the University of Houston found that nearly half of all shoes carry the gut-destroying bacteria, Clostridium difficile or "C.diff" for short.
Consider purchasing a shoe or storage rack to use by the front door for organization.
4. Choose Non Toxic Fragrances
Remove any artificially scented items. This can mean air fresheners, scented trash bags, insect spray, and even potpourri at times.
Using essential oil diffusers, aromatic flowers, and opening the windows can help alleviate unpleasant and artificial aromas.
Try dripping your favorite essential oils on a plate of pine cones, or simmer oranges and cinnamon on the stove to saturate the air with natural fragrances.
Many of us use candles for a variety of reasons, but most are filled with toxins. Instead, try using pure beeswax candles, which will neutralize pollutants in the air without adding more to your home's toxic burden.
I like this lavender scent from Solstice Naturals.
Last update on 2023-02-05 / Affiliate links / Images from Amazon Product Advertising API
Besides their aroma, the negative ions produced by burning beeswax candles in your living room can eliminate odors, remove dust, and diminish mold.
That said, beeswax candles are particularly beneficial to families that are prone to allergies.
Create Your Non Toxic living room today
Creating a clean living space for yourself or your family doesn't have to be difficult, and experimenting with different fruits, plants, and herbs can help mix things up a bit if the above tips become stale. In order to help you with that we reviewed some of the non-toxic furniture available in the market today.
Just remember to stay safe by reading labels and paying attention to what you're bringing into your home.
This post is part of the 7 Days to Detox Your Home Series. It can be overwhelming to realize how many toxins surround us everyday. It was for me, at least. But that doesn't have to be the case for you!
Focusing on ONE area at a time is the key to creating a toxin free home you love and feel confident raising your family in. I created this series to help you do just that one simple change at a time.
PREVIOUS POST IN THE SERIES: Detox Your Bedroom
NEXT POST IN THE SERIES: Detox Your Kitchen
Want even more ideas for natural, non toxic living? I have a digital library full of ebooks, meal plans, checklists & more to help you detox your food, body and home. All for free – check it out below!
[et_bloom_inline optin_id="optin_14″]
Editor and researcher at Detox & Prosper. With years of experience creating a healthy home for my family, I now help others eliminate toxins from theirs! Read my story here.