We ♥︎ honesty! We may earn a commission through affiliate links on this page at no extra cost to you.
Let me guess:
You spend a lot of time thinking about what to cook for your family and how to best serve that delicious meal. 
You buy the freshest food. Make sure the expiration date is good. Sometimes you even go organic, gluten-free, and dairy-free.
You spend a lot of time planning and preparing meals because you want your family to be healthy. And, well, food is medicine.
Now all that stands in the way of that goal is the toxins lurking in most dinnerware.
Want to skip the buying guide and just get my top recommendations? Check out the chart below:
Last update on 2023-09-29 / Affiliate links / Images from Amazon Product Advertising API
Why Choose Non-Toxic Dinnerware
Unfortunately, a lot of dishes are chock full of lead, cadmium, and other very unsafe and harmful chemicals.
These chemicals then leach into your food over a period of years. 
Before you know it, you and your family are facing "unexplained" symptoms like:
Poor sleep

Childhood obesity

Behavioral changes

Headaches

And more
Read on to find out if that precious vintage set you've kept for ages is safe. Or even that brand new china you bought for Thanksgiving.
In this post, I'll cover:
✔ My favorite brands of non-toxic dinnerware
✔ My top picks for toxin-free dinnerware for your kids
✔ A buying guide for how to choose non toxic dinnerware  
Let's get started.
Toxins Found in Conventional Dinnerware
Lead
Lead is a dangerous toxic substance that poses a risk to your body. It's perhaps most dangerous to kids, pregnant mamas, and their unborn babies. 
Lead is mostly used in decorating and glazing dinnerware to give it a shiny, colorful & bright finish.
But the sad thing is…
Tiny amounts of lead leach into your food through the dinnerware you use. And it builds up through the years, potentially causing lead poisoning. 
So next time you go shopping for dinnerware, make sure it's lead-free.
And to be on the safe side, I stick to white dishes with no fancy artwork.
Check out my guide on how to tell if dishes have lead. 
BPA
Aka bisphenol A, BPA is a chemical used to make polycarbonate plastics (think water bottles, plastic dishes, etc.) and epoxy resins.
(These are used to coat metals like food cans, bottle tops, etc) 
Just like lead, BPA can also seep into your food through your dinnerware.
It's a known hormone disrupter – and we ladies know how bad whacky hormones can be, right?!
Stick to BPA-free bottles, dishes, and plates for your babies. And while you're at it, avoid its distant cousin – BPS – too. 
Cadmium
This is another heavy metal that can affect your kidneys, bones, and lungs.
It's commonly found in batteries. But it's also used in metal plating, making plastics, and painting. It's used in dishes for colors and designs.
I try to stick to brands that ensure both lead and cadmium free dinnerware through third-party testing. 
Phthalates
This is a chemical used to soften plastics, so they don't break so easily.
You'll find it in plastic food containers, some children's toys, and even self-care products like shampoos, soaps, nail varnish, etc.
Research shows that Phthalates are linked to asthma in children. 
That alone is enough to avoid it, but there are a lot more side effects. 
That used to be easy because our dishes were made out of porcelain or glass, but now everything's going the way of plastic. 
Materials Found in Most Dinnerware: Good vs Bad
Plastic
Stay away from plastic if you can. I know it's hard to avoid as it's literally everywhere. 
In our children's toys, bottles, dishes, even many foods, and beverages are stored in plastic. 
But it's not safe. 
It's not healthy. And it's potentially very toxic, especially if used daily over a long period of time. 
Studies show that plastic releases harmful chemicals like phthalates into your food and drinks.
These can lead to potential health problems like impaired immunity, kidney disease, cardiovascular disorders, infertility, etc.
Plastic is also not microwave safe.
Don't be fooled by plastic containers that claim to be. 
While it's true they may not melt when you heat them, that heat DOES accelerate the speed that chemicals leach into your food. 
Melamine
Melamine is made of plastic material, which makes it lightweight and durable. But remember, plastic is a no-no. 
Once exposed to high temperatures, harmful chemicals leak from the melamine into your food.
That's why it's not microwave or oven safe. And you can only clean it in the dishwasher below 140 degrees.
If you choose to use it, make sure you:
Do not use it in a microwave

Avoid use with children 

Do not serve acidic foods on it
Ceramic
Ceramic dinnerware may not be safe, especially if it's glazed or painted. 
But there are some non-toxic ceramic bowls on the market like Xtrema. 
However, make sure every batch of dishes you buy is third-party tested to be free from lead, cadmium and other heavy metals. 
You don't want to have these chemicals leaking into your food when microwaving or when serving acidic foods.
Glass
Glass is one of the safest materials to use for dinnerware.
It's non-porous, meaning it can't absorb the smell from your food. It's also dishwasher, oven, and microwave safe. 
However, not all glass is non-toxic.
According to a study done by Dr Andrew Turner of the University of Plymouth, some  decorated glasses were found to have harmful levels of lead and cadmium. 
These chemicals were found mainly in the glazes and paints of the glasses. 
Are you seeing a theme here? Paints and glazes = bad. 
Invest instead in plain clear glass or vitrelle glass. These are the safest options for glass tableware.
Porcelain/China
Porcelain is dinnerware made from fine clay. The clay is heated at very high temperatures to make it durable and non-porous. 
You will find that most porcelain tableware is coated with glazes, paint and decorations to make it pretty.
Again, let's choose "health" over "pretty" and consider going for the plain Jane dishes.
Bone China
This is China made from animal bones known as bone ash.
It is gently mixed with porcelain clay, fired at very low temperatures to produce lightweight and delicate dinnerware. 
It also has a milky appearance.
If it weren't for the artwork that's so prevalent on bone china, it'd be fine. But that's a rare find. 
Unless it's been tested and confirmed otherwise, it probably contains lead or cadmium traces.
Stainless Steel
Stainless Steel is among the best options for non toxic dishware. Not only is it safe, it's also durable. 
The only downside to it is – it's really loud when it hits the floor!
Top 4 Non-Toxic Dinnerware Brands ( Safest Plates & Bowls to Use)
1. Corelle Plain White Dishes
Corelle dinner sets are high quality – made from durable vitrelle glass.
This makes them chip and break-resistant. And also a microwave, oven, and dishwasher safe. 
Plain white Corelle dishes in particular are also free from lead and cadmium. They are also made in the USA.
Below are some of the safer Corelle sets.
It comes with 12 pieces and serves 4 people.
Last update on 2023-09-29 / Affiliate links / Images from Amazon Product Advertising API
It has 20 pieces and serves 4 people. The extra pieces are the lids.
Last update on 2023-09-29 / Affiliate links / Images from Amazon Product Advertising API
This one has 16 pieces of dinnerware. It also has beautiful embossed designs around each plate. And oh! They are plain white too just like all Corelle lead-free sets. 
This set has mugs as well, but they're made from a different material that contains lead. 
You can throw away the mugs if you don't like anything with lead. Or just opt for a 12 piece set.
2. Lenox dishware
Lenox Opal Innocence Platinum-Banded Bone China is a toxic-free brand you can get. 
Last update on 2023-09-30 / Affiliate links / Images from Amazon Product Advertising API
It is carefully crafted from Lenox fine bone china and the brand is famous for its high-quality china.
3. Anchor Hocking modern clear glass dishes
Anchor Hocking 8-Inch Presence Glass Salad Plate, Set of 12 is another great choice. It's lead-free.
And it is made in the USA – you can easily find them at Target, Walmart, or Amazon below:
Last update on 2023-09-29 / Affiliate links / Images from Amazon Product Advertising API
However, avoid the tinted type. It has some traces of lead in it. 
You're better off buying the clear glass option – because it's 100% lead-free.
Made from 100% ceramic material, This 4-Piece Xtrema Mixnbowl Set is free from lead and cadmium.
These nesting bowls can save you valuable cabinet space too.
Xtrema also specializes in non-toxic cookware. 
It is FDA-approved and meets California Prop 65 standards. And each product is first tested for heavy metals and toxic chemicals before shipment.
Last update on 2023-09-29 / Affiliate links / Images from Amazon Product Advertising API
My Favorite Safe, Non-Toxic Dinnerware for Kids
Children are fragile and their little bodies are more vulnerable to the effects of heavy metals than adults. 
Check out my favorites below:
Bamboo 
Does your child love nature? Bamboo is all you need to make the dinner time fun and enjoyable for your munchkin. 
We love bamboo because it's safe, nontoxic, eco-friendly, and beautiful.
In addition to that, it's super strong, lightweight, and resistant to stubborn stains, awful food odors, heat, and water. 
The best part?
It's sustainable tableware.
BOBO & BOO has some really cute and colorful bamboo dinner sets for kids: 
Last update on 2023-09-29 / Affiliate links / Images from Amazon Product Advertising API
Stainless Steel 
If you love durable and healthy dinnerware, you'll love this set. Stainless steel is one of the best options for non-toxic dinnerware for your kids.
It's long-lasting, non-porous, and easy to clean.
Last update on 2023-09-29 / Affiliate links / Images from Amazon Product Advertising API
Make sure you buy 304-grade stainless steel because it has higher corrosion resistance. You don't have to worry about your kid's dinnerware rusting.
As you know, kids are messy and love to play with everything. So get ready for some unwanted music (read noise) when you opt for this material.
Please note: If your child is allergic to iron, chromium or nickel, you may have to consult with your doctor first about serving them on stainless steel tableware. 
Interested in kettles, too? Check out our guide on non-toxic tea kettles here.
How to Choose the Best Non-toxic Dinnerware: A Simple Buying Guide
If you decide to buy non-toxic dinnerware for your family, it's important that you know how to spot nontoxic dinnerware from various products flooding the market.
Here's a simple buying guide you can follow next time you go shopping for healthy dinnerware.
1. Consider the materials used
Take time to find out the material used. If possible, ask the seller or the manufacturers for more information about their dinnerware. 
All harmful chemicals are found in the materials.  
Find out if the set you're interested in is lead-free, BPA free, and cadmium free.
Also check if the item is glazed, painted or decorated.
Getting this knowledge will help you make the right buying decision.
2. Consider maintenance
You don't want dishware that will wear you out. Non-toxic dinnerware should be easy to clean. 
So look for dishware that is dishwasher safe. Also, find out if it is microwave/oven safe. 
Because most of these chemicals leach when under high temperatures.
3. Consider if it's acid-resistant
Do you know why some plates or cups have stains that never go away?
 It's because acidic foods like citrus fruits and coffee were served there.
This is a red flag that the dinnerware is full of toxins. If possible, stay away from such dishware.
4. Consider the certifications
The FDA set strict regulations and guidelines for manufacturers to limit the amount of lead in food.
Most credible brands should have FDA certifications for their products. 
Also, California passed a law in 1986 commonly known as  "proposition 65" that indicates the lead limit should be under 0.5 mcg per day.
Just so you know, being FDA approved doesn't mean the item is lead free. 
It simply means it has very low levels of lead – so it can't leach more than 3mcg/ml (microgram of lead per milliliter).
5. Consider if it's third-party tested
You may want to google and see if your dinnerware is third party tested. You can check your local area for any laboratories that do XFR testing.
6. Consider the year of manufacturing
If your dinnerware was made in the 60s or earlier, chances are high it's loaded with toxins.
Most vintage dinnerware is not safe.
This is because at that time, there were no single regulations against use of heavy metals or chemicals, especially lead and cadmium. 
So manufacturers used as much lead/cadmium as they wished. 
If you want to see an example, here is some vintage china that tested positive for lead.
Not Recommended: Avoid Dinnerware Made from Plastic/Melamine and Glass Dinnerware Made in China.
Try your best to avoid plastic, if you can. But if you choose to use it, here are some things you should know:
Make sure it's BPA free and PVC free.

Only hand wash it. Do not place it in a dishwasher. 

Do not microwave. Toxins will seep into your food.

Avoid serving or storing acidic foods in plastic. They'll stain it and also chemicals will easily leach into the food.
Watch out for glass tableware made in China. In most cases it's not safe. 
The best alternative you can get is glass made in the USA or Europe. 
But still, ensure that it doesn't have glazes, paint or decorations – this is where the bad stuff is hidden.
To make things easy, I always shop at Xtrema. Here's why…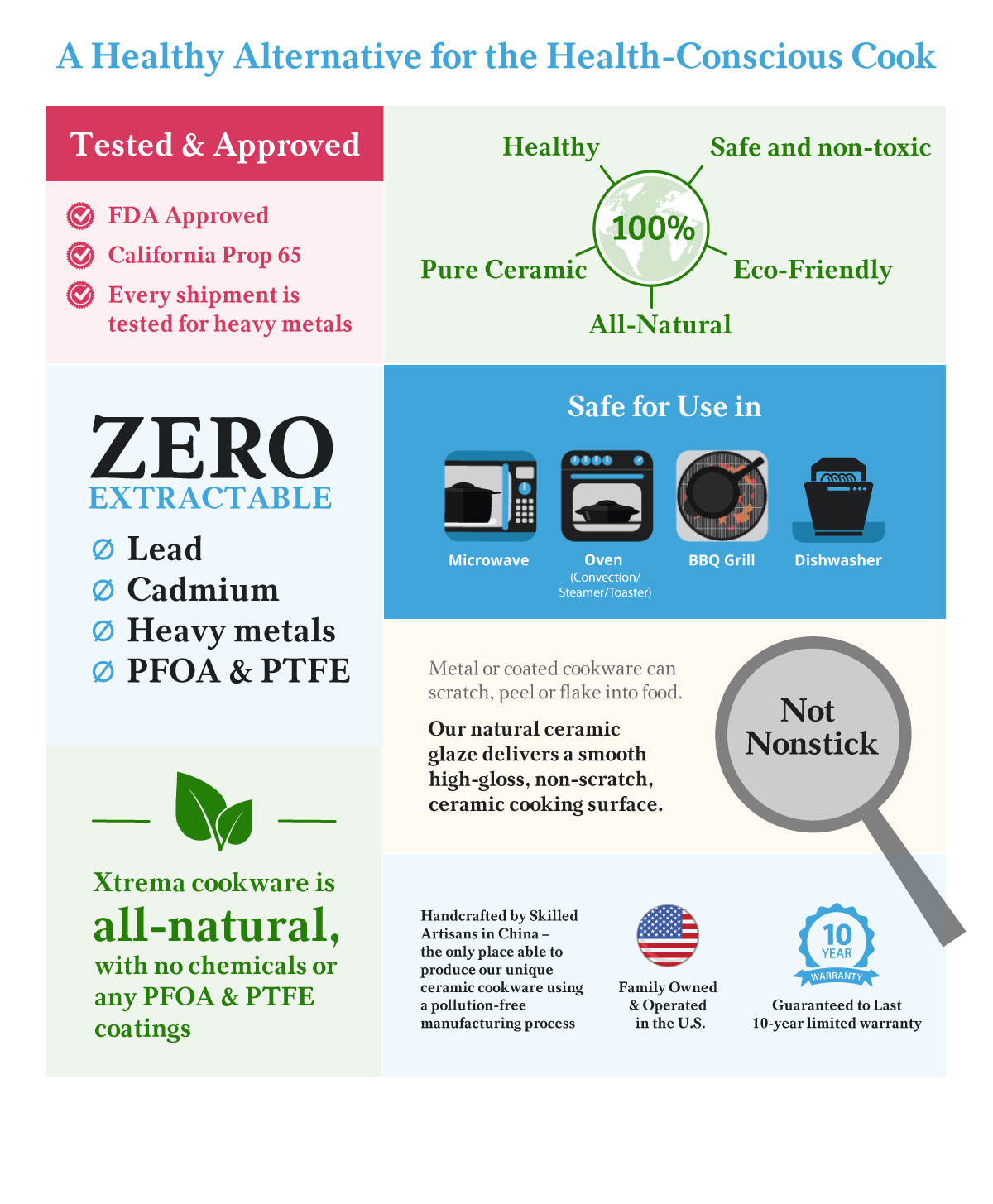 Wrapping Up
Living and eating healthier is everyone's goal. But unfortunately, this dream is not easily achieved. 
Simply because day to day items like dinnerware that no one would expect to be harmful have hidden chemicals and heavy metals like lead, cadmium, and BPA.
The good news is with the above information you can now handpick good plates, bowls, and cups from the sea of inferior dinnerware out there.
As a rule of thumb, I'd go for plain glass, bamboo, or stainless steel dinnerware. This is what I have in my home. 
And for your kids, bamboo and stainless steel are the best and safest options. 
All the brands mentioned in this post are lead-free and cadmium free. And some lead-safe. 
Let me know in the comments below what types of non-toxic dishes you're using in your home! Maybe I can add them to this list 🙂
>>> Oh and when you're ready to wash your new dishes, try this DIY toxin-free dish detergent!
Frequently Asked Questions
What is the safest material for dinnerware?
Glass, bamboo, stainless steel, and non-glazed ceramic are the least toxic options when it comes to dishes.
What is the healthiest dinnerware?
The healthiest dishes are 100% lead-free, cadmium-free, and plastic-free.
What brands of dinnerware are lead-free?
Corelle has some as well as Anchor Hocking, Xtrema, and Lenox are some of the brands that make lead free dishes.
Is corelle toxic or is it completely lead-free?
Corelle is non-toxic. The manufacturer claims that the production process guarantees that lead levels leaching from the enamel are minimalized, so it is practically lead free.
Is Ikea Dinnerware non-toxic?
It depends. You need to look for third-party testing results. If it's not plainly listed on the packaging, call or shoot them an email.
Do you have bakeware that's chock full of toxins too? If you have any aluminum pans you do. 
Check out my guide to the best non toxic bakeware!
And this one for the healthiest non-toxic flatware.