We ♥︎ honesty! We may earn a commission through affiliate links on this page at no extra cost to you.
Learning if a product is worth spending on before buying it is the best way to approach any purchase.
And this is especially true for air purifier bags – these vary wildly on the price and quality scales, and buying the cleaner is often the only way to figure out if it's worth the price.
But, luckily for you, you found my post.
The Nature Fresh Air Purifier Bamboo Charcoal Bags claim to absorb all odors from your home without risking the health of your child or pet.
And all that at a reasonable price!
But what are they made of? Are they truly safe? And most importantly, are they worth your money?
I will answer all of these questions and more in this review.
What Are Nature Fresh Bamboo Charcoal Bags Made Of?
Nature Fresh's air purifying bags are made from 100% pure sun-dried bamboo, allowing the bags to provide ten times more efficient air purification.
After harvest, the bamboo is oven-baked to make charcoal, which is a lot more absorbent and effective than plain-old charcoal.
The process is commonly known as activation of charcoal. When complete, it gives the bamboo an expansive surface area and a fine particle size, making it a lot easier for chemicals to attach to it.
Make no mistake – activated charcoal and regular charcoal are entirely different substances. Charcoal doesn't have nearly as much absorption power as activated charcoal, and it also doesn't offer the health benefits that activated charcoal does.
Here's a quick look at all the benefits activated charcoal offers (other than ridding your home of odors):
Activated charcoal could be used to improve kidney health – studies show that its positive effects on the gastrointestinal system make it a promising solution to kidney inflammation.

In a 2012 study, it was found that activated charcoal can significantly reduce intestinal gas. Other studies show that the substance helps with abdominal pain and has no side effects.

Researchers also found that the substance can prevent bacteria and chemicals that cause dysentery from being absorbed by the body. Activated charcoal also does not have any side effects.

Several products use activated charcoal to help whiten teeth and improve oral health.

The science community and companies alike find that activated charcoal's properties make it an apt component for skincare products since it can draw out microparticles with ease.

But perhaps the best thing about it is that, to date, there have been zero adverse reactions to it in any of its forms. The naturally-derived material is genuinely safe to use, and its effectiveness in scooping away odors makes it perfect for use in air purifiers.
How Do Nature Fresh Air Purifier Bags Work?
The activated charcoal in the Nature Fresh Air Purifier Bags enables them to absorb all kinds of odors with ease.
It is said that a 100g bag of activated charcoal has the surface area of 20 football fields. Since the Nature Fresh set comes with two 200g bags and four 50g purifiers, calling the combined absorbing power of the set impressive would be an understatement.
You'd be surprised to learn the purifying effects of activated charcoal. While it acts as a super-effective air purifier, it is also used to prevent swallowed poisons from entering the bloodstream.
According to some studies, the material can draw away sixty percent of accidentally ingested poisons from the body. Many also use the material to filter toxins from water and make it more drinkable.
In essence, the secret to Nature Fresh Air Purifier Bags' effectiveness is the purifying effect of activating charcoal. The bags trap the chemicals (odors) that pass through them and keep them trapped, ridding your home of foul smells.
But what makes the Nature Fresh Air Purifier Bags even more impressive is the fact that they can be reused.
After a few weeks of use, you may begin to notice that the charcoal bags don't absorb odors as effectively as before. While traditional air purifiers "run out" and need replacement, Nature Fresh Air Purifier Bags don't need to be replaced for a long time.
If you notice that the bag isn't absorbing scents as effectively, all you need to do is place the bag under direct sunlight for at least an hour. The company recommends that you leave it out in the sun all day for best results.
This "recharges" the bag, making way for more odors to access the bonding area and be absorbed.
You will be able to use the bags this way for up to two years, which is super impressive considering the price of the set.
How to Use Nature Fresh Activated Charcoal Bags
To filter odors, impurities, and toxins from the air in your home, all you need to do is hang the charcoal bag up in your home.
It will remove the particulates from the air and help maintain ambient air quality – you can think of the bags as filtration systems that scoop away all kinds of odors from your home.
Its simplicity adds to the Nature Fresh Activated Charcoal Bags' appeal. You don't need to spray things around the house or place it discreetly.
The bag is designed to complement the furnishings in your home, so you can place it or hang it up anywhere you find odor.
The reinforced metal holes incorporated into the bag allow you to hang it up anywhere in your home.
The idea of the bag dealing with odors passively is appealing on its own – you just set it and forget it. It does all the work for you!
While the bags can be hung practically anywhere, finding the right spots to hang them up can make a big difference in their effectiveness.
Best Areas & Situations to Use Them Most Effectively
To reap the maximum benefit from the Nature Fresh Activated Charcoal Bags, consider hanging them up in the following areas:
Your office
Your walk-in closet
A bathroom
The car
The garage
Your basement
In pet areas like beds and litter boxes
Inside shoes or in shoe storage areas
The bags come in two sizes, big and small. It's important that you reserve the bigger-sized bags for large rooms like your living room or basement and use the smaller bags in your car or closet.
Using a bigger bag in a smaller space, like in your car, will only waste its potential. While the bags last long, they do have a limited life. You must make good use of the bag while it's in good shape and use the right bag in the right spot.
How Do Nature Fresh Activated Charcoal Bags Compare to Other Charcoal Odor Absorbers?
Besides the bag's effectiveness, the attractive and eco-friendly fabric used gives the Nature Fresh Activated Charcoal Bags a unique charm.
However, every product has its advantages and drawbacks, which I've gauged for you below.
What I Like
Excellent Value for Money: The budget-friendly set can help manage odors in your entire home. If several areas in your home smell somewhat stale, you could buy two sets with ease since they're not very expensive.

Can Help with Asthma and Allergies: If you have a carpet that collects a lot of dust and you find yourself sneezing a lot, getting your hands on these bags is an excellent idea.

The bags trap the particulates in the air, and using them is an excellent way to manage your allergies and help with asthma.

Non-Toxic and Chemical-Free: You can hang the bags around the house without needing to worry about the safety of your children or pets.

The bags themselves are made from non-toxic material, and the activated charcoal does not have any harmful properties. Even if a pet manages to chew and break open the bag, you have nothing to worry about.

Short "Recharging" Time: While the bonding area of activated charcoal is massive, there are limits to it. If you find the bags losing their effectiveness, you can set them in direct sunlight for an hour to replenish their purifying ability.

Reusable: "Recharging" the bags as mentioned above enables you to use it for up to two years – sometimes more depending on the frequency of use.

The bonding area of the charcoal in the bags is massive. It is said that a tablespoon of activated charcoal has an aggregate surface area bigger than a football field – which is what enables the bags to last that long.

What I Don't Like
Slightly Smaller Sizing: Compared to other similarly priced charcoal bags, the Nature Fresh Activated Charcoal Bags are marginally smaller in size.

However, this won't make a big difference to the average user. If you have an extremely large house that smells stale all the time, it may be worth looking at other larger charcoal bags.

Hazardous Around Strong Oxidizers: In the presence of strong oxidizers like hydrogen peroxide, activated charcoal can be combustible. Careful positioning is a must if you have strong oxidizers in your home.

But then again, strong oxidizers aren't that easy to get your hands on in the first place. So in the average household, the bags are virtually risk-free.

THE REVIEW: Do Nature Fresh Charcoal Bags Really Work?
Yes. The bags work as advertised.
You will notice a difference in the quality of air in a small odor-filled area (like a closet) in a matter of minutes. It's super impressive!
If the air in your garage is somewhat stale, place a bag there and check it out the next day. The bag's effectiveness will be apparent right away.
If you have guests over, you may find them complimenting you about how clean your house smells, too.
In larger areas like the basement, the bags will take longer to scoop away the odors. However, after a week of exposure, the average basement will be clear of all odor.
Getting your hands on the Nature Fresh Charcoal Bags is an excellent idea if you're concerned about the damp, moldy smell in your home.
The company's ultra-versatile six-pack comes with two 200g charcoal bags and four 50g air purifiers. The bigger bags are perfect for use around the house, and you can place the smaller bags in cabinets, shoes, pet areas, closets, and even in the car to rid it of bad odors.
The bags will take a few weeks to clear the entire home of the odor, but after the smell is gone, it won't come back.
The best thing about the bags is undoubtedly the price. For roughly the cost of an average lunch, they rid your entire home of foul odors for good.
Where to Buy?
The easiest way to get your hands on the high-quality charcoal bags is to buy them on Amazon.
Last update on 2023-02-05 / Affiliate links / Images from Amazon Product Advertising API
However, the bags are also available on other eCommerce sites – but I recommend that you avoid shopping from other sites. And here's why:
Most negative comments about Kisx, the manufacturer, were about the lack of an official customer support line. While the company's product works well, they don't have a customer service team to help customers that get a broken or defective bag.
I encourage you to buy the bags from Amazon since replacing a product or getting a refund is a lot easier if you get a defective purifier or just aren't satisfied with it.
The Company
Kisx Living is a relatively new company that primarily operates as a seller on Amazon. While the company only began to sell its products in 2019, it has quickly become one of the site's top-rated sellers owing to the high-quality of its products.
While air purification bags are a big part of their inventory, Kisx Living doesn't just sell charcoal bags. They also sell organic foods and drinks.
The Fire Cider Tonic the company sells is amongst its best-rated food products – it's definitely worth checking out if you were looking to get some quality apple cider vinegar.
If you need to get in touch with the company about an item you bought or one that you're interested in learning more about, you will need to contact them via Amazon.com directly.
At the time of writing, Kisx Living does not have an official website or a phone number that you can use to get support. However, there's a chance that they'll add more customer support options soon.
Frequently Asked Questions
Do I need to clean the bags?
The bags do not need any cleaning. However, if you feel that the quality of purification has reduced, you can place the bags in the sun for an hour to "recharge" them.
Is it a good idea to hang one of these in my car?
Nature Fresh bags can keep your car smelling as clean as when you first bought it. Getting the bags is an excellent idea if you smoke.
How long do the bags last?
The bags will clear the air of odor for up to two years. However, after the bonding area is filled with contaminants, the bags cannot be reused.
What size are the bags?
The bags come in two sizes – larger 200g bags and smaller 50g purifiers.
Can I buy the charcoal bags from other sites?
While the Nature Fresh Charcoal Bags are available for purchase on other sites, I recommend that you only buy it from Amazon since they have a proven return policy in place. In the event that you get a defective product or end up not liking its performance at all, you'll be able to return it and get your money back.
Will the charcoal bags still work if they get wet?
If you accidentally drop some water on the bag or even submerge it in water, don't worry. Place it in direct sunlight as soon as possible, and keep it in contact with sunlight till it dries off completely.
Contact with water does not affect the absorption quality of activated charcoal, and the bag will work just as well after the water dries off.
Will putting the small bag in an A/C help prevent the formation of mold?
The company does not recommend that you use it for this purpose since the bag is not designed to be placed in an air conditioning unit.
However, in addition to scooping away odors from your home, the bags also trap moisture. The regulation of humidity in this way helps prevent the formation of mold indirectly.
—
In summary, getting your hands on the Nature Fresh Charcoal Bags is an excellent idea if you're looking for a natural way to get rid of odors from your home. The bags don't mask the smell but actually traps it, ridding it from the area for good.
The bags are safe for use even if you have children or pets, and the bags are designed to complement your furnishings – you won't need to find a spot to hide them, and you can hang them wherever you like.
All of these features, coupled with the affordable price, make the purifiers hard not to recommend.
If you are interested in similar products, you can find my Breathe Green Charcoal Air Purifier Review here.
And I also wrote a guide about commercially available non-toxic air fresheners.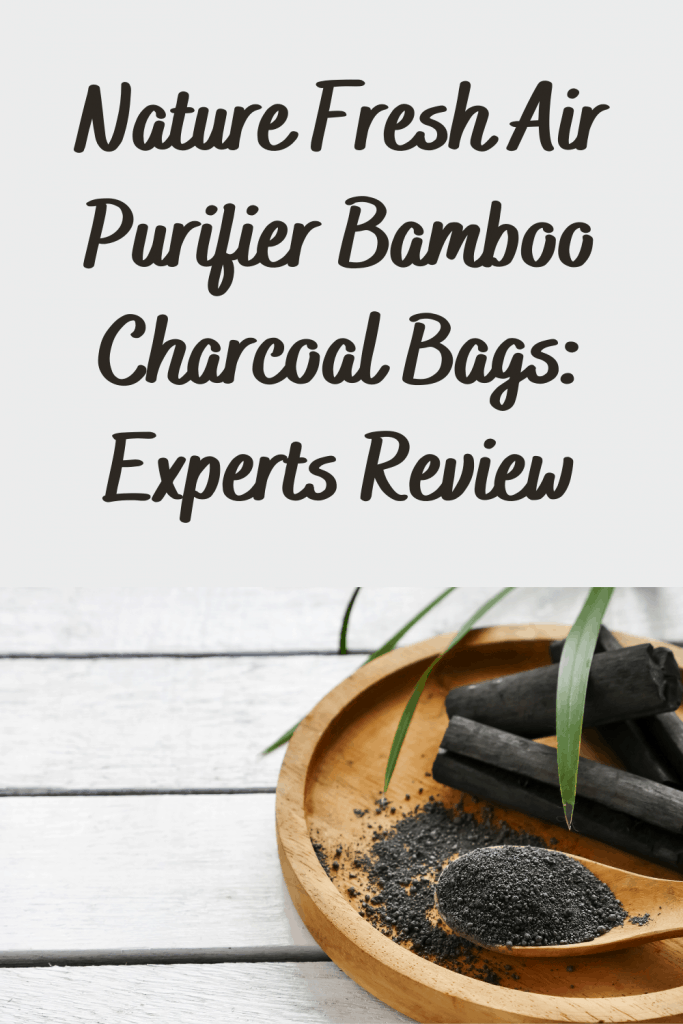 Editor and researcher at Detox & Prosper. With years of experience creating a healthy home for my family, I now help others eliminate toxins from theirs! Read my story here.