We ♥︎ honesty! We may earn a commission through affiliate links on this page at no extra cost to you.
It's effortless to find an organic rug. Cotton, wool, and jute rugs are popular, and sisal rugs are also excellent organic alternatives to synthetic rugs.
However, a lot of organic rugs in the market aren't safe to be around, either.
Even when natural materials are used to make the rugs, the rugs are often treated with harsh chemicals to make them resistant to water and proof them from staining.
You never know which toxic dye, glue, or flame-retardant a rug has. And that's VERY scary.
But you don't have to spend hours looking for safe rug options – I've done it for you!
In this post, I highlight seven of the market's best non-toxic organic rugs.
But before I do, here's a brief guide that will help you find the right rug for your space in no time.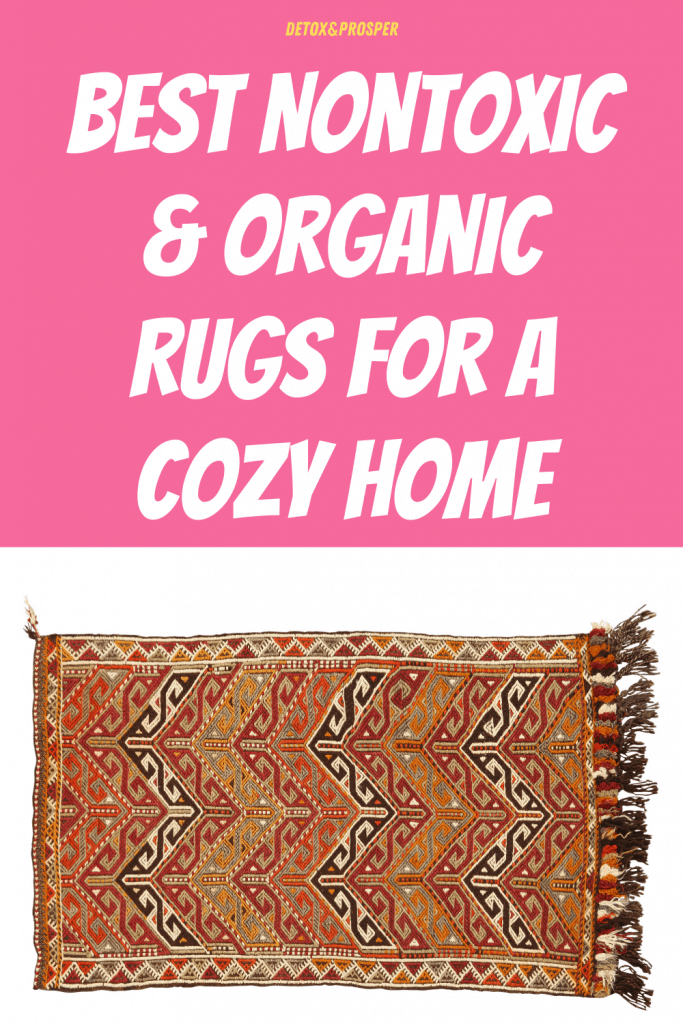 Three Features to Consider in an Organic Non-Toxic Rug
Factoring in these considerations when buying a non-toxic, eco-friendly rug will ensure that you get your money's worth.
#1 Material
Wool rugs are great for high-traffic areas like living and dining rooms since they naturally repel water and don't stain easily.
It's soft, but also very strong, making it the right choice for those spaces. But keep in mind that with time, wool rugs fade and shed.
Cotton rugs are perfect for kitchens and children's rooms since they come in cheap and are also very easy to clean. 
However, cotton rugs are known for their short lifespan.
Grasses like jute, sisal, and seagrass tend to be very durable and are rarely treated with chemicals. If the non-toxicity of the rug is your top priority, you cannot go wrong with these.
But while these are rugged, they also tend to be coarse and are hence difficult to clean.
#2 Style
If you've renovated your home recently or are just going for a more modern look, a plain carpet will be perfect for you.
Plain rugs keep the limelight on your furniture, something you must keep in mind when purchasing a carpet.
On the other hand, patterned carpets change the undertone of the room, typically livening it up. They also give your space more of a traditional feel.
However, depending on the "busyness" of the rug's pattern, it could make a room look smaller than it is. If you're looking for a carpet for a smaller space, you will need to look for a patterned rug that has a simpler pattern.
If you are looking for a matching sofa or table, you may want to check out our non-toxic furniture guide for ideas.
#3 Size
The size of the rug you get depends on the size of your room and the area that you want it occupying. 
You must remember to leave at least 18-inches of floor exposed – higher carpet density will make a room look cramped.
For a dining room, a rectangular or circular carpet will look great. Typical sizes of dining room carpets are 8' x 10' and 9' x 12', and you must choose according to the size of your dining room.
For a bedroom, carpets sized 5' x 8' or 9' x 12' should be perfect depending on how you want to place it.
Living rooms tend to be larger, so you have more flexibility when it comes to choosing your chemical-free area rugs. It all depends on the look you're going for.
As long as you keep these characteristics in mind when buying a non-toxic organic rug, you will get the most out of your money.
Best Organic Rugs: Top 7 Picks
If you're looking to give your living room a coastal-cool look, you will love the nuLOOM Elijah seagrass rug.
The rug is 100% seagrass – no synthetic materials are used, and since seagrass is sustainable, you're not harming the planet.
Last update on 2023-09-30 / Affiliate links / Images from Amazon Product Advertising API
While this organic non-toxic rug is not hand-stitched, it is also not treated with any flame retardants. No toxic glues are applied to it, even on the edges.
There's an advantage to its power-loomed construction – it will last very long, and you won't have to worry about shedding.
The organic carpet is also very slim and won't obstruct doorways. You also don't have to worry about you or your loved ones tripping on it accidentally. It looks sleek and elegant and won't be an eyesore if you plan on using it in a smaller space.
But one of the best things about it is that the rug is child and pet-friendly. Accidents happen all the time – pets pick on fallen food that you overlook, and children fall as they play.
With this chemical-free area rug, you don't have to worry about their safety.
Jute rugs are rustic, yet sophisticated. And nuLOOM promises that this non-toxic jute rug will offer the perfect edge of style that your room needs.
One of the best things about their Natura collection is that the rugs go well in all rooms, and the loop jute rug is no exception. It will look fantastic in living rooms, dining rooms, kitchens, and hallways.
Last update on 2023-09-30 / Affiliate links / Images from Amazon Product Advertising API
Unlike the Elijah seagrass rug, this nuLOOM loop jute rug is hand-made and not machined. 
While this makes the rug more delicate, it fortifies the carpet's quality, and you will know that each piece is unique by the subtle but individual differences.
The hand-made, non-toxic, organic rug must be treated with greater care – vacuuming it may damage it, so you must shake the dust off when you want to clean it.
Design-wise, the jute is second-to-none. Its solid color will seamlessly integrate with your existing décor since it compliments both modern and older décor excellently.
While the rug comes in many different sizes, all of these carpets have 4-inch braided tassels, which gives it the stylistic edge it needs to elevate the tone of your room.
You really cannot go wrong with this loop jute non-toxic rug.
Finding the right non-toxic and organic rug for your rustic home can be difficult – some rugs are too bold, while others are too bland.
But this 5' round jute area rug will look perfect in bedrooms, dining rooms, hallways, and even on patios!
Last update on 2023-09-30 / Affiliate links / Images from Amazon Product Advertising API
It has a neutral color, but it's the natural color of jute that gives the rug it's charm. Additionally, it's not boring and rectangular – it's round!
Since most décor has edges, its round shape will contrast nicely in any room.
When it arrives, you won't smell that "new carpet" odor – this is because the rug doesn't have any chemicals from construction in it, and it isn't treated with any, either.
It has an excellent, sleek construction – which means no tripping. But you must bear in mind that the rug is hand-made, and hence, delicate.
You cannot vacuum it since it will damage the rug. To clean the chemical-free area rug, you must shake the dust off. 
Not every rug can give a space vibrance like the Chardin Home organic cotton rugs do.
The rug's multi-colored construction is a result of the recycling process by which the rug is constructed.
Last update on 2023-09-30 / Affiliate links / Images from Amazon Product Advertising API
Chardin Home uses 100% recycled cotton strips and yarn to assemble the beautiful rug.
It's not glued with toxic substances or treated with flame retardants, which is why you can safely use it even in a child's room.
The non-toxic rug is super soft, yet very durable. However, you must only spot clean it – throwing it a washing machine is not an option.
It comes in many different sizes, and for what you get, it's very affordable. Additionally, regardless of what size rug you get, you can be sure that you're getting a handwoven, chemical-free rug.
The company recommends using it in the kitchen, bedroom, entryway, office, study, den, and garage.
It'll look great in any room you can fit it in!
Nailing a classy look has never been this easy.
If you regardless of if you're looking to spruce up your always-sunlit living room or your modern and stylish bedroom, this non-toxic organic seagrass rug won't disappoint.
Last update on 2023-09-30 / Affiliate links / Images from Amazon Product Advertising API
Its neutral colors allow it to integrate with any décor seamlessly. But you can also customize your rug. 
It comes with an organic cotton border, which is available in 17 colors. You can choose whatever accents your room best!
The basketweave pattern is beautiful, but it is not tight, which is something you may dislike. 
But it more than makes up for it with features like its felt-dotted backing and its power-loomed construction.
Durability is not a concern with this rug – it will last you years before showing signs of wear.
You can also use it as a base for rug layering, and since it has a low pile height, you can place it under your dining table, your bed, or under any furniture with ease,
Some spaces need a rustic touch to feel complete. 
And this handspun non-toxic area rug will complete your room.
Last update on 2023-09-30 / Affiliate links / Images from Amazon Product Advertising API
But make no mistake – just because it's rustic, doesn't mean it's delicate. It is handwoven with centuries-old wood looms, and the resulting rug is super thick.
However, the chemical-free rugs' thickness also limits its use. You won't be able to slip it under furniture with ease.
The rug makes up for it, though – both sides are usable, which means you can use it for twice as long!
This round jute rug by Safavieh is perfect for you if you're looking for a non-toxic organic carpet that's also sleek and fashionable.
It has a super low pile height of 0.25-inches, and it feels super soft since it is made from softened natural jute fiber.
Last update on 2023-09-30 / Affiliate links / Images from Amazon Product Advertising API
The meticulous detail in the rug's pattern will give your living room a chic and natural lift.
Furthermore, its casual style is super versatile – it will integrate with contemporary, modern, bohemian, or transitional type of décor seamlessly.
Open Questions About Non-Toxic Rugs
What are the toxic substances usually present in rugs?
There are quite a few toxic substances present in an average rug:
Synthetic primary materials:

These are the pesticides and other agricultural chemicals present in natural materials that are not sourced carefully.

Synthetic rubber:

The rubber may not be visible to the eye, but it contains dangerous phthalates.

Adhesives:

These often contain formaldehyde, another dangerous chemical.

Toxic dyes:

Synthetic dyes have carcinogenic effects and can have a severe impact on your health.

Flame retardants:

These chemicals impact the immune system and cause Endocrine and thyroid disruption.
How to make sure my rug is completely free of toxic substances?
If your rug uses toxic dyes, there's no way to remove the toxic substances from it thoroughly.
However, if you leave a rug outside in direct sunlight, it will off-gas and release the chemicals into the air.
How do I extend the life of my organic non-toxic rug?
Using a rug pad, turning off the brush roll on your vacuum, and taking your shoes off at the door are excellent ways to maximize any rug's life.
Are these non-toxic rugs suitable for children?
Those that do not contain any toxic material, are of course suitable. However we reviewed some baby play mats, if you are specifically looking for something for kids.
Verdict
It's hard not to recommend the nuLOOM Loop Jute Rug. It's soft, stylish, and can complement any room's décor seamlessly.
Although it's not a fair-trade rug, it offers the advantage of being thin. You can slip it between furniture with ease!
You won't trip on it, either, and it doesn't use a toxic dye, so you don't have to worry about the health of your loved ones.
It's hand-made, and the low price makes it a steal!