We ♥︎ honesty! We may earn a commission through affiliate links on this page at no extra cost to you.
Detox drinks are one of my favorite ways to start the day. Not only are they incredibly delicious, they're a fast and easy way to jumpstart your body's detoxification systems first thing in the morning.
One of the major benefits of detox drinks that nobody really talks about is the break they give your digestive system. We don't realize it, but our bodies do a lot of work to break down the food we eat. A satisfying detox smoothie delivers superfoods in their liquid state, making it much easier for us to digest.
This simple act conserves energy within the body, which it can then put toward other hard-working areas like your detox systems.
An important part of internal detoxing is getting rid of as many external toxins as possible. That's why I suggest that you use a NON-plastic cup and straw for your detox drinks. If you don't already have one, check out the the stainless steel smoothie cup and straw combo that I recommend below.
Sale
Last update on 2023-03-27 / Affiliate links / Images from Amazon Product Advertising API
And don't forget to grab your free 28-day Clean Eating Meal Plan at the bottom of this post!
Ready to find your new favorite detox drink? Let's dig in!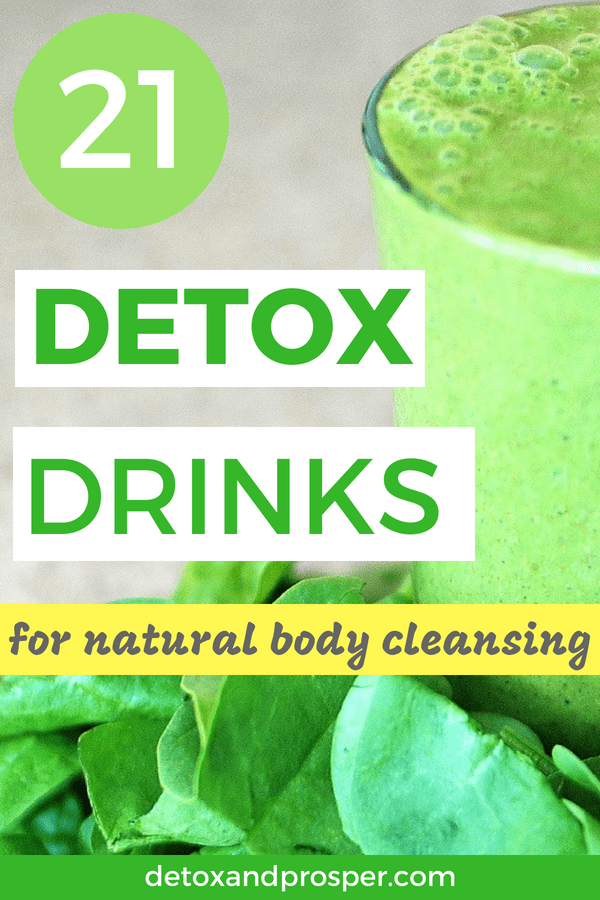 21 Detox Drinks Ready in 10 Minutes or Less
1 – Basic Detox Smoothie Recipe (Customize to Your Taste Buds!)
Sometimes finding the perfect detox drink can be challenging because what may taste delicious to one person may be disgusting to you. That's where a customizable detox smoothie recipe like this comes in handy! Learn the basic ingredients you need to create a detox drink that suits your unique taste buds.
Don't forget to add a source of healthy fat to boost brain health. I've read a lot about the benefits of MCT oil, so I put that in most of my smoothies!
This rich, creamy smoothie is loaded with spinach in a base of almond milk for a breakfast drink that will start your day off right. Its fruit content and overall sweet taste also makes the perfect guilt-free dessert! For less sugar, swap the 1 Tbs maple syrup for ¼ tsp of stevia powder.
Prep Time: 5 min
3 – Detoxifying Ginger Pear Smoothie
Besides ginger, which is a wonderful detoxifier, this detox drink includes a secret immune-boosting powerhouse! The unexpected (and super tasty!) ingredient is white mulberries – one of nature's richest sources of the super antioxidant, resveratrol.
Prep Time: 5 min
4 – Avocado Matcha Smoothie for Weight Loss
This fat-busting detox smoothie features avocado, lemon and lime. A tantalizing trifecta that's sure to wow your taste buds. Plus, it's loaded with vitamins, inflammation-fighting healthy fats, fiber and the all-important flavonoids.
Prep Time: 5 min
5 – Orange and Green Detox Smoothie
Sometimes our elimination systems need a little help if you know what I mean. This fiber-filled detox drink is just the thing to get things moving and toxins eliminated. It features kale, spinach, citrus fruits and an overripe banana for a hint of sweetness.
Prep Time: 10 min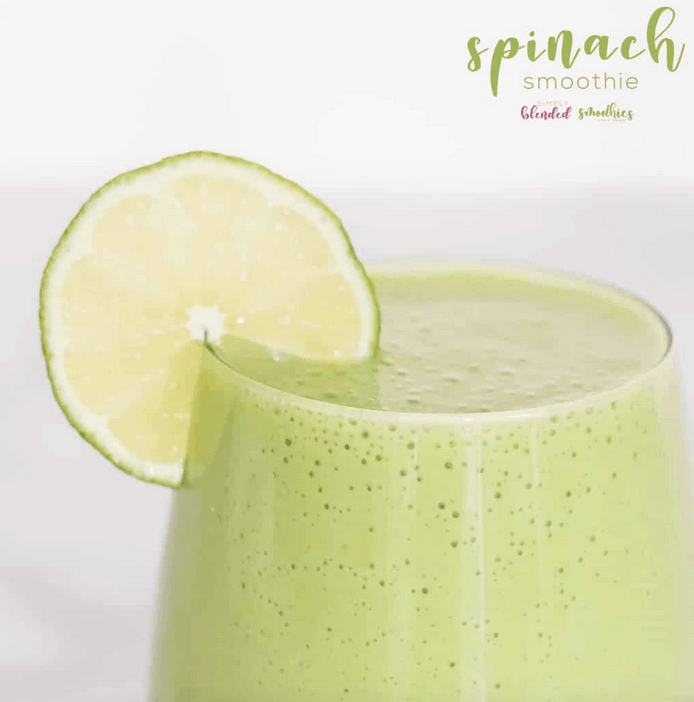 Don't let the title put you off, this detoxifying spinach smoothie doesn't taste like spinach at all! Spinach is loaded with antioxidants and vitamins A, K, B2 and C as well as plenty of minerals. This variety of nutrients supports your whole body and boosts your defense systems against diseases like cancer.
Prep Time: 5 min
7 – Green Ginger Goddess Smoothie
Leafy greens are a must for detoxing as their nutrient density is uniquely suited for alkalizing our bodies. This smoothie includes an array of green detox foods like spinach, avocado and spirulina. Among other detox benefits, you'll enjoy better immunity, stabilized blood sugar, lower inflammation, more efficient liver detoxification and more.
Prep Time: 5 min
8 – Pineapple Spinach Detox Smoothie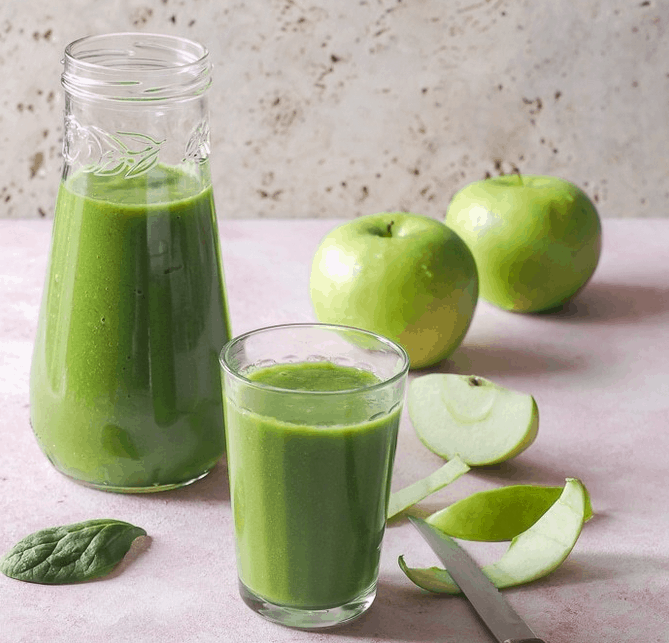 With pineapple and green apple for sweetness, this smoothie needs no added sweetener – a must for any detox drink. It's also loaded with fiber to keep you full, helping you avoid unhealthy meals later in the day. Plus, its fiber-rich content keeps your digestive and elimination systems working properly, helping you eliminate toxins on a regular basis.
Prep Time: 5 min
9 – Low Carb Green Keto Smoothie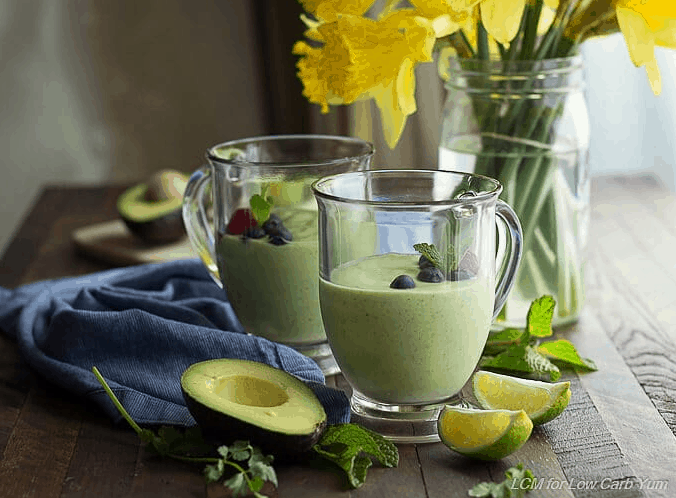 Sometimes green smoothies can be loaded with sugar (even if its natural, it can still be too much). Thankfully, this keto-friendly detox drink is low in carbs and rich in nutrients. It also features coconut milk for its weight loss-boosting medium chain fatty acids. Mint and cilantro add just the right zing while also lending their detoxifying nutrients to the mix.
Prep Time: 5 min
10 – Green Broccoli Detox Drink
This green smoothie is for those who like the raw taste of broccoli (I do!). There are plenty of other nutritious foods in this detox mix, but the hints of broccoli are unmistakable. If that doesn't bother, you should definitely give this one a try! It is loaded with detoxifying nutrients like vitamin K, fiber and more.
Prep Time: 3 min
11 – High Fiber Avocado Pineapple Detox Smoothie with Chia Seeds
If you've studied detoxing at all, you know how important it is to be "regular." If you don't eliminate properly, the toxins your body has gathered and prepared for removal will just sit there and potentially wreak havoc on your body. That's why fiber-rich detox drinks like this one are so important!
Prep Time: 5 min
12 – Green Machine Smoothie
This delicious green smoothie features an array of detoxifying fruits and of course nutrient-dense spinach. It calls for honey, but there's enough fruit in this recipe that you don't need it if you want to just leave it out.
Prep Time: 5 min
13 – Infused Water Detox Drinks
Have you seen the infused water craze yet? Sometimes, health fads like these are just that…fads. But drinking infused water is great for detoxing. One of the keys to healthy detox is to drink plenty of water – a minimum of half your body weight in ounces. Drinking water all the time can get a little boring though, so jazzing it up with some fruits can be game changer! Not only does it help you get your water intake in, the addition of fruits infuses each drink with their detox-supportive vitamins, minerals and antioxidants.
14 – Cranberry Juice Detox Water
When we think of eliminating toxins, we almost always think of the liver and bowel movements. However, toxins are eliminated just as much through urine, making bladder health an important player in detoxing. Just be sure to use a natural, unsweetened cranberry juice to avoid the unnecessary and counterproductive sugar content.
Detox smoothies are fantastic, but sometimes you just don't want something that thick and creamy. Enter this nutrient-dense detox juice! Its primary detox ingredient is cilantro, which is a popular heavy metal chelator. Both the stems and leaves are packed with vitamins, antioxidants and minerals – all of which add up to a powerful anti-inflammatory and detoxifying punch.
Prep Time: 10 min
16 – Lemon Water Elixir
It's no secret that your liver is the body's primary detoxifying organ. If it doesn't process toxins properly, your body will suffer a dangerous domino effect due to a buildup of toxins. This lemon detox water serves as a potent liver tonic, supporting its daily cleansing functions. With just 5 ingredients, it's a must try!
Prep Time: 5 min
17 – Beginner Green Detox Juice
This easy green juice is perfect for juicing newbies. It features a base of dark leafy greens, which act as powerful detoxifiers. The abundance of phytonutrients it provides will also energize you, so it's a great way to start your day. Not only that, but just one glass meets your recommended amount of vegetables each day!
Prep Time: 15 min
18 – Grapefruit Ginger Detox Smoothie
The star in this citrus detox drink is grapefruit – a high fiber, low cal that's naturally cleansing. Between its varied nutrients and ability to boost the metabolism and kickstart weight loss, grapefruit is known as a way to melt pounds naturally while cleansing internally. 
Prep Time: 5 min
This tasty detox drink includes a variety of fruits, veggies and greens for a well-rounded, natural way to cleanse your body. It features beets, which are an excellent source of detoxifying betalains as well as alkalizing spinach and blood-stabilizing cinnamon.
Prep Time: 10 min
20 – Strawberry Chia Detox Water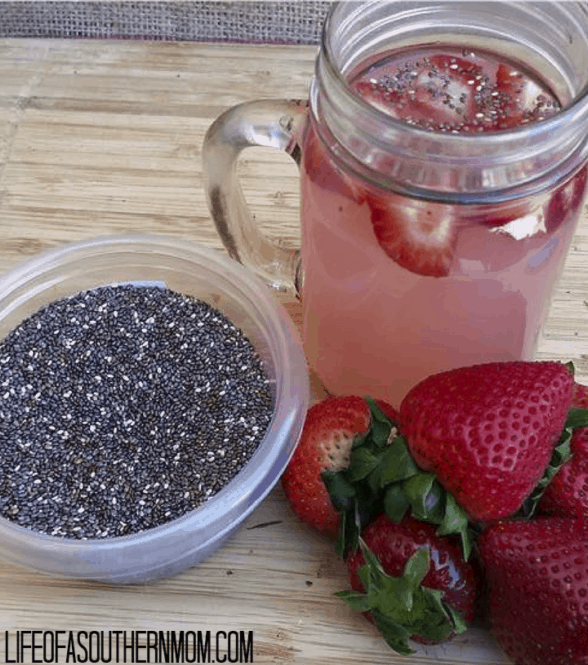 This strawberry-infused detox water offers a refreshing twist to plain water while also providing a fresh dose of detoxifying lemon juice. The addition of chia seeds gives satiety, along with a superfood dose of fiber, antioxidants, vitamins and minerals.
Prep Time: 7 min
21 – Green Cold-Pressed Detox Juice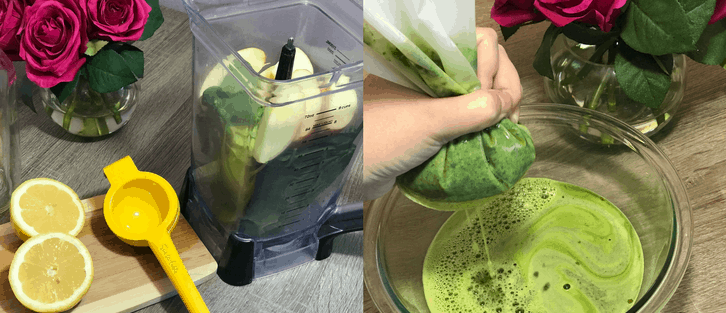 This refreshing green detox drink uses lemon, apple, spinach and kale to deliver a powerful detox punch that anyone can enjoy. The leafy greens alkalize the body while the lemon acts as a powerful detoxifier, stimulating and supporting healthy liver function.
Prep Time: 10 min
These are our popular natural choices for detox drinks, there are some commercially available products as well, we reviewed the Wild Rose Herbal Detox, the X-pulsion and the Magnum Detox Drinks.
Want to keep that healthy momentum going with a done-for-you, 28 day clean eating meal plan? Grab it for free below!
Editor and researcher at Detox & Prosper. With years of experience creating a healthy home for my family, I now help others eliminate toxins from theirs! Read my story here.