We ♥︎ honesty! We may earn a commission through affiliate links on this page at no extra cost to you.
Let's face it:
Life can be so busy for us mamas.
I don't know about you, but sometimes healthy food choices are the first to go in lieu of quicker, more convenient options.
Since battling Lyme and heavy metal toxicity, I've had to get a little stricter in that department – even when time didn't necessarily allow it.
That's when I set out to gather a list of ways to support my body's natural detox system in the quickest way possible.
Here's the list of quick, detoxifying foods I came up with. I hope it's helpful to you!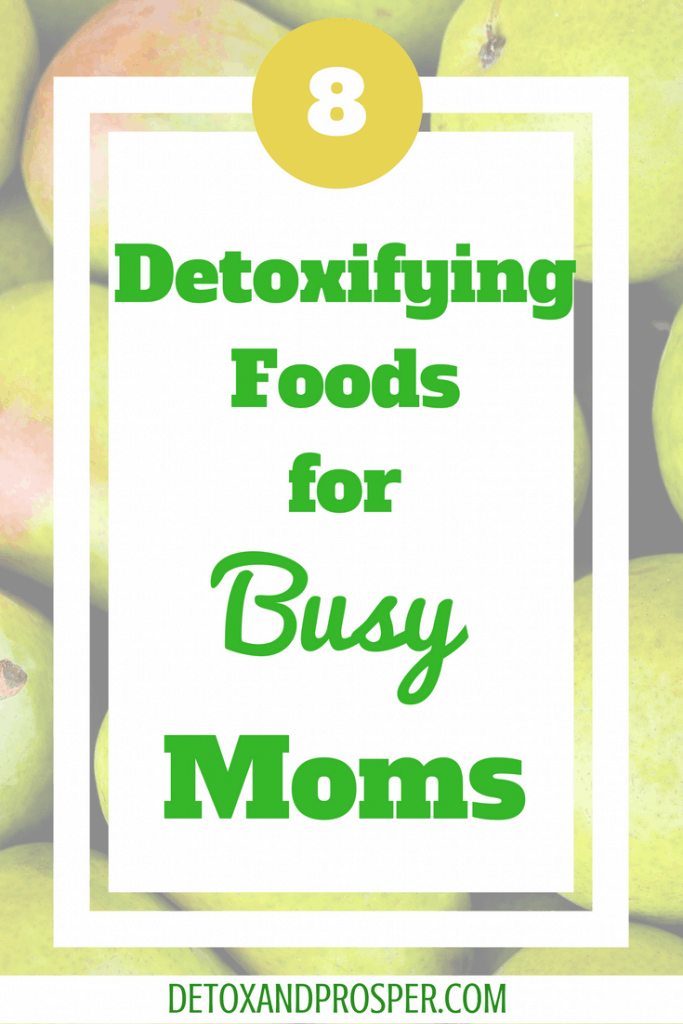 1- Broccoli Sprouts
As a member of the cruciferous family, broccoli contains vital phytonutrients that support the body's detoxification pathways.
These nutrients work to activate, neutralize and eliminate unwanted toxins. Though broccoli itself is great, the sprouts offer the most bang for your nutritional buck.
They provide a more concentrated amount of antioxidants that stimulate detox enzymes at the cellular level.
They also contain compounds that boost your cells' ability to survive environmental toxins.
Pretty sweet, right?
I actually like the benefits (and taste) of sprouts so much that I've started growing them on my kitchen counter. Katie at Wellness Mama has a great post here on how to do that if you're interested! Here's a picture of my first batch. It was fun and easy to do!
Ways to eat broccoli sprouts:
Add a crunchy texture to your sandwiches or wraps.
Salt them for a quick snack!
Add chopped broccoli sprouts to a mixture of sweet corn, lime juice, and diced onions and tomatoes. You could serve this as a side dish or use it as a salsa with chips.
2- Garlic
Garlic has been used for centuries as a detox agent and is especially helpful in supporting your liver. On its own, garlic doesn't flush out toxins, but it's an eager helper to the organs and systems that do.
For instance, it increases the production of glutathione – the body's master antioxidant, which helps filter toxins in your digestive tract.
It's also an abundant source of allicin, which is rich in vitamin C and contains healing properties that supplement the immune system.
Garlic made it on my list because it's super easy to incorporate into just about anything without adding to the prep time!
Ways to add garlic to your diet
Make homemade salsa with canned tomatoes, raw garlic and a drizzle of olive oil.
Add raw, minced garlic to your salad dressings.
Use it as a topping for baked potatoes or sweet potatoes.
MindBodyGreen has a green detox soup to help you survive the winter. It uses 3 cloves of garlic to add some nutritive flavor. Check out the recipe here!
The directions don't say to use a crock pot, but I'm alllll about cooking on auto-pilot, so feel free to toss the ingredients in your crock pot and cook on low all day. When ready to serve, use a stick blender to puree the soup until smooth.
Sale
Last update on 2023-12-06 / Affiliate links / Images from Amazon Product Advertising API
3- Green tea
For years, green tea has been one of the most effective and popular sources of antioxidants known to increase the body's metabolic rate.
Those same antioxidants seek and destroy free radicals, making it a must-have on a "quick and easy" detox list like this one.
On top of detoxing benefits, green tea also helps reduce cholesterol levels and lower your risk of heart disease. Win-win!
Ways to enjoy green tea:
Liven up your smoothie with green tea powder.
Add a little green tea in your spice rub when having a barbeque.
Use green tea powder to make an indulgent green tea ice cream.
Green tea is delicious on its own, but The Harvest Kitchen has a recipe that combines green tea with blueberries, and it's seriously a delicious twist on a classic favorite. Learn how to make it here!
4- Lemon
You can't research the topic of detox long without hearing about lemon water. Like garlic, it's an easy addition on a busy day!
Lemon offers benefits like aiding proper digestion and cleansing the blood and liver.
An excellent source of vitamin C, it also helps the body absorb more iron, further strengthening the immune system. Lemon's vitamin C content also helps the body regenerate and rejuvenate faster for quicker wound healing and healthier skin.
Ways to add lemon to your diet:
Add several slices of lemon to your water throughout the day.
Add some zest to your salads, or use it to liven up your sautéed veggies.
Add a spritz of lemon to fish, veggies or poultry.
If it's one of those days (we all have 'em!), then adding lemon to your water is really all you need. But if you have time for a little something extra, The Crunchy Moose has a lemon detox drink that pairs lemon with the power of apple cider vinegar. See the recipe here!
5- Artichokes
This spiky ancient vegetable hails from the Mediterranean and contains a wide array of nutrients. For hundreds of years, cultures have used it to purify the blood and cleanse the liver.
Artichokes contains 2 essential phytonutrients – cynarin and silymarin – which help cleanse the liver and regenerate its cells.
It also contains antioxidants and natural diuretic properties that reduce 'bad cholesterol' levels in the blood and protect against a wide range of chronic disease.
Ways to enjoy artichokes:
Toss baby artichokes with salt and olive oil, then grill until crispy. Try this as an appetizer!
Mix chopped artichoke hearts, salt and avocado, and use it as a topping for chicken, fish or gluten-free toast.
My all-time favorite way to eat artichokes is in a creamy spinach and artichoke dip. 40 Aprons, a fun paleo and whole 30-friendly food blog, has a delicious recipe for it. It uses ghee, almond milk and non-dairy yogurt. Check it out here!
6- Beets
If there were ever a perfect food for cleansing the liver, it would be beets. As we know, not all of the toxins make it out of your body.
Beets work to push out these stubborn toxins while stimulating and improving the overall function of your liver.
A surprising fact about beets is that they contain the highest plant source of betaine, which is known to reduce the risk of heart disease and chronic inflammation.
Ways to add beets to your diet:
Try it as a topping on a cauliflower crust pizza.
Add them to your salads.
Pickle them by adding cider vinegar to sliced, half-cooked beets and seal in an airtight jar.
If you like the sweet and tangy combo, try mixing balsamic vinegar, beets and cocoa powder to make chocolate and balsamic roasted beets.
Detox DIY has a tasty detox juice that stars beets along with apple and ginger. It'll help you reap the benefits of beets in a quick swig. Here's the recipe!
7- Asparagus
An antifungal and antiviral, asparagus is high up on my detox-o-meter. Containing natural diuretics, it helps clean out the kidneys and prevent urinary infections.
It's also rich in glutathione, so it helps drain the liver of toxins as well.
If you're diabetic or struggle with your blood sugar, asparagus helps balance insulin levels, making it a great addition to your diet.
Ways to add asparagus:
If you want something basic, dice your leftover asparagus and add to scrambled eggs.
Try a creamy asparagus soup with sour cream, potato, fennel and tarragon.
Try a Thai inspired meal by mixing asparagus, shredded chicken and sesame peanut noodles. Better yet, sub the noodles with zucchini spirals!
Another simple way to enjoy asparagus is roasting it in the oven. It doesn't take much prep at all and cooks in 10 minutes. Detoxinista has an easy recipe for this using coconut oil and sea salt – yum! Check out the recipe here.
8- Kale
One of my favorite superfoods, kale is rich in antioxidants, vitamin A and vitamin K (a powerful cancer fighter!). It also has more iron per serving than beef, and it's easy to incorporate into a salad or green detox soup.
When it comes to detox, kale is an excellent source of sulfur, which is necessary for keeping your liver clean and healthy.
Ways to enjoy kale:
Use as your base in a greens smoothie.
Toss them on a sheet pan and bake to make healthy kale chips.
Healthy Eating Experts has a super simple morning kale smoothie. I've never done the blueberry-banana-avocado combo, but their recipe has convinced me to try it! Check it out here.
There you have it – 8 powerful detox foods you can squeeze in on a busy day.
Which who am I kidding? That's every day as a mom, right?!
That's why I'm offering this 28-Day Meal Plan + Bonuses for free 🙂 I hope it takes away the overwhelm so you can power through mom life a little less stressed!
[et_bloom_inline optin_id="optin_4″]
If you'd like an even bigger list of detoxifying foods for diversity in your meals, check out this list at Health Wholeness. It's a great read!
Editor and researcher at Detox & Prosper. With years of experience creating a healthy home for my family, I now help others eliminate toxins from theirs! Read my story here.